Last week, Clean Energy Fuels (NASDAQ:CLNE) delivered dismal Q3 results. The key metrics missed estimates and signaled that the growth opportunity is quickly fading away.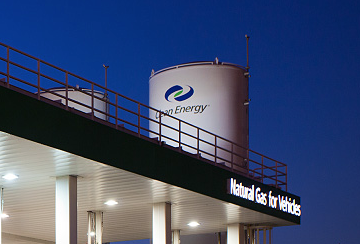 The stock plunged nearly 18% on the news. Now trading below $3.50, does the Clean Energy offer any reason to hold out hope of the natural gas fuels company.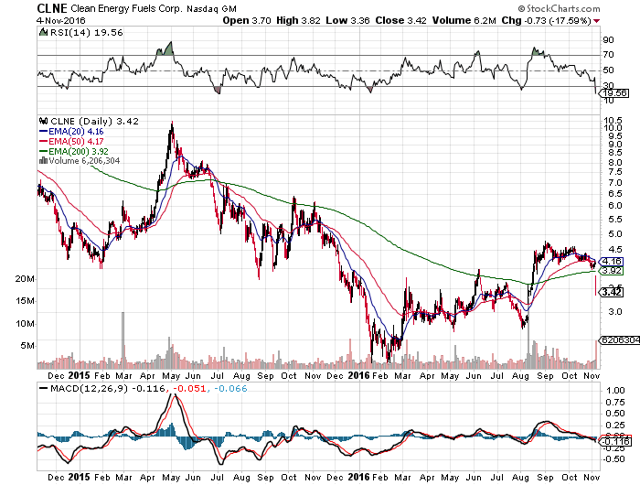 As my recent research highlighted, the Clean Energy investment story is ultimately about growing gallons delivered. While the company tried to spin the quarterly results as good, the company only grew gallons delivered by a meager 5%. The gallons only grew 1.9% sequentially from 82.0 million.

Source: Clean Energy Q316 earnings release
As usual, management spent the earnings call proclaiming the excitement over the amount of additional fueling stations, but Clean Energy fails to disclose the comp sales figures for the fueling stations. The key to growth and ultimately large profits are the growth in sales from existing stations along with the growth of new stations.
The natural gas fueling company still promotes the new age concept and fails to present the company in the traditional role as a retailer or operator of fueling stations.
Again, the quarterly results are highly difficult to analyze as these Q3 results included a $6.7 million VTEC credit in comparison to nothing last year. The vast improvements in the quarterly loss appears entirely due to the VTEC amounts and the substantially higher shares outstanding.
The key to the investor story remains that Clean Energy generates margins of $0.33 per gallon delivered. In order to overcome a $12.6 million quarterly loss, the natural gas fueling concept needs to grow gallons delivered by over 35 million without growing the SG&A expenses. About the only way to achieve that growth is from expanding sales at existing fueling stations and the basic numbers suggest that isn't occurring.
The key investor takeaway is that due to an incomplete investment picture, the story always appears like a company making progress. The reality is that Clean Energy is growing too slow for a company losing that much money on a quarterly basis.
Disclosure: I/we have no positions in any stocks mentioned, and no plans to initiate any positions within the next 72 hours. I wrote this article myself, and it expresses my own opinions. I am not receiving compensation for it (other than from Seeking Alpha). I have no business relationship with any company whose stock is mentioned in this article.
Additional disclosure: The information contained herein is for informational purposes only. Nothing in this article should be taken as a solicitation to purchase or sell securities. Before buying or selling any stock you should do your own research and reach your own conclusion or consult a financial advisor. Investing includes risks, including loss of principal.