As discussed in mid-October, a Chinese resurgence would mean more turbulence for US Treasuries, and investors should have braced themselves accordingly. This expectation materialized since a renewed sell-off in bonds pushed the 10-year yields above the 1.80% level, and sent their prices plummeting (NYSEARCA:TLT). Such a bond sell-off came as a reaction to an economic acceleration in and around China (NYSEARCA:FXI), which by the way very few investors saw coming. Moreover, investors are still stubbornly expecting yields to turn south, since various global threats, spanning from a Trump victory to the bursting of the Asian debt bubble, continue to occupy the headlines. Nevertheless, such an expectation is completely against the odds. The acceleration of Chinese inflationary growth has started to spread beyond Asia. This comes at a time when the historical volatility of Treasury prices, which always moves in cycles, has fallen at two-year lows. Chances are that this extremely low volatility will, sooner or later, reverse to a skyrocketing one, which is usually associated with price corrections. The Asian inflationary pressures, coupled with a potential rebound in bond price volatility, makes US Treasury yields inclined to go higher, both from a macro as well as a statistical viewpoint. In such a scenario, long-term yields will increase faster than short-term ones, and investors should be better prepared for another wave of bond turbulence.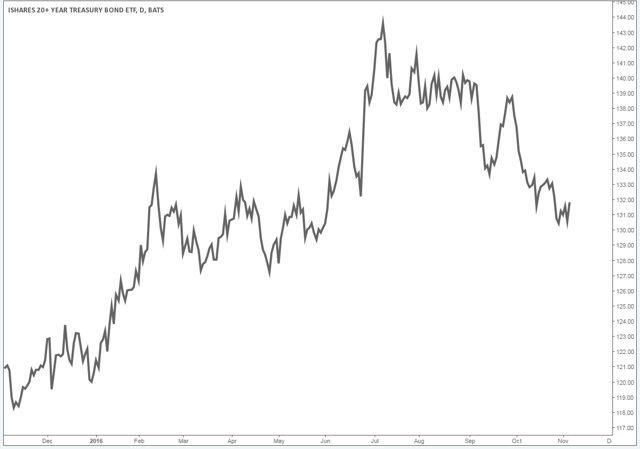 Source: tradingview.com
Global Inflationary Pressures Spread Out
The long end of the US yield curve is more closely tied to global macro patterns than to domestic trends, and this makes it vulnerable to inflationary pressures which can arise on the other side of the planet. In this respect, one thing is for sure: as long as China and its closely linked Asia Pacific trading partners are speeding up their economies, long-term US bonds will continue to feel the pain.
Having said this, there are direct and indirect signals that point towards a heating up of the Chinese economy. On a macro level, the latest manufacturing PMIs have exhibited the same expansionary pattern, while services PMI has followed suit; all of these releases surprised analysts. Producer price indices jumped above zero for the first time in the last five years, ending a persistent deflationary cycle and paving the way for the effects to pass through to consumer prices. Moreover, according to indirect macro signals, this inflationary dynamic begins to spill-over to Asia Pacific and beyond.
The Baltic Dry index, a gauge of dry materials' shipping cost, is rebounding from its supporting uptrend line, indicating resilient demand for raw commodities. This demand comes mainly from China and its closest neighbors, and benefits commodity exporting countries. The LME index, a price gauge of six basic metals, also extends its bullish trend for this year to new highs.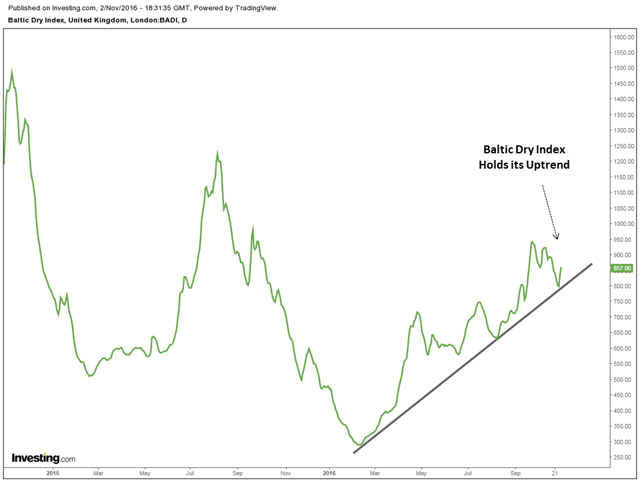 Source: investing.com
Several economies which are exporting heavily to China are witnessing an unusual surge in demand. Australia and New Zealand's long-term bond yields are rebounding fast, as their economies are entering a phase of strong international demand for their products, resulting to a higher expected inflation. Taiwan is another close trading partner of China, which sees its bond yields skyrocketing for the same reasons.
Even struggling Europe exhibited a strong rebound, with October manufacturing PMIs for France, Spain, Germany, as well as the Eurozone, surpassing consensus estimates. The sub-indices for employment, production, and new orders came equally strong, reflecting a generalized revival. Germany, in particular, is running at full employment with an all-time low unemployment level of 6%. As a result, Eurozone sovereign bond yields are rebounding strongly, since their September lows.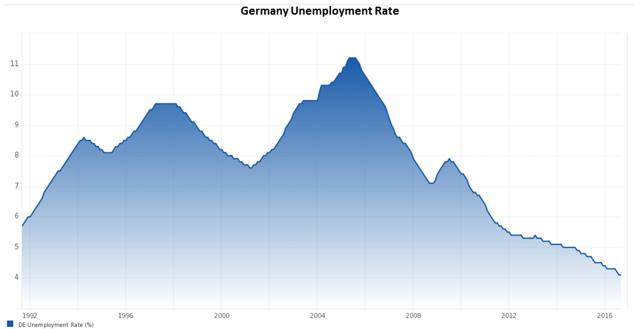 Source: ieconomics.com
Inflation is Coming to the US
The US economy cannot stay detached from all these global developments. There is nothing more telling about that than the uptrend in expected long-term inflation rates. The 10-Year US breakeven inflation rate, a market-based gauge of long-term inflation expectations, surpassed its previous high for the year and climbed to 1.73%. The 5-Year US breakeven rate exhibited a similar strong uptrend matching its previous high at 1.60%. These inflationary pressures have, in turn, engineered some sizeable moves in the US Treasuries market.

Source: St. Louis Fed
US Government Bond Dynamics
Since the initial call on the bearish reversal in US treasuries in August, the Proshares Ultrashort 20+ Year Treasury ETF (NYSEARCA:TBT), which invests in short positions on long-term US Treasury bonds, delivered an 11% gain.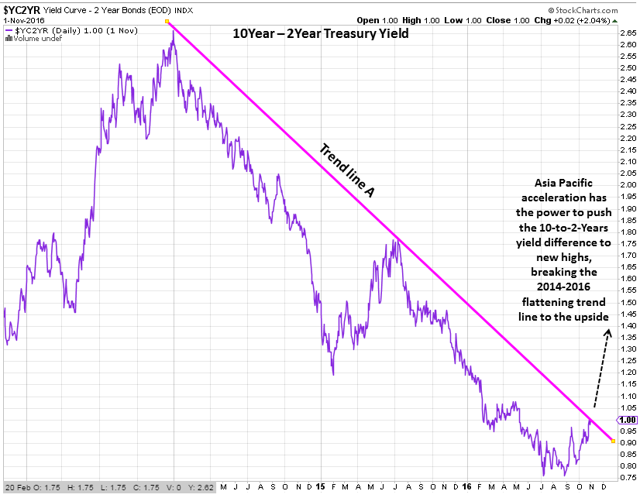 Source: stockcharts.com
At the same time, the difference between 10-Year and 2-Year yields has climbed to 1% from the initial 0.76%, pushing this part of the yield curve to reach its most critical limit (trend line A). This limit is now being tested and chances are that the global inflationary dynamics, if sustained, can eventually break it to the upside. In order for such a move to occur, the underlying yields will have to soar. Should this happen, the 10-Year yield has the potential to approach the 2.0%-to-2.2% resistance area (located between trend lines B & C), which marks the target for this third leg of the Treasuries sell-off.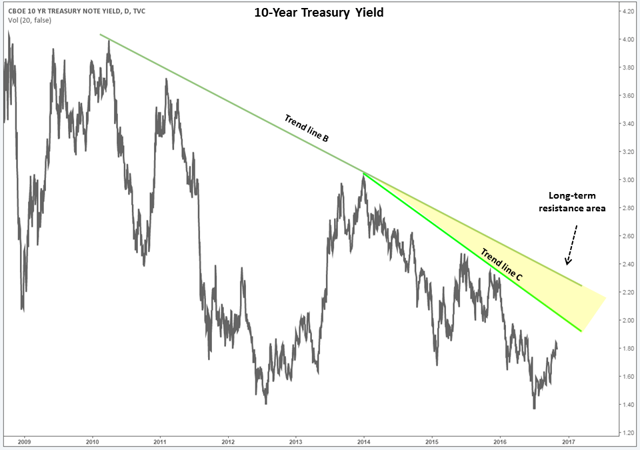 Source: tradingview.com
Volatility Cannot Stay Low For Ever
Assessing the US bond market in terms of volatility provides another good reason why to expect a new wave of price pressures, besides the imported inflationary concerns from the emerging world. The trailing 30-day historical volatility of the 10-Year T-Note futures contract plummeted to a two-year low of 2.5, which is way lower than the all previous troughs of the last couple of years. Given the fact that volatility typically moves in cycles, there are high chances that bond price volatility will spike, sooner or later, since its current down cycle has been over extended, both in terms of price and time. Such volatility bursts most commonly occur during price corrections, and thus another fierce bond price drop should be expected if volatility is to surge.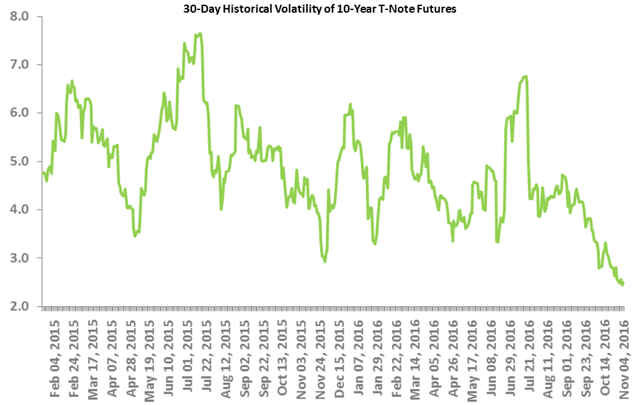 Source: CBOE
The US bond market is poised to experience another leg of selling pressure due to an accelerating Chinese economy, which has the capacity to produce spill-over effects to its trading partners, commodity exporters, and ultimately to the debtor nations across the globe. Even if market expectations about a Fed rate hike in December are trimmed, the bearish dynamics of US Treasuries seem very hard to reverse at this point. A widening difference between long and short-term yields is expected, even though they will be soaring across the curve. Bond investors should prepare themselves for a bumpy road towards rate normalization, at least until yields reach and test their first critical resistance around 2.2%. The battle with resistances, at that point, will not be easy and the situation will be reassessed. This time, though, investors should not complain; it is the second time they are being warned about bond jitters. They need to arm themselves accordingly until the markets have the last word.
Disclosure: I/we have no positions in any stocks mentioned, and no plans to initiate any positions within the next 72 hours. I wrote this article myself, and it expresses my own opinions. I am not receiving compensation for it (other than from Seeking Alpha). I have no business relationship with any company whose stock is mentioned in this article.
Additional disclosure: The views expressed in this article are solely those of the author, provided solely for informative purposes and in no case constitute investment advice.