Every investor dreams of buying stock in a company right before it releases a revolutionary new product. Whether it be the tech geek who wishes he had the foresight to buy AAPL stock before the release of the iPod, or the movie fanatic who regrets not investing in Netflix (NASDAQ:NFLX) while it was still small, everyone realizes the potential of a revolutionary new breakthrough product to generate massive returns.
I believe that a lesser known pharmaceutical company, Portola Pharmaceuticals (NASDAQ:PTLA), is on the verge of such a breakthrough. For years, it has been working on developing a revolutionary series of factor Xa coagulants, which would have widespread medical applications. In fact, it's estimated that just its drug AndexXa would be needed by 500,000 patients in the US alone once it's given FDA approval.
The Anti-Coagulant Market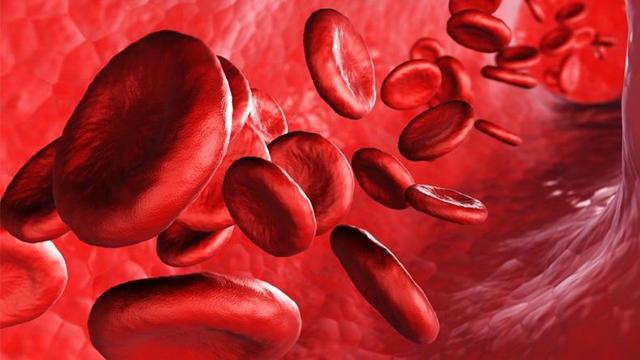 Anti-coagulants, or drugs that thin your blood, have a large number of applications in the medical world. In fact, the global anti-coagulant market is projected to spike to over $24 billion by 2019. But, there's a problem.
Old anti-coagulants like Warfarin (one of the most popular) have been attributed to massive fatalities. In fact, it's been ranked as the #3 drug responsible for hospital administration due to adverse effects.
Companies such as Johnson & Johnson (NYSE:JNJ) have tried to counteract this, by producing different anti-coagulant drugs, but the effects are still similar. Although Johnson & Johnson's anti-coagulant drug Xarelto has reached sales of $1.16 billion in just the first half of 2016, problems still remain.
The reason being that blood thinners decrease your body's ability to clot; in other words, if a patient starts to have a major bleed, there's no way to stop the bleeding when on an anti-coagulant drug. This is the single largest factor holding back the sales of anti-coagulants. They have a large number of medical applications, but the risk of patients bleeding out is far too high.
Enter Portola Pharmaceuticals
This is why Portola's new drug AndexXa could be potentially revolutionary within the medical community. Its Factor Xa coagulant quickly reverses the effects of blood-thinners such as Warfarin and Xarelto, eliminating the potentiality of a patient bleeding out.
Think of it like this: A multi-billion dollar global market for anti-coagulants is being held back due to high fatalities. Thus, if Portola's new drug AndexXa is legalized, not only would its market size be virtually the same as the drugs that it counteracts ($24 billion by 2019), but this market would grow exponentially, as AndexXa would eliminate the single biggest factor to its growth: the risk of bleeding out.
Once Portola's Factor Xa coagulant drug is legalized, you can expect sales to match anti-coagulant sales, since by its nature it will be used in conjunction with anti-coagulants. In addition to this, Portola will be the only medical company producing this type of drug, which will effectively give it a monopoly on a multi-billion dollar market.
Lucky for us investors, this game-changing new drug hasn't been legalized yet. It's on the verge of FDA approval, as Portola has been going back and forth over the last several years submitting trials and responding to the FDA's delayed approval decision, and once Portola's flagship Factor Xa coagulant is legalized, you can expect share prices to sky-rocket.
Portola is at an All-Time Low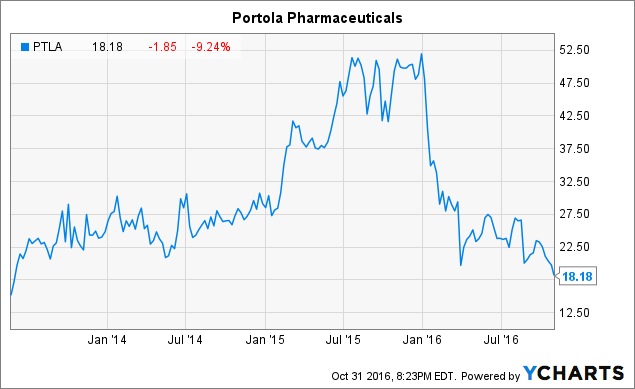 As you can see from the chart above, Portola's share price hasn't been this low since its IPO. The reason being that it submitted its main Factor Xa drug, known as AndexXa, to the FDA and recently received a complete response letter, rather than a green light.
In other words, it was hoping that the FDA would approve the medical use of this new drug, but when rejected, shareholders panicked and threw away their shares like hot potatoes. I do not believe, however, that the FDA's rejection of this revolutionary new drug, AndexXa, is due to some sort of flaw with the drug itself.
Rather, I believe that Portola Pharmaceuticals simply tried to rush approval; in other words, the FDA's complete response letter was issued due to the CEO's lack of patience, rather than a fundamental problem with the Factor Xa drug itself. The primary reason that I believe this, is that the CEO is pushing to get this drug legalized in record time.
Portola is Rushing FDA Approval
The average wait time for FDA approval (from the beginning of the process) is around 12 years. The FDA process has a total of 6 phases before a drug is legalized:
Pre-clinical Testing
Investigational New Drug Application
Phase I Clinical Trials
Phase II Clinical Trials
Phase III Clinical Trials
New Drug Application
Portola passed Phase III Clinical Trials in 2015 and submitted its New Drug Application (the final stage), but due to the CEO trying to rush the process, I believe that AndexXa was rejected. If you look at the complete response letter, the FDA states very clearly that it wants more time to look at clinical data.
In other words, the CEO has been pushing so hard to get AndexXa legalized that the FDA itself didn't have time to fully analyze the data. This is not some sort of critical, chemical error with the drug, but rather a case of "anxious biotech CEO syndrome," which is perhaps a good thing sometimes.
I Believe That AndexXa Will Be Legalized in Under a Year
The single biggest factor determining whether or not PTLA stock will shoot through the roof, is whether or not its Factor Xa coagulant drug AndexXa will be approved. With this in mind, I would like to present a strong case that it will be and with its approval will come huge profits to investors.
First off, clinical trials have proven that AndexXa does in fact safely reverse the effects of Xarelto and Eliquis, two of the biggest players in the anti-coagulant market. This alone makes the drug a lifesaver (literally) for hundreds of thousands of patients. The FDA is quite happy with this, but it still wants to learn more about AndexXa's interactions with Savaysa and Lovenox.
Second, the FDA did not give Portola Pharmaceuticals a complete rejection, without any chance of approval - rather, it stated three concerns and made it clear that if Portola was able to address these concerns, then the likelihood of AndexXa being legalized would be very high. Here are the FDA's three concerns:
Whether or not AndexXa can be used safely with Savaysa and Lovenox.
Questions regarding AndexXa's manufacturing
The FDA wants more time to review trials and specific data points
All in all, none of these concerns is major and will likely be surpassed within the next 6-12 months. Here's why.
First off, Xarelto and Eliquis are the two largest anti-coagulants in the market; Savaysa and Lovenox are hardly even minor players, with sales at only around 10% of the multi-billion dollar Xarelto and Eliquis markets. The FDA is far more concerned with AndexXa's safety with these two drugs, than with Savaysa and Lovenox and is likely just checking to ensure that there are no major contraindications.
The reason for this was that William Lis, the CEO of Portola Pharmaceuticals, decided to put Savaysa and Lovenox as secondary on the label, so the simple removal of these drugs on the label would resolve this problem entirely. It is unclear whether Portola will do this or pursue more clinical trials, but either way, this is not an unfixable problem.
Second, any sort of manufacturing issue can be easily resolved. The FDA hasn't said exactly what's wrong with Portola Pharmaceuticals' manufacturing process, but due to the general openness of the company as well as the FDA's willingness to continue working with PTLA, it seems that this is virtually a non-issue.
And third, it seems that the major takeaway from the FDA's complete response letter is that it simply needs more time. Portola Pharmaceuticals has been submitting studies and compiling reviews at a blisteringly fast pace and the FDA is struggling to keep up. I think we can all agree that investing in a company that's TOO eager to get FDA approval is certainly a good problem to have.
Total Transparency, Stellar CEOs
Due to the complete openness of this company and the high competency of CEO William Lis, I firmly believe that AndeXxa will be approved by the FDA within the next 6-12 months.
First off, the company has been very open with shareholders. Its FDA approval statuses for various drugs are readily available for anyone who wishes to see them. The company holds regular meetings, is very honest with its business moves and its CEO has given several interviews.
Aside from being seen in the public eye frequently, William Lis, Portola's CEO, is a highly intelligent businessman. Since his reign as Chief Executive Officer with Portola, the company has introduced several revolutionary compounds into the marketplace and have raised over $600 million from public and private financings.
In addition to this, William Lis also worked at Scios, a Johnson & Johnson company, where he gained massive experience as a Vice President and led a very successful in-licensing and commercial launch campaign for Xarelto.
In short, the CEO is arguably the single largest determinant of whether or not a company succeeds - and it's very clear that the CEO of Portola Pharmaceuticals has ample experience in the pharmaceutical industry and is just the man to get AndeXxa legalized.
In Summary

In short, Portola Pharmaceuticals is poised to launch one of the biggest medical advancements of the decade: AndexXa, a Factor Xa coagulant. Due to a recent stalling of its legalization by the FDA, stock prices are at an all-time low - a perfect time to buy.
Once this drug is approved by the FDA, which I hope I have made clear that it will be very soon, expect sales to reach the $1-billion mark within the first several quarters. As said before, the global anti-coagulant market is $24 billion and as Factor Xa coagulants counteract anti-coagulants, expect the market to be relatively the same size as the $24 billion industry.
The FDA's complete response letter was more of a desire for time than anything. Once the FDA and Portola work out the final details regarding minor safety issues, small manufacturing concerns and a few last-minute clinical trial submissions, expect the drug to be available in every major hospital in the world.
Portola's CEO has massive experience with launching blood-related drugs, as his experience launching Xarelto with Johnson & Johnson clearly shows. He's transparent, he's been seen in the public eye multiple times and he's successfully increased Portola's wealth by hundreds of millions since he was made CEO in 2010.
Overall, now is the time to buy - shares are at an all-time low and the only thing stopping them from reaching the $100-mark is the FDA's last minute concerns regarding AndeXxa. Once Portola finalizes everything, which I believe it will, expect the share price to shoot through the roof.
Disclosure: I/we have no positions in any stocks mentioned, but may initiate a long position in PTLA over the next 72 hours. I wrote this article myself, and it expresses my own opinions. I am not receiving compensation for it (other than from Seeking Alpha). I have no business relationship with any company whose stock is mentioned in this article.