Apple (NASDAQ:AAPL) seems to have hit a roadblock in China as it is witnessing a consistent decline in iPhone sales in the region. In fact, its sales in Greater China dropped 30% year-over-year in the third quarter, marking the highest percentage fall of any of the company's popular geographic regions.
Why Apple is losing steam in China
One of the most alarming things to note is that the current customers of Apple in China are losing interest in the company's offerings. Now, Apple's client base is considered to be premium in countries where the devices cost a bomb, which is why it can be expected that they will keep sticking to the iPhone since they can afford the same.
However, the bad news is that Apple has been witnessing erosion in its existing client base in China, which has led to a drop in its retention rates. For instance, in the month of September, Apple's retention rate in China dropped to 75% as compared to a higher figure of 82% in the prior-year period.
More specifically, iPhone 7 demand in China has been way lower than expectations (even lower than the U.S.), with only 43% of customers expressing their interest in buying the device. In comparison, 54% customers had expressed their interest in buying the 6S when it was launched, while the interest for the 6 was higher at 64%.
Thus, it is evident that Apple has continued losing ground in China over the years, and this can be attributed to the slowdown in the country's economy. It is a known fact that the Chinese economy has been in slowdown mode for the past couple of years.
This has made customers move away from high-priced items such as iPhones when cheaper and equally efficient alternatives are available. I believe that this is a trend that will continue going forward since wage growth in China, although in the high single digits, is slowing down.
For instance, in the first quarter of the year, Chinese wage growth fell to 7.3% compared to in excess of 10% in 2013. Moreover, next year, Chinese wage growth is anticipated to decline further to 6.7% that will lead to weakness in consumption. Apart from slower wage growth, China also is suffering from increasing unemployment, with the country's unemployment rate set to rise to 6.5% in 2016 as per Goldman Sachs. This is bad news for Apple's premium phones in China. As reported by Bloomberg:
"An extended moderation in wage growth could weigh on consumption growth as the slowdown in revenue growth in both the industrial and services sectors spills over to household sectors and consumption," the economists wrote."
The impact of slow wage growth in China is already being seen on sales of the iPhone 7, where customers are going for the cheaper option of makeover kits. As reported by Tech Times:
"Several Chinese customers owning an older version of the iPhone chose not to buy the latest iPhone 7 and 7 Plus models and instead gave their older phones a makeover to look brand new. If this trend continues, Apple could highly likely experience a dropdown in sales despite its efforts of boosting profits."
Thus, the Chinese customers have found a way of keeping their iPhones fresh instead of shelling out heavy amounts to purchase a new handset. This involves replacing the casing of an older iPhone shell with a new one that looks like the iPhone 7 and that too at a fraction of the cost, along with certain hardware modifications.
Hence, the prospects of the iPhone 7 in China appear to be bleak in the final quarter of the year. Moreover, due to the economic slowdown in China, customers are queuing up to buy cheaper phones with identical features as discussed below.
Competition is another problem
According to Jan Dawson, a founder of Jackdaw Research, a tech consulting firm, "while China was responsible for Apple, Inc.'s almost half or greater total top line expansion for past several quarters but, currently it's contributing to nearly half of the company's year-over-year decline".
"Lack of innovation" coupled with "rising competition" is expected to be the prime reason behind Apple's lackluster performance in China, according to the industry experts.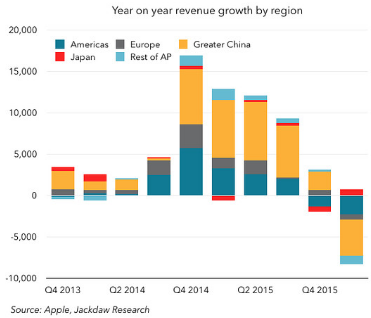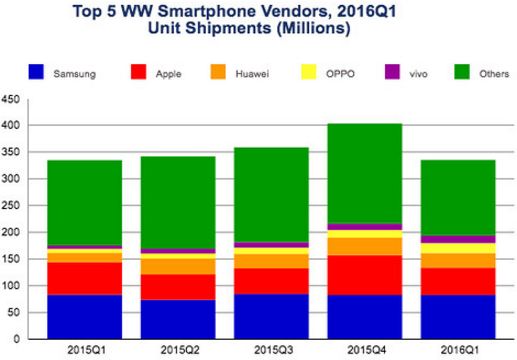 Source: Jackdaw Research
Apple's chief executive has blamed the global macroeconomic slowdown and comparatively weaker iPhone 6S sales as compared to the success of both the iPhone 6 and iPhone 6 Plus as the key reasons behind the weakness in China. Further, Tim Cook has also held Hong Kong responsible for a greater than expected loss in Greater China iPhone sales as its currency is pegged to the U.S. dollar. As the dollar has strengthened considerably over the last two years, making tourism and international shopping in the country have become highly.
Still there are several reasons to understand that the ongoing quarterly troubles for Apple aren't only isolated and cyclical. The Chinese population is purchasing more phones from local phone-makers such as Xiaomi and Huawei. In addition, the government of China recently banned some media services delivered by Apple with several restrictions on the distributed content.
Additionally, attractive new features in smartphones are being launched by local Chinese manufacturers at extremely competitive prices. This is driving down the demand for Apple iPhones in China.
Uncompetitive pricing is a problem
Apple launched the all-new Apple Watch last summer, but its sales remained weaker as compared to Apple's highly demanded traditional products. This is why Apple strategically launched its iPhone SE of late, primarily targeting the Chinese middle class. But the phone's introductory retail price at $399 was still expensive against Xiaomi's sub-$200 smartphones that are aligned better with the expectations of buyers.
There's rising competition throughout China as less popular Chinese phone makers such as Vivo and OPPO are marking their place in IDC's list of global top five smartphone makers. The level of competition in the market can be understood from the fact that these two companies have overthrown Lenovo and Xiaomi, which fell to the sixth and seventh positions, respectively last quarter.
Since Apple's iPhones have very common features found in several Chinese smartphones, and that too at very reasonable prices, the company is losing customers in China. Therefore, a lack of understanding of customer purchasing sentiments is believed to be a core driver behind Apple's declining sales in China.
Dearth of superior innovation and price wars
Apple is facing tough competition from companies that are offering mid-level phones across China valued at less than $250 even as middle class wages are improving considerably. But most of those middle class wage earners are still earning lower than the top markets that iPhones are targeting in China.
According to Melissa Chau of IDC Global Research: "Lenovo gained with ASPs less than US$150 during 2013, while Xiaomi achieved the top slot with ASPs less than US$200 during 2014 and 2015. At present Vivo, OPPO and Huawei are the key players in the below-US$250 range that are well-positioned for delivering a solid 2016."
It is high time that Apple realizes the importance of delivering high-quality innovation that is hard to copy and that too at a lower price. This seems to be the only surviving strategy for Apple in a fiercely competitive smartphone market in China.
More trouble from competitors ahead
Apple's competitors in China are focused on taking more market share away from the company. For instance, Huawei, which is the third-biggest smartphone maker on a global basis, plans to overtake Apple in the next couple of years. More importantly, Huawei is aggressively focused on achieving this target and in order to attain the same, the company has been making both design and software-based changes.
For instance, its latest premium Mate 9 phone, which was launched earlier this week, has a built-in artificial intelligence feature. Using this feature, the phone will learn the habits of the user and give priority to the apps that are used most in the phone, giving higher ease of access. Moreover, Huawei won't stop at this one feature as it plans to inculcate both virtual reality and augmented reality into its phones going forward.
Additionally, Huawei has also developed a version of its latest premium phone in association with Porsche, which is meant to appeal to the higher-end customers. So, it looks like Huawei is making all the right moves in order to gain more market share going forward. Currently, Huawei has 9% market share of the global smartphone market, while Apple is at 12%. However, Apple has been losing share in key areas, while Huawei is making progress on this front.
So, it won't be surprising if Huawei continues to gain share from Apple going forward on the back of its innovative moves.
Conclusion
In my opinion, Apple's strategy in China seems to be flawed. Cheaper phones with identical features are capturing demand in China, which is why it will be a good idea for investors to remain wary of the company's prospects in this major market.
Disclosure: I/we have no positions in any stocks mentioned, and no plans to initiate any positions within the next 72 hours. I wrote this article myself, and it expresses my own opinions. I am not receiving compensation for it (other than from Seeking Alpha). I have no business relationship with any company whose stock is mentioned in this article.