The Boston Beer Company, Inc. (NYSE:SAM) produces and sells alcohol beverages, and its flagship beer is Samuel Adams Boston Lager. In addition, the Company has had a ground-breaking role in the development of the craft beer category. In essence, a craft brewer in the U.S., SAM makes malt beverages and hard cider products at its breweries as well as under contract arrangements at other brewery sites.
Regarding the Samuel Adams beer, the Company brews over 60 styles of this brand. Along with Samuel Adams Boston Lager, the Samuel Adams family includes Brewmaster styles, Seasonal brews, the Barrel Room Collection, the Rebel Family, and limited-release beers, such as Millennium, Infinium, Triple Block, Lychee Pear Pale Ale, Mesquite BBQ Brown Ale, and others. The Company also has its Nitro Project with its Nitro Coffee Stout.
Established in 1984, The Boston Beer Company continues to innovate in the brewing space. Early next year, it will add two new seasonal beers. One for January and February 2017 is Samuel Adams Hopscape, a 30 IBU wheat ale with four kinds of West Coast hops. For February and March 2017, it will offer Samuel Adams Fresh as Helles, a lager with orange blossom petals.
What's on the horizon for SAM, and should investors raise a glass to it? Here are a few things to consider, with a brief look at one of its competitors, Craft Brew Alliance (NASDAQ:BREW), included for comparison purposes.
Craft Brew Alliance is an independent craft brewing company. It established in 2008 with the merger of Widmer Brothers Brewing and Redhook Ale Brewery. In 2010, Craft Brew Alliance was joined by Kona Brewing Company, when Craft Brew Alliance bought Kona for approximately $14 million.
Net Revenue
The Boston Beer Company's Q3 2016 net sales were $253.4 million. This represents a decrease of $39.7 million or 14% from Q3 2015. Craft Brew Alliance's net sales increased 0.9% in Q3 to $55.2 million. Over the last 12 months, SAM has a substandard sales growth rate of -14.00%.
Based on retail dollar sales, for the Top 10 Craft Companies (for the Total U.S. 52 Weeks ending August 13, 2016), MillerCoors was #1 at $649 million. The Boston Beer Company was #2 at $440 million.
Anheuser-Busch, Inc. (NYSE:BUD) was #3 at $377 million; Sierra Nevada was #4 at $313 million; and New Belgium Brewing was #5 at $216 million. Lagunitas, Craft Brew Alliance, Gambrinus Company, Deschutes Brewery, Inc., and NAB rounded out the Top 10 list (Source: Nielsen Data, 52 weeks ending August 13, 2016).
Net Income
SAM had Q3 2016 net income of $31.5 million, or $2.48 per diluted share. This represents a decrease of $0.37 per diluted share from Q3 2015. BREW's net income for Q3 was $552,000. This represents a drop of $180,000 or 25% versus Q3 2015.
Depletions Growth
For Q3 2016, Boston Beer's total company depletions trends declined at a little faster rate. The Company's estimation is that year-to-date depletions through the 41-week period ending October 8, 2016, decreased roughly 6% from the comparable period the year prior (Seeking Alpha - The Boston Beer Company Earnings Call - Q3 2016). Its Q3 2016 depletions fell 8% from the comparable 13-week period in 2015.
"Depletions growth" denotes the rate at which beer, already shipped from a producer to a distributor, leaves the distributor's warehouse on the way to end users - the consumer. So, the fact that depletions didn't grow is somewhat troubling for the Company.
Craft Brew Alliance had Q3 2016 depletion growth of just under 1%. Depletions growth of 18% for its Kona Brewing Co. drove this small increase. Regarding its refined full-year 2016 guidance, BREW is anticipating depletions growth ranging between an increase of 1% and a decrease of 1%. This is reflecting the growth potential of its Kona Plus strategy. However, it is also anticipating major competition and a slowdown in the craft beer segment that will temper its depletions growth overall despite the Kona brand strength.
The Boston Beer Company's Q3 depletion volume continued to be below its expectations mainly because of decreases in its Samuel Adams Angry Orchard, Coney Island, and Traveler brands.
Shipment Volume
The Boston Beer Company's shipment volume for Q3 2016 was roughly 1.1 million barrels. This represents a 12% decrease versus Q3 2015. Year to date 2016, its shipment volume was about 3.0 million barrels. This represents an 8% drop from the comparable 39-week period the year prior. The Company is forecasting full-year 2016 shipments and depletions in comparison to 2015 of between (-6%) and (-2%). Concerning its 2017 outlook, SAM is looking at depletions and shipments percentage changes of between minus low single digits and plus low single digits.
Craft Brew Alliance's shipment volume for Kona grew 12.7% in Q3 2016. Nonetheless, overall shipment volume fell by 11,600 barrels, or 5.3%, to 208,400 barrels versus Q3 2015.
SAM noted that the comparative drop in Q3 of 2016 for shipments and depletions was considerably affected by the Q3 2015 national launch of Coney Island Hard Root Beer. Moreover, these metrics were also affected by the loss of market share because of new entrants in the hard soda category since the launch of Coney Island Hard Root Beer.
Levered Free Cash Flow
The Boston Beer Company's levered free cash flow for the trailing 12 months is 67.39M. Craft Brew Alliance's levered free cash flow for the trailing 12 months is (-9.19M)
The levered free cash flow number conveys the cash amount a company has after it has met its financial obligations. It shows how successful an enterprise is at using the money it generates. Positive levered free cash flow means an entity has funds to reinvest in its business.
Therefore, The Boston Beer Company is producing good cash flow here, and in this regard, is effective in using its money. Quality cash flow gives it financial resources to expand, innovate with new products (which it is doing), and reduce debt, among other initiatives it can undertake. Its strong financial position concerning cash flow enables the Company to invest in growing its brands.
Return on Assets (ROA)
SAM's ROA for the trailing 12 months is 12.30%, and BREW's ROA for the trailing 12 months is 0.74%. The Boston Beer Company is more efficiently managing its assets to create profits.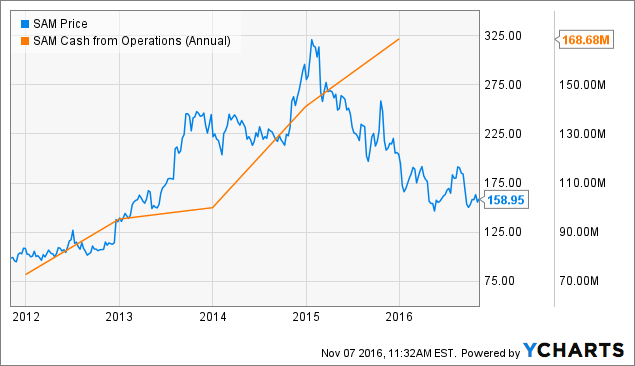 Analyst Opinions
This past September, Credit Suisse initiated coverage of The Boston Beer Company with an "Underperform" rating. It set the Company's stock price target at $156 per share. In October, Berenberg Bank downgraded the stock from Hold to Sell with a price target of $135.00.
Moreover, Cowen and Company reiterated an Underperform rating. It set a $135.00 price target (an increase from $128.00) on shares of SAM in a research report on Wednesday, October 12, 2016. Furthermore, VectorVest rates the Company a Hold. VectorVest stated in its stock analysis of November 4, 2016, that Boston Beer is overvalued versus its $156.80 price and said that the stock has approximately average safety.
Analysts' growth estimates for the next five years (per annum) for the Boston Beer Company are 4.77%.
Analysts' growth estimates for the next five years (per annum) for Craft Beer Alliance are 25.00%. The industry growth estimates for the next five years are 0.14%.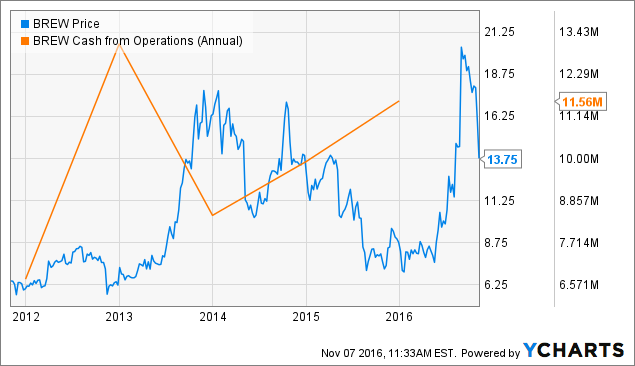 Its Subsidiary A&S Brewing
Boston Beer formed a subsidiary, A&S Brewing, in 2011. This has added several unique beers to its family of products. A&S Brewing is a craft beer incubator based in Burlington, Vermont. A&S brews beers under The Traveler Beer Company. Its products include Traveler Grapefruit Shandy; Curious Traveler Lemon Shandy; Aloha Traveler; Jacko Traveler, Pumpkin Shandy, and Jolly Traveler Winter Shandy.
A&S Brewing acquired Angel City Brewery (Los Angeles, California) in 2012. Angel City Brewery brews small batch beers for local Los Angeles bars and restaurants. Its on-site brew pub is named the Public House. Angel City's beers include Angel City Pilsner; Angel City Lager, and Angel City IPA.
Additionally, A&S Brewing bought the Coney Island brand from Shmaltz Brewery Company in 2013. It commenced brewing and distributing craft beers and its beers include Mermaid Pilsner; Hard Root Beer; Freaktoberfest; Hard Orange Cream Ale; Overpass IPA; Coney Island Lager; The Plunge, Blood Red Berliner Weisse (a limited draft); Beermosa; Cotton Candy Kölsch; Kettle Corn Cream Ale; MerMan Imperial Pilsner; Hot New York Honey Stout; Trapp'd on the Cyclone; Warrior India Red Ale; Seas the Day IPL, among others.
A&S Brewing also has its Concrete Beach Brewery and social hall, which opened in May of 2015. Concrete Beach Brewery is an artisanal craft beer brewery in Miami, Florida. Concrete Beach sells its beer on draft, and also in 6-packs of bottles and cans. It sells its beer in Miami-Dade and Broward Counties.
A&S Brewing gives Boston Beer significant reach in the craft brew space and gives the Company the innovation capability to stay on trend. It has a new product where it's added juice to beer - Samuel Adam's "Rebel Juiced". This product is made with Zeus, Mosaic, Mandarina hops and mango juice (Taps - The Beer Magazine - Top 5 Beer Trends For 2017 - October 20, 2016).
Its Truly Spiked & Sparkling Brand
One of The Boston Beer Company's top priorities is long-term innovation. An example is its present emphasis on ensuring that its Truly Spiked & Sparkling brand maintains its front-line position and reaches its complete potential. The Company said that:
"We are happy with our Truly Spiked & Sparkling category leadership position and are investing to grow this emerging category."
Conclusion
So, what to make of The Boston Beer Company right now? While holding a significant market position regarding craft beer, Boston Beer must continue to focus diligently on addressing its sales, depletions, and shipment volume decreases in a very competitive craft beer space. This is a major challenge as present trends in the craft beer sector show a slowing of category growth rates.
The Company is going ahead with five "seasonals" for 2017 to spur sales growth and to engage consumers always looking for new products. It estimates that it will have a capital expenditure budget between $40 million and $60 million for 2017. It will devote a significant portion of this capital to its breweries to support future growth and product innovation.
Furthermore, another priority for the Company is to spur sales of its Sam Adams and Angry Orchard brands. It is working to accomplish this growth goal through its packaging, innovation, promotion and brand communication programs.
Should you raise a glass to The Boston Beer Company right now? Personally, I like its Samuel Adams Boston Lager, and I will continue to raise a glass of this brand. However, I'm not ready to sip from the cup as concerns buying this stock right now.
Consensus suggests it's overvalued, and storm winds are on the horizon in terms of craft beer growth. There's a plethora of SKUs in the industry and wholesalers and retailers can only carry so many brands on their premises. Sometimes the give and take favors more established traditional brands, nudging some craft beers off the pallets and shelves of these wholesalers and retailers.
Disclosure: I/we have no positions in any stocks mentioned, and no plans to initiate any positions within the next 72 hours. I wrote this article myself, and it expresses my own opinions. I am not receiving compensation for it (other than from Seeking Alpha). I have no business relationship with any company whose stock is mentioned in this article.