The essence of portfolio management is the management of risks, not the management of returns. Well-managed portfolios start with this precept". - Ben Graham

Three most important words in investing…Margin of Safety"- Warren Buffett

A margin of Safety is achieved when securities are purchases at prices sufficiently below underlying value to allow for human error, bad luck or extreme volatility in a complex, unpredictable and rapidly changing world."- Seth Klarman
Nick's Micro-Cap Fund is continuing to perform well in the face of global uncertainties. Since the inception date of August 14th, 2016, the portfolio is up 7.65%. This can be compared to the SPDR S&P 500 ETF Trust (NYSEARCA:SPY), SPDR Down Jones Industrial Average EFT (NYSEARCA:DIA) and iShares Russell Microcap Index ETF (NYSEARCA:IWC) of -2.43%, -1.90%, and -2.81%, respectively.
This performance is something to be excited about. Despite the returns, the portfolio is still theoretical in nature and still in its infancy. With that being said, there have been a handful of investors that have reached out to me, interested in emulating the portfolio on a more real-time basis.
I appreciate the confidence from other professional investors in the construction of this portfolio. I am slowly moving forward with this idea and would appreciate further input from other interested parties. If interested in investing outside of your own portfolio, feel free to contact me.
Moving forward, the fund still and will continue to be based off of the margin of safety theory. Successful portfolio management is the management of risks, not returns. I am not looking to be hyper-concentrated in the next up-and-coming Amazon (NASDAQ:AMZN), Facebook (NASDAQ:FB) or Twitter (NYSE:TWTR). Rather, I am looking to own businesses significantly below their intrinsic value. If I can continue to buy businesses, with a large enough margin of safety, my goal will be accomplished.
I think about my due diligence process as an evolving entity. If I improve how deeply I dive into a company every day, results should become marginally better. Given my age, if I marginally improve my due diligence process every year, thirty-years from now I should be a much better investor. Confidence in the style? Statistics should be working in my favor.
I find value investing methodologies perform well in the micro-cap space for several reasons. First, value investing outperforms over the long-run. Secondly, micro-caps outperform their larger peers. Thirdly, the absence of smart money. I like these odds.
The first two reasons help on an overall statistical basis. The last one gives me an edge. Thus, the lack of smart money will give me an opportunity to buy businesses - hopefully at a discount for reasons such as liquidity - than that of a larger peer.
To gain an edge in my due diligence process, I want to continue doing deep research. I view my research process as detective work - collecting research in unconventional ways. I also find Sherlock Holmes an interesting fellow:
My name is Sherlock Holmes. It is my business to know what other people don't know."- Sherlock Holmes
A method of becoming a better detective - a greater sleuth - is the visitation of a company's operations. Doing this not only helps to understand what I am getting in bed with, but it makes my investing decisions more businesslike in nature.
If I were looking to purchase and wholly own a single business, I would be crazy not to visit the operations. I take this similar stance with equity investing. As a potential fiduciary, I want to own pieces of businesses, not ticker symbols that shoot out financials four times a year. Seeing the operations will help me think like an owner of a business.
It would probably be good to cut the methodology section off at this point and get to the good stuff. But before we do that, here is a brief summarization of my methodology.
Value investing practices within the micro-cap space.
Low balance sheet risk.
Visiting operations.
Building a relationship with management.
Attending shareholder meetings.
Long-term horizon.
This list isn't exhaustive, but a brief summation. The methodology is also expected to evolve as time passes. Moreover, the lack of funds for the qualitative research should change soon - potentially allowing me to visit companies, while expanding my research process across the US.
Returns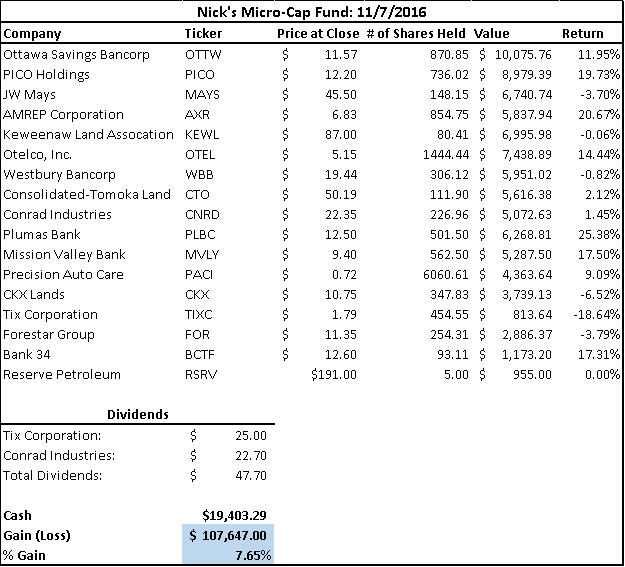 Nick's Micro-Cap Fund has returned 7.65% to date. A $100,000 investment would have yielded $107,599.30 since August 12th, 2016 to November 7th, 2016.
Ottawa Savings Bancorp (NASDAQ:OTTW)
Ottawa is still the fund's largest holding - having appreciated 11.95%. The original investment decision in the company was due to the discount from tangible book value and a second-step conversion in the near term.
Since buying the company, the bank has fully converted - selling 2,383,950 shares at $10.00/share, with gross offering of $23.8 million. Former owners of Ottawa received 1.1921 shares of common stock for each original share they held. The company now has 3,450,000 shares putting the market cap around $39-40 million.
Post-conversion, the bank still trades significantly below tangible book value. Furthermore, there is a significant amount of capital the bank can now put to work via repurchases, dividends, loans, etc. Most importantly, I find the investment merits attractive and will continue to hold for the long term.
PICO Holdings (NASDAQ:PICO)
John 'The Juicer' Hart has been terminated. The news of termination came out after the company sold Mendell Energy (a non-core asset) - giving the company enough capital to kick Hart out. Terminating Hart will not only save the company a significant amount of capital if and when they monetize the assets, but it has removed a CEO who has destroyed shareholder value.
UCP, Inc. (NYSE:UCP) - a core holding PICO owns, recently posted encouraging results. Revenues were up 27.2% Y/Y, SG&A expenses improved, new home orders grew 14.4% and the backlog has increased 30.1%. The results were well received by the market - pushing the stock up from ~$8.40 to ~$9.20 per share. I hope to soon see notable news on UCP's outstanding debt facility. Furthermore, it would be encouraging if PICO sold their position in UCP given the company's debt and cyclical nature of the business model.
PICO also posted 3Q16 results Wednesday morning. Shareholders' equity is $14.52/share - compared to the market price of ~$12.00/share, net loss decreased to $2.9 million from $14.1 million Y/Y and real estate revenues are up a decent amount. There haven't been any asset sales via Vidler - though they are in discussion with several parties.
Overall, the investment opportunity still looks compelling - even after the decent run. Furthermore, the company has $139.6 million in NOLs it can utilize in the future and expenses continue to fall. I will continue to hold for the long term and monitor the investment.
J.W. Mays (NASDAQ:MAYS)
There isn't much excitement going on with J.W. Mays. The company posted an unexciting 10-K on October 6th. Revenues are steady and debt continues to fall. A new tenant took over a portion of the Nine Bond Street building, with a slight increase in rent. Also, another tenant terminated its 2,000 SF office space at the Jamaica building - with a new tenant taking over.
Overall, nothing much has changed and potential for higher rental increases is in dismay. I don't think there is much downside at the current price and there is a ton of asset value protection. Upside may be minimal at this point - unless management decides to aggressively raise rental prices. However, I like the idea of buying assets for less than they are worth, even if management isn't looking to maximize value. I will continue to hold.
AMREP Corporation (NYSE:AXR)
AMREP has been a decent position for the portfolio - 20.67%. Upside was driven by the company posting decent full-year results and a nice Q1. In the first quarter, revenues were up 27% Y/Y and EPS clocked in at $0.08/share. The company also trades with a net cash position, as the loan to Karabots has been paid down.
The recent movement in the share price has decreased the margin of safety - but I believe there is still value to be unlocked as the company sells its assets. I find the investment opportunity compelling and will continue to hold.
I sold 30% of this position for a 38.69% gain on September 27th, 2016.
Keweenaw Land Association (OTCPK:KEWL)
Nothing much has gone on with this left-for-dead pink sheet company. The share price has barely moved and recent earnings were nothing to get excited about. However, the company is undervalued and has a significant amount of asset protected downside. Furthermore, the assets will continue to appreciate in value as the timberland grows. I find the valuation compelling at the current price.
Otelco (NASDAQ:OTEL)
I feel like Otelco is one of the most misunderstood and overlooked micro-caps out there. Moreover, any investor unwilling to invest in a company with a ton of debt will not even consider investing in Otelco. I totally understand why, but believe the reward outweighs the debt risk at this point in time.
Q3 results were in and revenues actually moved up slightly in the linked quarter - pretty big for a melting ice cube. The company accepted A-CAM - which will give the company more visible regulated revenues for the next ten years. Debt fell to $90.6 million from $97.05 million Y/Y, and cash increased to $9.33 million. There is still a significant amount of debt on the balance sheet and the company is paying more cash flows out in interest expenses than they were last year.
There was big news this week. The company stated they are exploring strategic alternatives to unlock shareholder value. I am assuming the company is going to look to sell themselves given the unattractive rates they are paying on their new credit agreement. A competitor could come in, get new rates, pay down debt faster and make the company even more profitable than it already is in a short period of time. This is a great move by management.
On a balance sheet basis, this is the riskiest company in the portfolio. However, management is keen on paying down their debt, revenues should be stable and the company could be bought out by a competitor who wants in their rural market. At 3.6x EV/EBITDA, the implied valuation is cheap.
Westbury Bancorp (NASDAQ:WBB)
Westbury Bancorp is the fully converted mutual holding company that has passed its three-year-mark moratorium expiration. I find the bank very attractive as an asset allocator and compelling on a valuation standpoint.
If you take a look at the most recent quarterly announcement, the bank is improving on almost every metric you can think of. The bank has continued to repurchase shares - 237,015 for the year so far - in total, repurchasing 24.3% since converting. If the bank is not bought out, they should do well on a stand-alone basis from management's efficient asset allocating abilities. I am looking to purchase more in the near term.
Consolidated-Tomoka Land (NYSEMKT:CTO)
There is a lot of hate for Consolidated-Tomoka Land on Seeking Alpha - and I totally understand why. Management isn't looking out to create shareholder value, repurchases have been dismal, the conference call was cut short so shareholders couldn't ask key questions and they have been buying properties that are relatively expensive. Despite these shortcomings, the company is undervalued and results seem to be improving.
Revenues are up 47% and 87% for the quarter and nine months, respectively. Furthermore, operating income is up 208%. Net income is up from $2,072,281 to $8,146,004 in the quarter and from $2,650,254 to 11,119,211 in the nine months. In addition, the company continues to sell assets and buying more via tax sheltered transactions. Cash continues to grow, debt is falling and stockholders' equity is increasing. The market seems to not care too much about the company though. I still think the company is attractive and should provide attractive upside with minimal downside at the current price.
Conrad Industries (OTCPK:CNRD)
Conrad has been a good performer for the fund. The company also posted a decent quarter - despite the industry headwinds. Backlog has increased from $131.7 million to $248.7 million Y/Y, with net income up. Cash has come down to $29 million - from the $46 million a year ago. Revenues are also down a significant amount. Nonetheless, there is value within the security. The company should do well over the long term, despite short-term volatility.
Plumas Bancorp (NASDAQ:PLBC)
There is a lot to like about Plumas Bancorp. Despite the micro-cap and community bank status, the bank is a quality bank - with unheard of profitability metrics. Annualized ROE and ROA for the most recent quarter were 16.3% and 1.23%, respectively. The net interest margin was 4.20%. And the bank is trading for around 115% price to tangible book. The company had an outstanding quarter and recently announced it will begin to pay a ten cent quarterly dividend. I plan to hold this quality bank for the long term, that is unless they get bought out.
Mission Valley Bancorp (OTCQX:MVLY)
Someone has finally started to catch onto the opportunity with Mission Valley. After the record breaking quarter, the price didn't move at all. However, a few days ago, someone put in for an order that shot price up a decent amount.
The bank is of higher quality and off the radar of most investors. The bank posted its third quarter a week or so ago - which was a record breaking quarter by the way. Net income was up 25%, assets, deposits are increasing and loans continue to grow. Mission Valley is also well capitalized; Total Leverage Ratio of 13.8%, Common Equity Tier 1 Capital Ratio of 10.3%, Tier 1 Capital Ratio of 16.7%, and a Total Capital Ratio of 18.0%.
I am guessing the bank will continue to perform well in a low interest rate environment - without the majority of the market paying attention. The bank will serve well as a good buy and hold.
Precision Auto Care (OTCQX:PACI)
Precision Auto Care has performed as I expected. Revenues are growing, the bottom line has doubled, and the company is still in a net cash position. There is still a decent amount of NOLs the company can use to offset taxable income in future years. Also, if the company continue to generate a sizeable amount of cash flow, I would expect more repurchases in the near to mid-term. Despite the illiquid nature of the company, there is still a decent valuation on the table with limited downside.
CKX Lands (NYSEMKT:CKX)
CKX Lands is a pretty boring and uneventful company. The company specializes in short annual and quarterly reports and PRs are as plain vanilla as you can get.
The recent quarter wasn't anything to get excited about. Revenue and net income are down - from the prolonged downturn in the O&G sector. I am expecting the company to continue to post dismal results in the future - unless there is a major uptick in the price of oil or gas.
However, on a valuation standpoint the company is quite attractive. CKX Lands owns a significant amount of acreage and is likely worth a considerable amount more on a liquidation basis. Furthermore, a normalized O&G environment could act as a catalyst for the share price. Overall, I like the margin of safety with this name and will add to my position if the stock price falls below $10/share.
Tix Corporation (OTCQX:TIXC)
Tix Corporation has been the fund's biggest loser. Revenues have dropped a considerable amount - from a change in tickets and reduced revenue earned per ticket. Also, one of the company's biggest customers closed down their venue - a pretty negative sign for long-term development. Finally, SG&A has increased despite the reduction in revenues.
I plan on continuing to hold the company in the fund, but will keep the position rather small. The recent development with Expedia (NASDAQ:EXPE) will make Tix Corporation the Official Las Vegas Guest Service Partner - which could prove to be beneficial. On the flipside, there may be a continual ramp-up in SG&A.
Surge Components (OTCPK:SPRS)
I sold my entire position in Surge Components for a 35.96% gain on September 27th, 2016.
Forestar Group (NYSE:FOR)
Forestar Group hasn't announced anything since my original analysis on the company. Q3 should be coming out shortly - which I am expecting further payments on the debt, a potential sale of the timberland assets and better color on the ongoing operations for the next 1-2 years. With the recent pullback in the stock, I added $1,000 to the position at $11.20/share.
Bank 34 (NASDAQ:BCTF) originally Alamogordo Financial (ALMG)
Bank 34 has completed the second-step conversion of the Mutual Holding company. Bancorp 34 is now the holding company of Bank 34. The offering was oversubscribed, in which 1,879,484 shares were sold at a price of $10.00/share. Stockholders of Alamogordo Financial received 2.0473 shares of Bancorp 34 common stock for each share they held in Alamogordo Financial. I will continue to hold.
Reserve Petroleum (OTCPK:RSRV)
I purchased five shares in Reserve Petroleum at $191/share for a total purchase price of $955 on 11/7/2016. The company has a significant amount of assets, trading close to its net cash position and near a multi-year low. My entire thesis for the buy can be seen here.
Cash
At 11/7/2016, the cash position in the portfolio was $19,403.29. I find cash to be a valuable asset and will continue to hold a sizeable amount of the portfolio in cash. If and when there is a broad market downturn, I may put the cash to work. As of right now, I view the large cash position as a type of margin of safety.
Conclusion
There is a lot of uncertainty with the upcoming election. I pay little attention to the broad macro-economic environment on a day-to-day basis. I'd much rather spend my time analyzing individual securities. No matter what happens in the upcoming election, life and commerce will go on. With that being said, I will also continue to do what I do every day - hoping with a little luck - to purchase businesses below their intrinsic value.
Disclosure: I am/we are long OTTW, PICO, CNRD, PLBC, RSRV.
I wrote this article myself, and it expresses my own opinions. I am not receiving compensation for it (other than from Seeking Alpha). I have no business relationship with any company whose stock is mentioned in this article.
Editor's Note: This article covers one or more stocks trading at less than $1 per share and/or with less than a $100 million market cap. Please be aware of the risks associated with these stocks.