Overview
Accepting a tender offer can be an effective means to earn a return on excess capital over short term time periods. On an annualized basis, these returns may far exceed those of the long term holdings in a typical portfolio. I often search the SEC Edgar database for tender offers. I became aware of the Five Star Quality Care Inc. (NASDAQ:FVE) offer when intent was first announced on October 3, 2016, but it has taken until now for an efficient investment plan to emerge.
The Company
FVE is an operator of senior living facilities in the U.S. It currently trades at 73% of book value, and its Price/Sales ratio is a shockingly low 0.11. It is a tiny company on a relative scale, with a market cap of about $127M. For this reason, it is likely not a consideration for many large institutional investors. Likewise, due to lack of analyst coverage, even retail investors would need to do a fair amount of digging to uncover such a name. In my opinion, this is exactly the reason such a large discount remains between the stock price ($2.58) and the offer ($3.00).
Timeline
October 3, 2016: ABP Acquisition LLC announces its intent to make a tender offer for 10 million (20% of the outstanding) shares of FVE at 3.00 per share. The stock price rallied from 1.91 to 2.66, a 39% increase.
October 6, 2016: ABP Acquisition LLC files its formal tender offer in accordance with the October 3 announcement.
October 13, 2016: Gemini Properties and related parties announce intent to make a competing tender offer for 10 million shares of FVE at 3.45 per share. The stock rallied from 2.54 to 2.76, a 9% increase.
October 27, 2016: FVE Board of Directors responds to Gemini Properties declining its request for waivers and consents necessary to complete its 3.45 tender offer. Also, ABP Acquisition LLC amends its original tender offer from 10 million shares to 18 million (36% of the outstanding) shares. The stock price fell from 2.93 to 2.79, a 5% decrease.
November 3, 2016: FVE reported a 3Q earnings loss, strengthening the case for ABP to take a controlling interest in the company and focus on improving operations.
November 7, 2016: Gemini Properties filed a letter to shareholders outlining reasons not to accept the ABP Acquisition LLC offer. In summary, their premise is that the 3.00 offer is significantly undervaluing the company and that they were treated unfairly by the BOD when their 3.45 offer was denied. The stock price has drifted down since October 27 and currently sits at 2.58.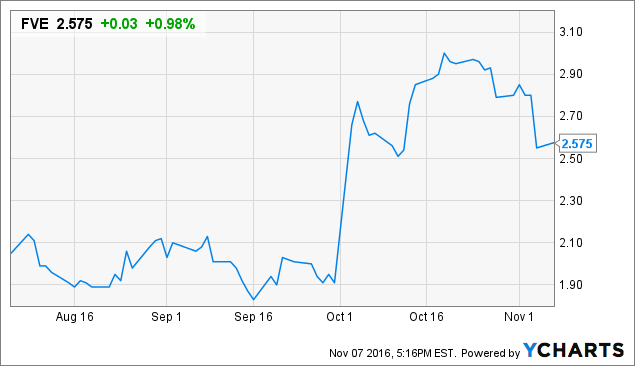 Interpretation
Based on the history above, it is obvious that both of the competing groups see value in FVE significantly above the market price. It also appears that the Board of Directors is siding with ABP Acquisition LLC and a degree of politics is involved. Fellow Seeking Alpha Contributor New Capital posted an article on October 18, 2016 stating the case for a long investment in FVE based on a book value of 3.50 per share and the likelihood of an increased offer by ABP. While this is not out of the question, we now know that based on the BOD's rejection of Gemini's offer, it is likely that the 3.00 ABP offer will take place upon the expiration at midnight on November 10, 2016.
Recommendation
Purchase shares of FVE and submit a tender request through the broker to accept ABP's 3.00 offer. Subsequent to the expiration date of November 10, a proration ratio will be determined. If 18M shares or less are tendered in total, your entire position will be exchanged for cash (the tender process usually takes a few weeks to a month- check with your broker). Note that 18M equates to a significant 36% of the outstanding shares. It is my opinion that 50% of the outstanding shares at most will be tendered, when taking into account the insider (10%) and institutional (60%) ownership. Regarding any residual position that remains due to proration, a strong case can be made for the value of the underlying assets as well as the interest in the name by Gemini Properties, both of which should buoy the stock price.
Disclosure: I am/we are long FVE. I wrote this article myself, and it expresses my own opinions. I am not receiving compensation for it (other than from Seeking Alpha). I have no business relationship with any company whose stock is mentioned in this article.