ArcBest (NASDAQ:ARCB), formerly Arkansas Best, is a freight transport and logistics company. There are several publicly listed competitors such as Old Dominion (NASDAQ:ODFL), Heartland Express (NASDAQ:HTLD), Swift Transportation (NYSE:SWFT), Werner (NASDAQ:WERN) and others. The stock appeared in my value model and when I saw that it traded at a discount to its industry I decided to take a closer look.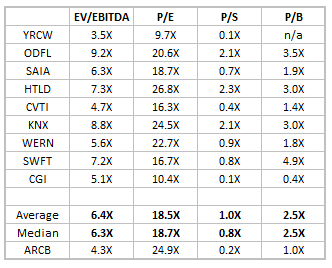 (Source: Bloomberg)
As we see below, the stock has just come off a multi-year low. It has rallied strongly from $15 to $22+.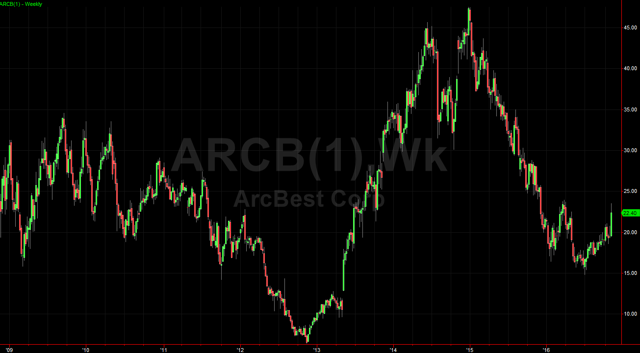 (Source: TradeStation)
The company turned a -$2.46 EPS loss in 2009 into a $1.78 profit in 2015, but the results over the last four quarters have shown a deterioration which would explain the drop in the stock. Over the last year ODFL and YRCW also dropped as shown below, but all three have picked up a bit in recent months.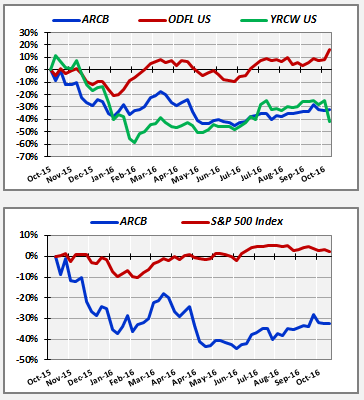 The chart below shows sales growth of ARCB, ODLF, SWFT, WERN, HTLD and Knight Transportation (NYSE:KNX). Overall the companies in the industry move together in the good and bad times. General industrial inability to grow in 2015 is expected to continue in 2016E. ARCB's sales growth has been about equal to the average with the exception of 2016E. In 2016E, only ODLF and ARCB are expected to grow sales (both by 0.5%). The other four are expected to see sales declines.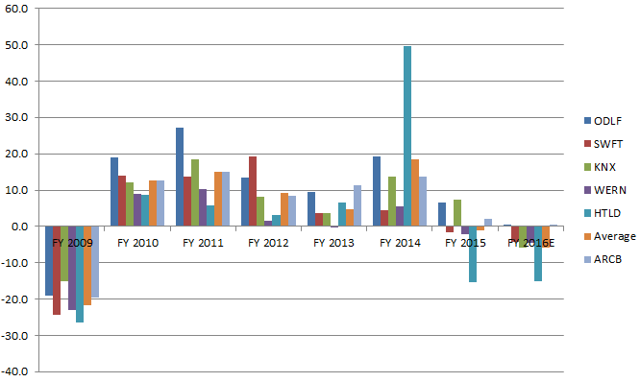 While sales growth has been average, EBITDA margin is significantly below the competition which may also partly explain the difference in valuation. ARCB's EBITDA margin is 4x lower than its competitors. Swift, which has the second lowest EBITDA, is still almost 3x larger than ARCB.

(Source: Bloomberg)
ARCB's sales have dropped only -1% year-on-year but last twelve months' comparable EPS declined considerably to $0.84 from $2.08. The Street estimates 87 cents for this year but $1.52 for 2017. Despite the optimism, broker targets are between $20 and $26, while the stock is currently around $23.
70% of the business is asset-intensive with high capex requirements. The company has its own drivers (mostly unionized) and trucks. 30% of the company is asset-light due to the $180m 2012 Panther acquisition which gave it a presence in that market. Asset light basically means that assets from third party providers are used and that is why investors will see "purchased transportation" under operating expenses.
The major drivers of ABF Freight (the asset-intensive business) are volume (i.e. tonnage), prices (i.e. revenue per hundredweight), labor and fuel costs. Revenue per hundredweight billed to clients includes a fuel surcharge. This surcharge is based on the index of national on-highway average diesel fuel prices published by the Department of Energy. However, according to the company, the actual rate paid is governed by market forces.
As we see below, both prices and volume grew in 2013 and 2014. Volume then declined but this was offset by operating costs.

(Source: Company filings)
With regard to operating expenses, the major contributor in 2014 was labor (58.1% vs. 61.0% the year before) while in 2015 it was fuel costs (16.0% vs. 18.7%).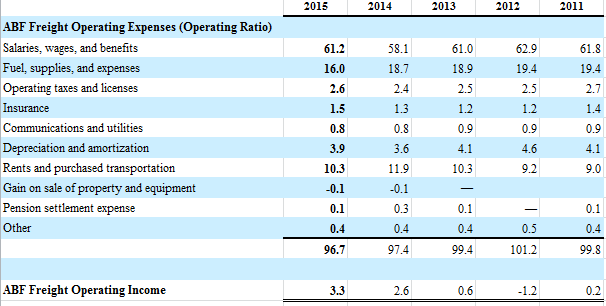 (Source: Company filings)
Over the last few quarters we see that volumes continue to drop, which was partially offset by the increase in prices.

Truck tonnage is off its peak as shown by ATA seasonally adjusted index. As you can see, the run-up from 2009 has been a contributor to the earnings improvement in the last few years.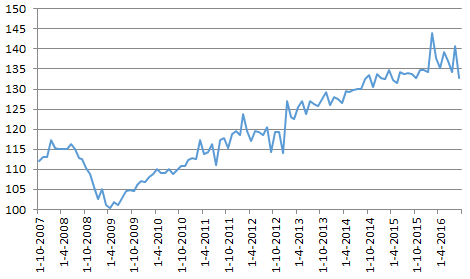 (Source: ATA)
Below is a breakdown on ABF Freight's most important costs: labor and fuel. Labor costs have risen in each quarter over the last twelve months. This was offset by the lower fuel cost. Despite this, overall operating profit declined as operating expenses rose from 94.8% to 96.5% of sales.

Management indicated that net CAPEX for 2016 would be $140-150m, down from its 10-K estimate of $170-200m. This still implies even higher CAPEX than last year, as shown below.

(Source: Company filings)
The purchase of equipment is also financed by notes payable and capital leases. As these are made for equipment we should consider the gross CAPEX amount, rather than the net which excludes them. Last year's operating cash flow was $146m (less than the gross $159m above) while trailing twelve months OCF is $114m (less than the net mid-CAPEX $145m guided).
Investors should also note two other items. First the off-balance sheet obligations which rose to $176m in Q2 from $137m in Q4. Second, the company's contribution to 25 multiemployer pension plans. These essentially cover employees in unrelated companies in accordance with a collective bargaining agreement. According to ARCB, "Several of the multiemployer pension plans to which ABF Freight contributes are underfunded and, in some cases, significantly underfunded." About 1/2 of ABF Freight contributions are made to Central States Pension Plan which is around 50% funded.
After spending considerable time on this company I came to the conclusion that in the $20s the risk reward is not satisfactory. There doesn't appear to be much control over revenues and expenses. As a result, there doesn't appear to be much room for management to act. That would explain the effort to become more involved in asset-light activities. Finally, the capital expenditures are high and do not allow significant free cash flow generation. A difficult business which would only be interesting to me at lower levels. Historically, the stock has done well for investors following a dip below book value (currently at $23), but personally couldn't find enough reasons to like the stock.
Disclosure: I/we have no positions in any stocks mentioned, and no plans to initiate any positions within the next 72 hours.
I wrote this article myself, and it expresses my own opinions. I am not receiving compensation for it (other than from Seeking Alpha). I have no business relationship with any company whose stock is mentioned in this article.