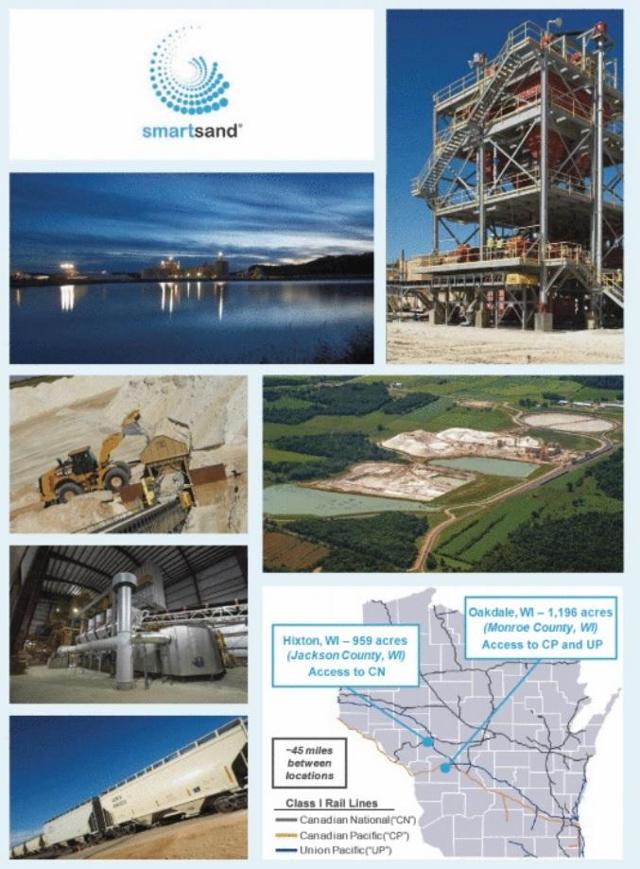 Important Note: This article is not an investment recommendation and should not to be relied upon when making investment decisions. Investors should thoroughly examine Smart Sand's (NASDAQ:SND) IPO filings and conduct other comprehensive research. Please read the disclaimer at the end of this article.
Smart Sand, Inc. is a new stock on the frac sand "publicly traded block." The company priced its IPO on November 4 and is now trading on NASDAQ under the ticker symbol "SND." "Initiating coverage" research on the stock by the underwriters will not appear until the expiration of the quiet period, whereas independent research is likely to be scarce, given the stock's miniscule public float (Credit Swiss, Goldman and Jefferies are senior underwriters and Piper Jaffray, Tudor, Pickering, Holt and Deutsche Bank Securities are junior underwriters).
The IPO Results: A Glass Half-Full
The offering priced at $11 per share, far below the lower end of the initial offering price range of $15.00 to $18.00 per share. While the outcome may appear a disappointment, I personally view the price as favorable and the IPO a success for the company and its shareholders.
At $11 per share, the company's enterprise value is ~$350 million as compared to ~$2.9 billion for U.S. Silica (NYSE:SLCA) and $2.3 billion for Fairmount Santrol (NYSE:FMSA). To put the enterprise value in perspective, Smart Sand's Adjusted EBITDA was $23.9 million in 2015 and $6.4 million in the first six months of this year (please see the discussion of the role of take-or-pay contracts further in this note).
The stock's valuation may appear "rich" even at $11 per share. However, it is important, in my view, to consider the company's high-quality asset, debt-free balance sheet and growth potential.
Smart Sand is sponsored by a fund managed by Clearlake Capital Group, L.P., a private equity firm with ~$3.5 billion under management. On a pro forma basis, assuming the green shoe is exercised in full, Clearlake and Smart Sand's CEO, Charles E. Young, will control ~59% of the company's shares outstanding (Appendix A).
Key Considerations And Conclusions
Macro factors are the key driver of frac sand margins and are paramount to understanding frac sand stocks.
The trend toward higher proppant intensity in U.S. shales is well documented and is quite powerful. Once a robust upcycle in oil finally arrives, higher sand intensity will amplify the increase in the pace of completions. Higher cost of frac sand will not be an obstacle impacting this trend, in my opinion, as frac sand remains a relatively small component of the well's overall cost whereas higher oil prices would stimulate frac intensity.
That said, frac sand is a highly commoditized industry. The existing production capacity is ample and differentiation across the industry in terms of all-in delivered cost of sand is relatively narrow. In addition, massive potential for capacity expansion exists. The capital and lead times required for new capacity to be added are moderate.
As I have stated in my earlier notes, at this point in the cycle, the frac sand industry's margins heavily depend on oil prices recovering above roughly $60 per barrel (which would trigger the re-activation of Tier 1 frac sand capacity, with an associated step-change in pricing). Under a lower-price scenario for oil, the upcycle in frac sand may be gradual and initially low-margin.
Frac sand stocks tend to be highly volatile and at times "irrational" in terms of trading patterns. I attribute this volatility to investors' poor understanding of the sector's cycle and to the tiny size of the investable float (less than estimated $4 billion across the five major publicly traded stocks).
Despite its small-capitalization, Smart Sand appears to be a focused operator with a high-quality core asset providing a favorable starting point for organic and non-organic expansion. The IPO creates a venue for raising additional equity capital to add capacity at the existing facility and, possibly, take steps to integrate into logistics and distribution. At the current stock price, equity raising would be strongly NAV-accretive.
The compact, transportation-advantaged operation should ultimately enable a more competitive at-the-mine cost structure (not quite there yet).
The product mix heavily weighted towards finer grades is an advantage and should yield differentiated pricing as the market tightens.
Investors should be willing to pay some premium for the debt-free balance sheet.
The lack of scale, on the other hand, is a challenge:
1H16 sales volumes were less than 15% of those sold by each U.S. Silica or Fairmount Santrol.
The small volumes make supporting a logistics and distribution network problematic.
The small volumes also impact costs: production costs at the mine were $17.56 during 1H 2016, which is high relative to the leading-edge metrics for the industry.
In terms of its competitive position, Smart Sand appears to be at a disadvantage relative to the larger, diversified producers such as U.S. Silica and Fairmount Santrol which are better equipped to capture the margin along the entire frac sand value chain from the mine to the wellhead, and therefore have the cost of supply advantage. U.S. Silica and Fairmount Santrol also benefit from the stable industrial sands businesses.
In a robust upcycle in oil, all sand producers will benefit. However, over time, smaller operators like Smart Sand face the challenge of developing a competitive response to larger competitors. Growing aggressively (adding capacity organically or consolidating capacity via M&A) or being consolidated appear to be the two primary options.
While Smart Sand may appear to be an attractive bite-size acquisition target, regulatory concerns should not be overlooked. Both U.S. Silica and Fairmount Santrol may face difficulty consolidating Smart Sand due to market share hurdles.
Given the scarcity of viable strategic merger partners, the company may have to "go it alone" in a marketplace that remains highly competitive.
Company Overview
Smart Sand is a pure-play Northern White frac sand producer. At the moment, the company operates a single raw frac sand mine and related wet and dry sand processing facility near the town of Oakdale in Monroe County, Wisconsin. The facility commenced commercial operations in July 2012 and was expanded to 3.3 million tons of annual processing capacity in September 2015. Volumes sold during the first six months of this year were 322,000 tons. The Oakdale facility has integrated on-site rail infrastructure and has access to two Class I rail lines. The company believes that with further development and permitting, the Oakdale facility could ultimately be expanded to allow production of up to 9 million tons of raw frac sand per year.
In addition to the Oakdale facility, Smart Sand owns a second property in Jackson County, Wisconsin (which the company refers to as the Hixton site). The Hixton site is also located adjacent to a Class I rail line and, according to the company, is fully permitted for future development.
Smart Sand has highlighted that the Oakdale mine is a source of primarily fine mesh sand. The company believes that ~81% of its reserve mix is 40/70 mesh substrate and 100 mesh substrate. These finer product grades have recently seen the strongest growth in demand. This differentiated demand trend is likely to continue, driven by increasing proppant intensity and slickwater completions.
The co-location of the company's mine, processing plants and primary rail loading facilities within one site eliminates the need to truck sand on public roads between the mine and the production facility or between wet and drying processing facilities, eliminating additional costs to produce and ship sand.
Smart Sand's on-site rail facility can simultaneously accommodate multiple unit trains (approximately seven miles of rail track in a double-loop configuration and three rail car loading facilities). The rail provides access to a Class I rail line owned by Canadian Pacific (NYSE:CP). In addition, the company has recently constructed a transload facility on a Class I rail line owned by Union Pacific (NYSE:UNP) in Byron Township, Wisconsin, ~3.5 miles from the Oakdale facility. The UP transload commenced operations in June 2016 and provides increased delivery options.
Smart Sand has equipment for one wet plant and one dryer in storage at Oakdale. Should market conditions warrant a capacity expansion, the company could increase its annual processing capacity to approximately 4.4 million tons. The company believes these units could be installed and operational in approximately six to nine months from commencement of construction. Other growth opportunities include potential expansion of the Byron Township transload facility to handle multiple unit trains simultaneously. The company has also commented that it may seek opportunities to expand its sales into the industrial sand market to diversify its customer mix and exposure to industry cycles, similar to the business model implemented by the industry leaders U.S. Silica and Fairmount Santrol.
Smart Sand sells its products to oilfield service companies and E&P operators under long-term take-or-pay contracts as well as in the spot market. For the year ended December 31, 2015, and the six months ended June 30, 2016, the company generated approximately 96.4% and 99.6%, respectively, of its revenues from sales under long-term take-or-pay contracts.
A Low Cost Producer?
On the surface, Smart Sand has many attributes to be a low-cost producer:
Mine and facilities co-location within a compact site;
the company is currently evaluating the potential of mining by dredge to reduce the cost of the mining operation;
balance of coarse and fine mineral reserve deposits (combined with the effort to match the mined grades with sales contracts to minimize yield loss);
proximity to two Class I rail lines and other sand logistics infrastructure, which helps reduce transportation costs, fuel costs and headcount needs;
a natural gas connection to the Oakdale facility (in service since October 2015) that provides the optionality to source lower cost natural gas (as compared to propane) as a fuel source for the drying operations;
a rail car fleet that currently approximately matches the company's needs; and
reasonable royalty rate ($0.50 per ton sold of 70 mesh or coarser substrate).
Despite these actual and potential benefits, Smart Sand has not been immune to the collapse in demand and pricing for frac sand. The company's Adjusted EBITDA in the first half of this year was just ~$6.4 million. While the result is better than for most of its publicly traded peers on a per-ton basis, it is hardly a windfall. Most importantly, EBITDA was boosted by the company's contracts.
Operational and Financial Metrics
To understand Smart Sand's financial metrics, it is important to take into account that the majority of the company's revenues have been from sales under take-or-pay contracts (sold FCA).
For the first six months of 2016, Smart Sand sold 322,000 tons of frac sand. By comparison, this amount represents less than 15% of the proppant volumes sold during the same period by each of the industry's two largest publicly traded producers, U.S. Silica and Fairmount Santrol (the graph below).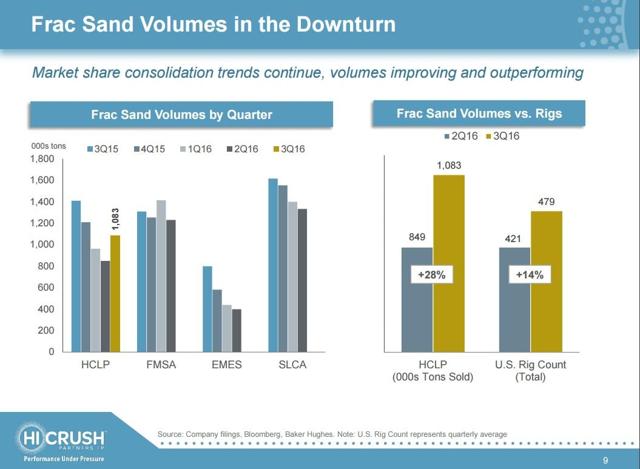 (Source: Hi-Crush Partners, November 2016)
For the first six months of 2016, contractual shortfall and reservation payments contributed $3.0 million to Smart Sand's Adjusted EBITDA of $6.4 million (In addition, as of June 30, 2016, $1.0 million of these contractual minimum payments were recognized as deferred revenues. Deferred revenues are recognized if the customer is allowed to make up volume deficiencies in future periods). These contractual payments in part explain the company's better-than-peer EBITDA results per ton. Excluding these payments, the company's gross margin per ton for the first six months of 2016 is still quite impressive, but is in large part explained by above-market price realizations under the contracts.
In terms of contracts, Smart Sand's current marketing portfolio includes a combination of fixed-price and market-based contracts. For fixed price contracts, prices are fixed and subject to adjustment, upward or downward (based upon producer cost indices, natural gas surcharge and/or a propane surcharge, etc.). For contracts with market-based pricing mechanisms, the company's raw frac sand prices fluctuate within certain negotiated ranges depending on the price of WTI for the preceding three-month period. As a result, Smart Sand's realized prices for the contracted volumes may not grow at rates consistent with broader industry pricing trends.
From the fact that Smart Sand is currently selling its volumes predominantly under its long-term contracts, with very little sold in the spot market, I conclude that the company's incremental margins under spot pricing are negative and do not justify adding volumes into the spot market. The lack of margin capture via the logistics chain explains in part the margin disadvantage as compared to the industry's leaders.
As I mentioned above, during the first half of 2016, Smart Sand's at-the-mine production cost was $17.56 per ton and total cost of goods sold was $36.83 per ton. While these metrics are not the industry's worst, they compare unfavorably to the most cost-efficient facilities where production cost can be below $10 per ton.
Customer Risk
US Well Services, Weatherford (NYSE:WFT), and C&J Energy Services (CJES) are currently Smart Sand's three largest customers, accounting for ~37%, ~33% and ~18%, respectively, of total revenue during the first six months of 2016. EOG Resources (NYSE:EOG) was the company's largest customer during 2015, accounting for 35% of total revenue.
The very high concentration and low credit quality of Smart Sand's largest customers is a concern. Here's a notable disclosure with regard to the impact of C&J Energy Services' bankruptcy:
…In July 2016, one of our contracted customers, C&J Energy Services, filed for bankruptcy and rejected our contract, which had 2.3 years and 0.7 million tons contracted remaining under its term. We are pursuing a claim for damages through the bankruptcy courts at this time, but it is uncertain as to what, if any, recoveries we will be granted by the courts. There is no guarantee that we will be able to find new customers for these contracted volumes, if needed, and even if we are able to find new customers for such volumes, we may be forced to sell at a price lower than what was agreed to with C&J Energy Services. C&J Energy Services has also demanded a refund of the remaining balance of prepayments it claimed to have made pursuant to its contract with us. As of June 30, 2016, the balance of this prepayment was approximately $5 million and was presented as deferred revenue in the consolidated balance sheet. If resolved unfavorably, this threatened claim may have a material impact to the Company's financial position.
At the time of this writing, Smart Sand has not filed its final IPO prospectus. Key data with regard to the company's contract volumes and duration has not been filled in. However, the company commented in one of its risk factors that it currently has "one contract of 1.1 million tons per year that matures in November 2016," with "no assurances that this contract will be renewed beyond its current term."
In other words, it appears that contracts with two major customers out of three have either been rejected or are coming to expiration.
Liquidity
Assuming the green shoe is exercised in full, Smart Sand will have ~$33 million of cash on hand and no debt. The company plans to obtain a $40-50 million revolving credit facility.
The company's balance sheet is strong enough to enable safe operation even under an adverse market scenario for an extended period of time. However, this liquidity is what I would consider the necessary minimum. The company would need to access equity capital markets again if it plans to pursue expansion initiatives.
Going in 2017, the company is carrying ample sand inventory (which effectively enhances liquidity). Due to sustained freezing temperatures during winter months, Smart Sand halts the operation of its wet plant for up to five months. As a result, the company excavates and washes sand in excess of current delivery requirements during the months when the wet plant is operational. This excess sand is placed in stockpiles that feed the dry plants and enable the company to fill customer orders throughout the year without interruption. As of July 31, 2016, Smart Sand had approximately 2.4 million tons of washed raw frac sand inventory at its Oakdale facility available to be processed through dryers and sold in the market. This washed sand inventory should provide the company with the ability to meet a significant increase in market demand.
Valuation
As of June 30, 2016, the company's book value of assets was ~$124 million. At $11 per share, the enterprise value exceeds the book value of assets by a factor of 2.8x. While a premium to the historical cost of assets in this sector is often justified for facilities with competitive cost structure, the high multiple sends a warning signal, given the industry's ample existing and potential capacity.
In Conclusion
The expiration of a key supply contract in November and the rejection of another key supply contract by a customer in bankruptcy create major uncertainties. I anticipate sequential declines in EBITDA and, possibly, volumes in Q3 2016 and then in Q4 2016, creating a risk of unfavorable comparisons versus peers.
Based on Enterprise Value/1H16 Sand Volumes Sold, at $11 per share, Smart Sand is already trading at a premium to both U.S. Silica and Fairmount Santrol. However, Smart Sand does not have the same reach along the frac sand value chain as the other two companies.
Notwithstanding Smart Sand's high underlying asset quality and organic growth potential, both U.S. Silica and Fairmount Santrol appear better positioned from a competitive standpoint and therefore represent better fundamental values and less volatile operating "stories" in the near term.
In absolute terms, Smart Sand's current stock price appears to be a bet on oil prices recovering above $60 per barrel.
APPENDIX A: Ownership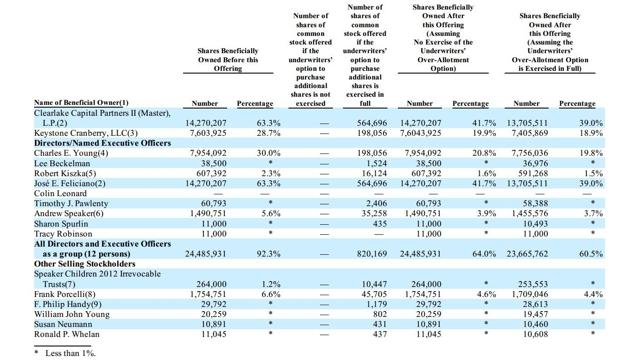 Source: Smart Sand post-IPO filing
A detailed discussion of the global Oil & Gas industry fundamentals and commodity monitoring and outlook are provided on a regular basis for Zeits OIL ANALYTICS subscribers.
Disclaimer: Opinions expressed herein by the author are not an investment recommendation and are not meant to be relied upon in investment decisions. The author is not acting in an investment, tax, legal or any other advisory capacity. This is not an investment research report. The author's opinions expressed herein address only select aspects of potential investment in securities of the companies mentioned and cannot be a substitute for comprehensive investment analysis. Any analysis presented herein is illustrative in nature, limited in scope, based on an incomplete set of information, and has limitations to its accuracy. The author recommends that potential and existing investors conduct thorough investment research of their own, including detailed review of the companies' SEC filings, and consult a qualified investment advisor. The information upon which this material is based was obtained from sources believed to be reliable, but has not been independently verified. Therefore, the author cannot guarantee its accuracy. Any opinions or estimates constitute the author's best judgment as of the date of publication, and are subject to change without notice. The author explicitly disclaims any liability that may arise from the use of this material.
Disclosure: I/we have no positions in any stocks mentioned, and no plans to initiate any positions within the next 72 hours. I wrote this article myself, and it expresses my own opinions. I am not receiving compensation for it (other than from Seeking Alpha). I have no business relationship with any company whose stock is mentioned in this article.