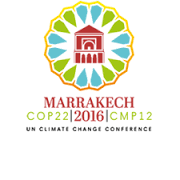 I've written recently that while there is considerable support indicated for the COP21 agreement by fossil fuel companies (e.g. by BHP Billiton (NYSE:BHP) (NYSE:BBL), Exxon Mobil (NYSE:XOM), BP (NYSE:BP)), the planning for fossil fuel expansion continues amongst the coal, oil and gas majors.
In the meantime, the national commitments for concrete action to limit global temperature rise, as is evidenced by ratification of the COP21 agreement, continue to tighten. Here, I report the latest scorecard as the COP22 Marrakech meeting is now proceeding. The agenda is to begin the process of charting how temperature rise is to be limited to substantially less than 2C, with a goal of 1.5C.
It is important to note that even with current national commitments, the temperature will rise ~3.4C, so there is a clear understanding that commitments need to be strengthened.
There is some good news. The Kigali agreement on HFC refrigerant emissions will avoid ~0.5C temperature rise (admittedly not until after 2030) and action on short-lived pollutants (e.g. black carbon) can lead to a further ~0.5C temperature increase avoided. This means to get to a 1.5C temperature rise (instead of 3.4C rise), a further 0.9C rise needs to be avoided. This is the challenge over and above getting national greenhouse gas reduction commitments honored.
Note that even restricting the temperature rise to 1.5C will not avoid severe environmental consequences.
COP22 at Marrakech
As the Marrakech meeting has now commenced, key countries have ratified the agreement at the last minute. In November, major emitters including Japan (3.79%), the Republic of Korea (1.85%), South Africa (1.46%), Sierra Leone (0.98%), Saudi Arabia (0.80%), Vietnam (0.72%), Pakistan (0.43%), Ireland (0.16%) and Luxembourg (0.03%) have ratified the agreement.
Currently, 102 individual countries (including some in the EU) are indicated to have ratified the agreement. The EU makes the 103rd "country" and it has ratified as a group of 28 countries. In fact 14 of the 28 European countries have also ratified separately while 14 have ratified as part of the EU. This brings the number of countries ratified to 116 (i.e. 102 + 14) and Pakistan is reported to have submitted ratification documents, so this makes a total of 117 countries.
My count of the emissions covered by these 117 countries is 79.12%. So the ratification is comprehensively supported, with 55% emissions required to make the agreement binding.
There is likely to be some messiness at COP22 about who gets to participate formally as not all major greenhouse gas emitters have ratified the Paris COP21 agreement.
Notable laggards (covering 16.22% emissions) include the Russian Federation (7.53%), Australia (1.46%), Iran (1.30%), Turkey (1.24%), Kazakhstan (0.84%), Ecuador (0.67%), Nigeria (0.57%), Malaysia (0.52%), Venezuela (0.52%), Egypt (0.52%), Colombia (0.41%), Philippines (0.34%) and Romania (0.30%).
I suspect that some of these countries may ratify before the end of COP22. For example, the rumors are that Australia will ratify the agreement on 15 November, before the end of the Marrakech COP22 meeting. It is noteworthy that the decision-making time of the Marrakech meeting happens on the 15th.
There are a further 16 countries with emissions between 0.10% and 0.25% who have not yet ratified the agreement (emissions collectively 2.56%).
Marrakech is to get concrete about emissions reductions and finding a way to strengthen current commitments, which are not sufficient to minimize temperature rise to 1.5C or even 2C. Indeed, with current commitments, warming will reach ~3.4C.
The big issues for discussion include:
i) How to measure, report and verify emissions
ii) How to ensure transparency in emissions numbers
iii) How to account for and deal with loss and damage countries have already suffered from climate change
iv) How to expand financial aid to enable developing countries to curtail emissions and address climate change
The above issues need clarity and timelines. Also a pledge to provide $100 billion/yr of public and private climate finance by 2020 will start to be considered, although this issue is likely to be addressed in more detail at COP23 in 2017.
I expect that Europe will continue to have a major role, but the US, China and India are also going to have key roles going forward; and the Pacific Island nations that are threatened by sea level rise are a determined and vocal group.
UNEP -Emissions Gap Report 2016
The UNEP (United Nations Environment Programme) Emissions Gap Report was released on 3 November and it is sobering reading. To achieve warming of just 1.5C, urgent action is needed as there is a gap of ~0.9C rise not yet addressed. This document will help focus discussion at Marrakech.
World Coal Association
Meanwhile the World Coal Association continues to argue that coal expansion will continue. To quote from an announcement commenting on the Paris Agreement which came into effect on 4 November:
Many commentators have said that the Agreement means the end for coal, but the appetite for affordable, reliable and accessible energy in developing and emerging economies, particularly in Asia means demand for coal continues to grow. Asia's demand for coal is likely to increase for years to come even as governments in the region commit to steps to limit greenhouse gas emissions.
It is hard to see how coal, the most polluting fossil fuel, is going to survive an 80% reduction in emissions by 2050.
Conclusion
When countries representing almost 80% of greenhouse gas emissions have ratified the COP21 agreement, everything points to clear international commitment to address greenhouse gas emissions and try to keep warming to 1.5C. After the COP22 meeting in Marrakech concludes, it will begin to become clear how at least 117 countries plan to approach this huge challenge.
The coal, oil and gas majors are still putting on a brave face, but they have now acknowledged that COP21 has happened and that it is a serious attempt to constrain greenhouse gas emissions. There is still no acknowledgment that this means reducing fossil fuel exploitation, but I don't think that this position can be sustained for much longer.
There are huge implications for investors who are still not widely appreciated. These are negatives for the coal, oil and gas majors and positives for the renewable energy industry. Every company in the energy and transport industries will be impacted. The commitment to limiting temperature increase to 1.5C means that action needs to start now, not in some distant future time.
If you haven't asked your financial advisor about this yet, now is a good time to do so. If your advisor isn't paying attention, look for a second opinion.
I'm not a financial analyst. I'm interested in major changes that impact upon investments, especially in relation to transport and energy. If you find my articles useful in shaping your investment decisions, please consider following me.
Disclosure: I/we have no positions in any stocks mentioned, and no plans to initiate any positions within the next 72 hours. I wrote this article myself, and it expresses my own opinions. I am not receiving compensation for it (other than from Seeking Alpha). I have no business relationship with any company whose stock is mentioned in this article.