Valeant Pharmaceuticals (VRX) reported earnings today and lowered guidance. This has sent the stock price sharply lower. It has been a tough year for Valeant's shareholders.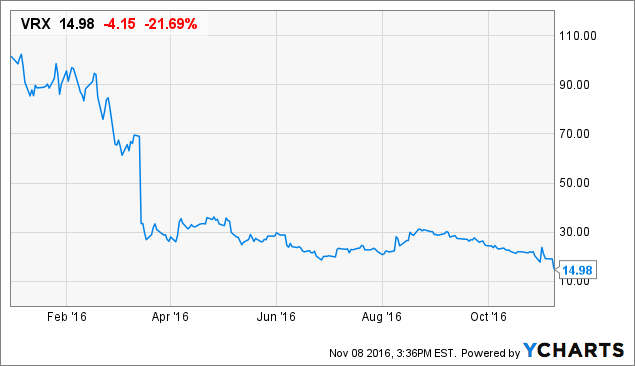 My June 16, 2016, article mentioned this:
The high debt level is expected to require a greater portion of cash flow and interest expense is expected to increase as the firm's balance sheet contains a large amount of goodwill relative to its market capitalization.

For risk-averse investors, the bonds and common stock of Valeant do not appear attractive. Time to exit or hedge positions for the expected storm. For more risk-tolerant investors, the bonds might provide for some interesting possibilities via restructuring or amended covenants. Expect the common stock to be under pressure until bondholders become more comfortable.
During the more recent quarter, net interest expense totaled $467.1 million with total revenue of $2,479.6 million, hence net interest expense was 18.8% of total revenue. The prior-year figures were $419.5 million in net interest expense and $2,786.8 million in revenue, per the 8-K, with net interest expense totaling 15.1%. A greater portion of cash flow is now being used to pay for interest expense. The Federal Reserve has hinted at raising interest rates, and this could result in even more of Valeant's cash flow going to bondholders.
Revenue for the third quarter declined 11% from the prior year. 2016 full-year guidance was revised lower. Total revenues are now expected to be $9.55 billion to $9.65 billion; the prior guidance was $9.9 billion to $10.1 billion. Adjusted EPS and Adjusted EBITDA were also revised lower.
Valeant took a goodwill impairment charge, per its 8-K:
As a result of the goodwill impairment analyses conducted in connection with the change in its reporting units, the Company recognized a goodwill impairment charge of $1.05 billion in the three months ended September 30, 2016, mainly attributable to the lower fair value in certain US businesses, mainly the Salix business.
This should not come as a surprise, as we warned of this in June.
From the June article:
The pace of goodwill growth is expected to have seen it peak. In fact, it would not be a surprise to see a write-down in goodwill.
Watch the Bonds
There has not been much trading in the bonds of Valeant, per a review of the FINRA website. The trading that has been noticed is thin, with recent pricing on the downside. Equity investors should look for signs of confidence from the bond market before considering the equity.
The heavy debt load is expected to take a toll on the common stock. The stock price is expected to face pressure from the lower guidance and tax-loss selling going into year-end. Shareholders should root for bondholders to become more confident. Thought the lowered guidance might shake the confidence of some bondholders.
The steep decline in the common stock would normally have me looking for a bottom-fishing buying opportunity. However, the heavy debt load and the increased cash flow used for interest payments keep me on the sidelines. The stock rallied a short while ago, based on a story about a possible sale of a division with the proceeds used to pay down debt.
The new Valeant management team faces challenging headwinds, but if it can gain the confidence of bondholders, then the turnaround process will be less painful than if it loses the confidence of bondholders.
The bonds offer a more attractive risk-reward trade at this time, though it is a high risk given the level of debt and the amount of revenue used to make interest payments. The bonds are not investment-grade, they are high-yield. An equity raise and/or debt-for-equity swap might help; this could help shareholders, as less cash would be used to service debt.
Disclosure: I/we have no positions in any stocks mentioned, and no plans to initiate any positions within the next 72 hours. I wrote this article myself, and it expresses my own opinions. I am not receiving compensation for it (other than from Seeking Alpha). I have no business relationship with any company whose stock is mentioned in this article.