IAMGOLD: Thoughts on the Third Quarter and the Stock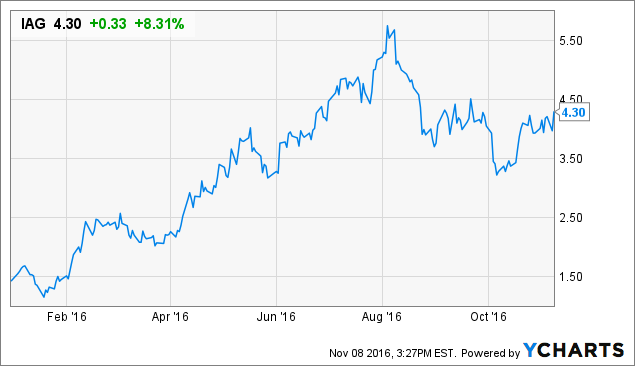 While I'm proud of my track record on Seeking Alpha (check out the performance of my top gold stock picks for 2016, for example), I'll be the first to admit that I am not always 100% right when it comes to stock picks.
Last quarter, for example, I blasted IAMGOLD's (NYSE:IAG) second-quarter financial results, as all-in sustaining costs finished over $1,100 per ounce and net cash from operations was not as strong as I expected it to be. I also wasn't crazy about the company's decision to issue 38.85 million new shares (plus 5.82 million shares from an overallotment), to raise $230 million.
While shares have declined since my last bearish article on IAMGOLD, it looks like the company really turned things around in Q3, and the equity financing is actually looking like a smart move given the fall in gold prices and the stock.
Q3 was a strong quarter, as IAMGOLD benefited from a $215 per ounce increase in gold prices from last year. But it also looks like the company is starting to manage its production and costs better, as its all-in sustaining costs were reduced by $68 an ounce to $1,046 an ounce. Production also rose 7% to 210,000 ounces.
The strong performance can mainly be attributed to IAMGOLD's Essakane mine, as production jumped by 17% from Q2 2016 and all-in sustaining costs fell 25% to $815 per ounce. This was due to an increase in gold grades, higher mill throughput, higher capitalized stripping and lower realized fuel prices. Due to the strong production, IAMGOLD now expects to hit the higher end of its 2016 production guidance of 770,000-800,000 ounces at all of its mines.
As a result of higher gold prices, strong production and lower costs, net earnings rose $29 million and net operating cash flow increased by $55 million, according to the company. Net cash from operations was $126.6 million, a jump of $55.4 million from last quarter and $116.8 million from last year.
With the strong cash flow and the completion of the equity financing in August, IAMGOLD was able to reduce its long-term debt by 23%, as it purchased $145.9 million of its outstanding senior unsecured notes. If you look at the balance sheet, the company ended the quarter with $750.8 million in cash and equivalents, compared to $489.1 million in total debt - net cash of $261.7 million. Moody's has updated the outlook for IAMGOLD to "positive" from "negative" as a result of the improved balance sheet.
So, I may have been wrong about IAMGOLD. It was a strong quarter. But I still think the company has some work to do. While Essakane was a standout performer this quarter, costs remained elevated at its other mines - mainly, the 95%-owned Rosebel mine ($1,183 AISC) and the 100%-owned Westwood mine ($1,391 AISC).
The bottom line: I'm still not a buyer of IAMGOLD shares here - I think there are still better opportunities out there, like Barrick Gold (ABX) and the new Kirkland Lake Gold (KGILF). But I think IAG stock may be worth a closer look if the company continues to lower its cash costs and achieve exploration successes at its development projects.
Disclosure: I am/we are long KGILF. I wrote this article myself, and it expresses my own opinions. I am not receiving compensation for it (other than from Seeking Alpha). I have no business relationship with any company whose stock is mentioned in this article.
Editor's Note: This article discusses one or more securities that do not trade on a major U.S. exchange. Please be aware of the risks associated with these stocks.