Posted by Thomas Boccellari, Fixed Income Product Strategist
As short-term interest rates rise, variable-rate securities are seeing increased demand. Among the numerous asset classes available, variable-rate demand obligations (VRDOs) are among the least understood by investors. I believe VRDOs are a compelling short-term investment option for today's market environment - a period marked by rising short-term rates and money market reforms mandated by the Securities and Exchange Commission.
What are variable-rate demand obligations?
VRDOs are high-quality municipal bonds that trade at par value. Comprising roughly 75% of the municipal money market, most VRDOs feature weekly coupon resets that effectively push their duration to zero.1Because of these resets, VRDOs, which are based on the SIFMA Municipal Swap Index, are considered short-term paper. In addition, VRDOs have a put feature that allows investors to sell them back to issuers for par value (plus accrued interest) at any time.
VRDOs are backed by lines of credit or standby purchase agreements taken out by issuers, which help support the bonds' credit ratings. And because they're municipal bonds, VRDOs are largely exempt from federal taxation, which can boost yields relative to other high-quality, short-term taxable securities, as shown in the table below.

Past performance is not a guarantee of future results.
What variable-rate demand obligations are not
VRDOs are not auction-rate securities, although investors often mistake the two. Auction-rate securities gained infamy during the 2008 financial crisis after multiple auctions failed - creating significant losses from what were perceived to be cash-like investments.
It's easy to see why some investors may confuse these securities. Auction-rate securities and most VRDOs feature coupons that are set according to short-term rates, and both types of securities trade at par value. One major difference, however, is that auction-rate securities lack a put option. Instead, auction-rate securities are set by Dutch auction and require a counterparty to make bids if an investor is looking to sell. An investor cannot simply put auction-rate securities back to issuers at will. Because of this, auction-rate securities carry significant liquidity risk.
Money market reforms' effect on short-term yields
Money market fund reforms that took effect in mid-October have made VRDOs even more appealing, in my view. These reforms ­- designed to prevent a run on money market funds - have driven up short-term rates, as prime money market funds trade out of certificates of deposit (CDs) and commercial paper.
In the chart below, you'll see that VRDO yields (based on the SIFMA Municipal Swap Index) have risen in concert with Libor - a benchmark for short-term rates.
Three-month Libor and SIFMA Municipal Swap Index, September 2013 through September 2016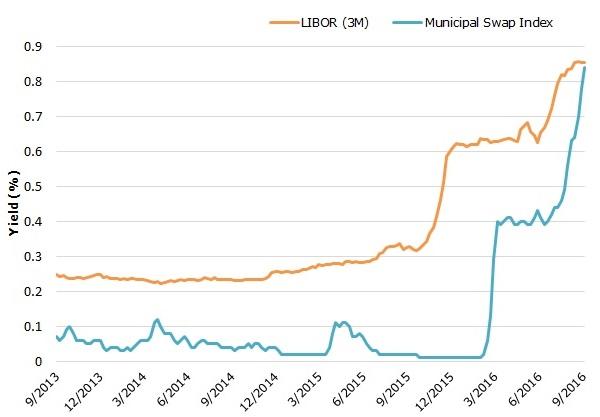 Source: Bloomberg L.P., Sept. 30, 2016. Past performance is not a guarantee of future results.
As demand for CDs and commercial paper flags, investors are increasingly rotating into government funds for their short-term investing needs. These same risk-averse investors can potentially benefit from VRDOs, due to their regular coupon resets, limited duration and generally high credit ratings.
The PowerShares VRDO Tax-Free Weekly Portfolio (NYSEARCA:PVI) tracks the Bloomberg U.S. Municipal AMT-Free Weekly VRDO Index. PVI is made up of investment-grade municipal VRDOs and features weekly coupon resets and a limited duration profile. PVI may be well suited for investors seeking a way to invest in short-duration, high-quality securities, while generating federally tax-exempt income.
1 Source: Morgan Stanley, "Variable Rate Demand Obligations," 2016
Important information
Blog header image: Eldar Nurkovic/Shutterstock.com
An auction-rate security is a long-term debt instrument that features periodic interest rate resets through a Dutch auction process.
Certificates of deposit (CDs) are time deposit savings certificates with a fixed maturity date and specified interest rate.
Commercial paper is unsecured, short-term debt issued by a corporation.
Duration is a measure of the sensitivity of the price (the value of principal) of a fixed income investment to a change in interest rates. Duration is expressed as a number of years.
Libor (London Interbank Offered Rate) is a benchmark rate that some of the world's leading banks charge each other for short-term loans.
Par value is the face value of a bond.
A put option gives an investor the right to sell a security at a specified price within a certain time frame.
Variable-rate demand obligations (VRDOs) are short-term, high-quality municipal bonds that typically have periodic coupon resets and limited duration.
The Bloomberg Barclays U.S. Treasury Bills 1-3 Month Index is an unmanaged index that measures the 1-3 month US Treasury bill market.
The Bloomberg Barclays U.S. Treasury Bills Index is an unmanaged index that measures the 1-12 month US Treasury bill market.
The S&P Municipal Bond 1 Year High Grade Rate Index is a rules-based, market value-weighted index that measures the municipal variable-rate demand obligation bond market.
The Bloomberg U.S. Municipal AMT-Free Weekly VRDO Index is a rules-based, market value-weighted index that measures the municipal variable rate demand obligation bond market.
The SIFMA Municipal Swap Index is an index calculated by Bloomberg that comprises high-grade, tax-exempt variable-rate demand obligations. An investment cannot be made into an index.
PVI Risk Information
There are risks involved with investing in ETFs, including possible loss of money. Shares are not actively managed and are subject to risks similar to those of stocks, including those regarding short selling and margin maintenance requirements. Ordinary brokerage commissions apply. The fund's return may not match the return of the underlying index. The fund is subject to certain other risks. Please see the current prospectus for more information regarding the risk associated with an investment in the fund.
Fixed income investments are subject to credit risk of the issuer and the effects of changing interest rates. Interest rate risk refers to the risk that bond prices generally fall as interest rates rise and vice versa. An issuer may be unable to meet interest and/or principal payments, thereby causing its instruments to decrease in value and lowering the issuer's credit rating. Due to anticipated Federal Reserve Board policy changes, there is a risk that interest rates will rise in the near future.
Municipal securities are subject to the risk that legislative or economic conditions could affect an issuer's ability to make payments of principal and/or interest. Municipal insurance doesn't protest against losses in the fund.
The absence of an active secondary market for certain variable-rate notes could make it difficult to dispose of the instruments, and a portfolio could suffer a loss if the issuer defaults during periods in which a portfolio is not entitled to exercise its demand rights.
There is no guarantee that the fund's income will be exempt from federal and state income taxes.
The fund's use of a representative sampling approach will result in its holding a smaller number of bonds than are in the underlying index, and it may be subject to greater volatility.
Investments focused in a particular industry are subject to greater risk, and are more greatly impacted by market volatility, than more diversified investments.
The hunt for short-term yield: Variable-rate demand obligations to the rescue?
Before investing, investors should carefully read the prospectus/summary prospectus and carefully consider the investment objectives, risks, charges and expenses. For this and more complete information about the funds visit invescopowershares.com for prospectus/summary prospectus.
The information provided is for educational purposes only and does not constitute a recommendation of the suitability of any investment strategy for a particular investor. Invesco does not provide tax advice. The tax information contained herein is general and is not exhaustive by nature. Federal and state tax laws are complex and constantly changing. Investors should always consult their own legal or tax professional for information concerning their individual situation. The opinions expressed are those of the authors, are based on current market conditions and are subject to change without notice. These opinions may differ from those of other Invesco investment professionals.
NOT FDIC INSURED | MAY LOSE VALUE | NO BANK GUARANTEE

All data provided by Invesco unless otherwise noted.
Invesco Distributors, Inc. is the US distributor for Invesco Ltd.'s retail products and collective trust funds. Invesco Advisers, Inc. and other affiliated investment advisers mentioned provide investment advisory services and do not sell securities. Invesco Unit Investment Trusts are distributed by the sponsor, Invesco Capital Markets, Inc., and broker-dealers including Invesco Distributors, Inc. Each entity is an indirect, wholly owned subsidiary of Invesco Ltd. PowerShares® is a registered trademark of Invesco PowerShares Capital Management LLC, investment adviser. Invesco PowerShares Capital Management LLC (Invesco PowerShares) and Invesco Distributors, Inc., ETF distributor, are indirect, wholly owned subsidiaries of Invesco Ltd.
©2016 Invesco Ltd. All rights reserved.