Last quarter, we wrote a detailed historical overview of FutureFuel (NYSE:FF), which can be accessed by Seeking Alpha pro subscribers here. Our summary points from that article include:
FutureFuel is a stable and profitable company, founded by visionaries, anchored by a world-class facility, and managed by an experienced team
FutureFuel currently has an attractive enterprise value to EBITDA multiple near 4.0, which implies an expected shareholder pre-tax return of 25%
FutureFuel has not optimized short-term shareholder value by holding a very large cash balance. It should either invest that cash to grow earnings, or return the cash to shareholders
Despite its name, FutureFuel might best be viewed as a specialty chemical producer that also makes biofuels. Over the last several years, gross profit from chemicals has ranged from 50% to 70% of its total gross profit (see table below). In 2013, its most profitable year, it made approximately $55 million in gross profit from chemicals and $45 million from biofuels.
Historical and 2016 projected gross profit for FutureFuel is tabulated below. We are currently estimating a year-on-year decline for gross profit for 2016.

Sources: FutureFuel and Viking Analytics
In 2015, FutureFuel's total gross profit was $57 million, a 43% drop from its 2013 high of $100 million. The drop in gross profits can be attributed to two primary items. First, FutureFuel had a material change in its chemical sales to Procter & Gamble (NYSE:PG), which reduced its chemical segment profitability. Second, biodiesel profit margins suffered in 2015 without the $1/gal blender's tax credit.
FutureFuel's stock price has declined along with its gross profits, from a high over $22/share in early 2014, to a price today of just over $11/share.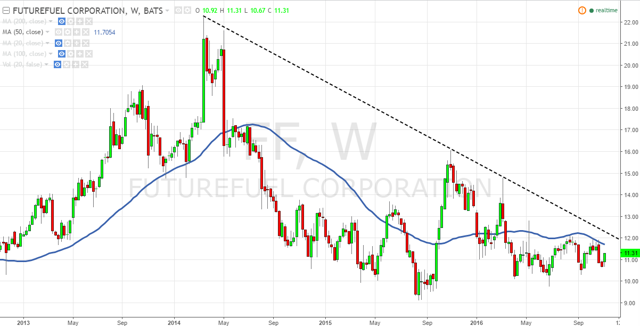 Source: TradingView
For FutureFuel to resume an uptrend in its share price, it will obviously need to turn around its declining profits. While the company has not given specific public guidance on its strategic or tactical plans, there is evidence to suggest that it is working on initiatives to increase its sales and profitability of specialty chemicals. Most notably, in late 2014, it hired a biotech business development executive from Monsanto and gave him a meaningful stake in the company (125,000 shares).
Cash Machine
Despite the recent year-on-year declines in gross profits, FutureFuel remains a low-risk, high-value investment. It owns a network of world-class assets with good logistics, and it generates positive cash flow every quarter. At the end of Q2, FutureFuel reported $266 million in cash and equivalents. It has zero long-term debt.
At the end of Q2, FutureFuel's enterprise value to EBITDA ratio was 3.88. Even if it continues its downward trajectory in gross and net profits, its EV/EBITDA ratio will be near 4.0 (at current share prices) at the end of 2016.
FutureFuel Historical and Forecast EBITDA (2016 Base Case)

Sources: FutureFuel and Viking Analytics
If, on the other hand, FutureFuel can generate gross profits in 2016 that are equivalent to its 2015 gross profits, then - at current share prices - it will have an EV/EBITDA valuation near 3.0 by the end of 2016 (as below). To accomplish this, FutureFuel will likely need to develop or expand its sales of, or sales channels for specialty chemicals.
FutureFuel Historical and Future EBITDA (Upside Case)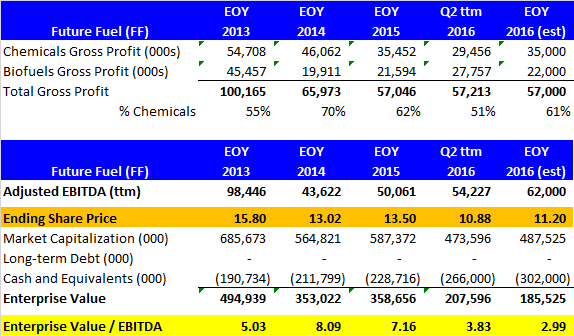 Sources: FutureFuel and Viking Analytics
Notes on Q3 Earnings
Generic biodiesel margins were approximately $0.30/gal higher in Q3 than in Q2, so we expect to see improvement in quarterly biodiesel profits.
The company has begun to take a larger share of biodiesel tax incentives as a reduction in tax liability rather than top-line revenues. Therefore, there are some trade-offs between high biodiesel segment profits and a lower income tax rate.
We have assumed an income tax liability for Q3 of $0.
Without specific guidance from the company, we have projected an average profitability for the chemical segment.
With these basic assumptions, our earnings estimate is $0.23 per share, near the single sell-side analyst estimate of $0.24 per share.
Other Notes
FutureFuel could become an acquisition target for a company in the agricultural chemicals, biofuels or specialty chemicals business, since it has so much cash and zero debt.
Founders and company insiders own or control nearly 50% of company shares. The Chairman Paul Novelly also has registration rights for approximately 16.25 million shares (of the 43.5 million total shares).
FutureFuel currently pays a $0.06 per share quarterly dividend, which results in a current dividend yield of 2.1%. This amounts to a mere $2.6 million per quarter of its burgeoning cash pile of over $260 million.
In an era where investors are chasing yield, FutureFuel would likely see share price appreciation if it were to raise its dividend.
Summary Thoughts
FutureFuel is a good value opportunity with low investment risk. At the end of Q2, the cash balance of the company was worth $6.11 of the end of quarter share price of $10.88 per share.
Despite its falling profits, FutureFuel still has an enterprise value to EBITDA ratio near 4.0; the lowest in the company's history.
Disclosure: I am/we are long FF. I wrote this article myself, and it expresses my own opinions. I am not receiving compensation for it (other than from Seeking Alpha). I have no business relationship with any company whose stock is mentioned in this article.