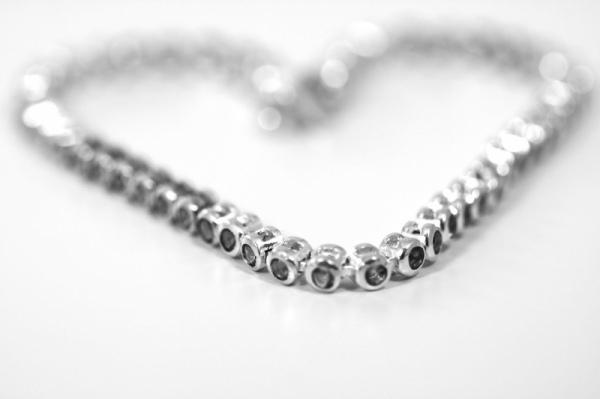 Although Americans prefer gold to platinum for investment purposes, in the jewelry trade the fundamentals (profit margins), particularly those in the all important Asian markets, favor platinum.
This is the Indian wedding season, the peak end of October running through to early December, with jewelers stocking for Christmas. It could be worthwhile looking at platinum now in terms of investment potential, either for growth, or a short-term peak.
A lot has changed since 2011. The supply equation should favor scarcity (platinum is 15-20 times scarcer than gold, and has since the 1970s, sold at a 30% premium to gold; between 2000 and 2008 it reached a x1.8 premium), but for now platinum is gold's "country cousin". From a contrarian position, that represents a potential opportunity.
According to a "Profit Confidential" research report for 2016-7, "The slump in platinum prices in 2015, was a continuation from June 2014 after thousands of South African platinum mines returned to work after a five-month strike for higher wages... Platinum prices have failed to recover from the unprecedented strike last year. Platinum is also facing head winds from narrow margins and rising costs from wages and electricity... Platinum prices have also been hit by weak demand for jewelries from China, a gloomy outlook for the Chinese and European auto markets, and fears of oversupply".
All of these issues of course, apply to the silver and gold markets, where there is less fear of oversupply, because it's thought "those markets" are supported by investment demand. The reality being that any commodity with the right supply:demand signature can and has acted as a store of value.
A quarter four research report by Sucden Financial (London bullion dealers), indicates that although palladium was stronger in Q3, they expect greater platinum strength in Q4. This I believe assumes seasonal macro strength owing to jewelry sales, and also a more positive interest for investment purposes (which may not be the case given the market is building in a potential rate rise).
COT chart
The chart below illustrates the tight squeeze between swap dealers and managed money on the last low, and also between commercial and large specs, similar to their positions late last year. The market has also broken out of its September downtrend, so looking good for a bullish continuation.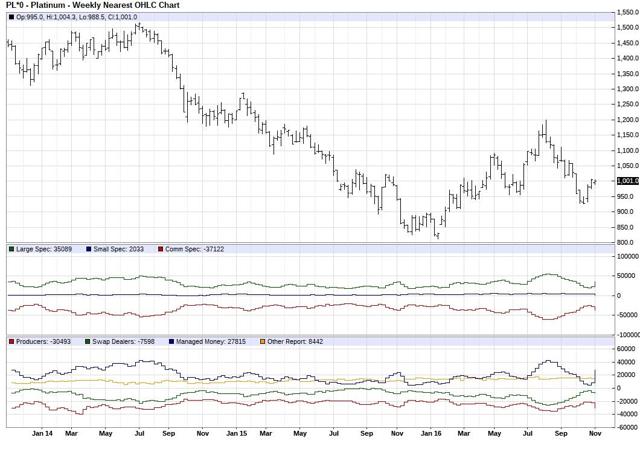 Other Charts and Technical Indicators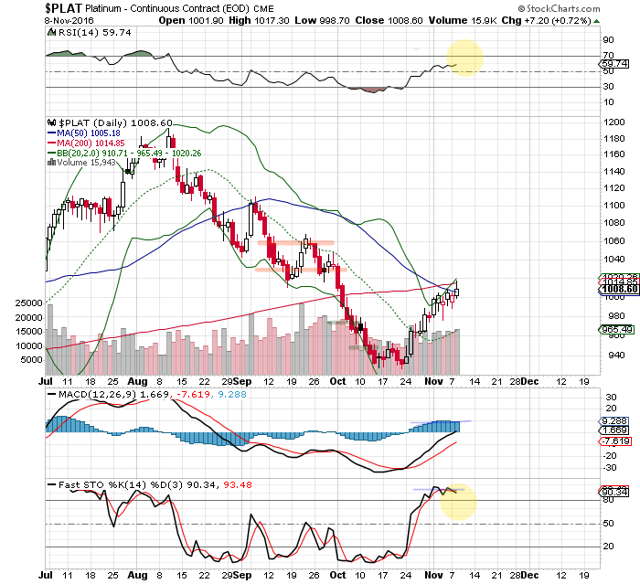 The short-term daily platinum chart shows a near-term overbought situation, however, on the RSI, but one that has already peaked on the fast stochastic. While the ADX is rising (shows bulls are in charge), the MACD (like the fast stochastic) is flattening off. Trading has moved to the far side of the Bollinger band. The last daily candlestick shows a late sell off, although it closed higher than opening, we should be wary of potential weakness, and wait for a continuation confirmation (which would give rise to an RSI overbought condition) before entry, or a breakdown, if trading fails the 200 moving average.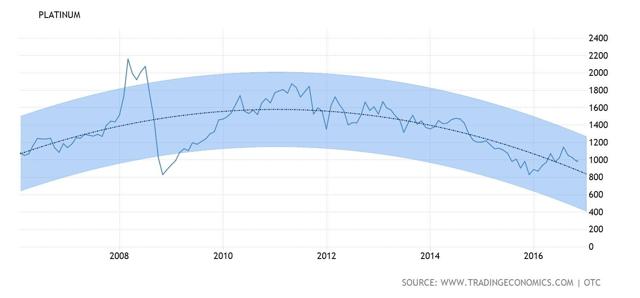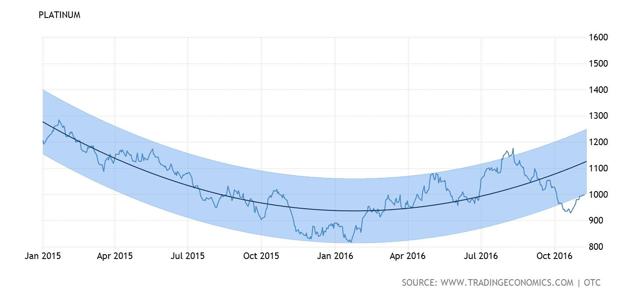 Trading Economics provides the following forecasting from their website:
Platinum "Forecast 2016-2020. Platinum is expected to trade at 994.00 USD/t oz. by the end of this quarter, according to Trading Economics global macro models and analysts expectations. Looking forward, we estimate it to trade at 963.00 in 12 months time."

"Platinum Forecasts are projected using an autoregressive integrated moving average (ARIMA) model calibrated using our analysts expectations. We model the past behavior of platinum using vast amounts historical data and we adjust the coefficients of the econometric model by taking into account our analysts assessments and future expectations. The forecast for - Platinum - was last predicted on Monday, November 7, 2016".
The "Trading Economics" charts above show that platinum, like oil, has already corrected almost down to the 2008 lows, and has been recently correcting an Elliot wave series of five rising waves, starting from the December 2014 bottom. A correction from here is possible, so traders should be looking for either a confirmed continuation of the bullish trend or a breakdown. Assuming a bullish continuation pattern, near-term resistance is illustrated in red, but I suspect the key turning point is at or close to 1,060. On a short-term correction (note: the fast stochastic put in a bullish reversal from the 50 area in July), support should be available from the highlighted green areas, based on holding the 2015 low. A "worse case" scenario then would be a test of that low, from a higher more bullish position.
Disclosure: I/we have no positions in any stocks mentioned, and no plans to initiate any positions within the next 72 hours. I wrote this article myself, and it expresses my own opinions. I am not receiving compensation for it (other than from Seeking Alpha). I have no business relationship with any company whose stock is mentioned in this article.