Every week after the EIA releases its Weekly Petroleum Status Report, I download the updated files, consolidate them, and ultimately link them to a simple Excel dashboard file which you can download for free at Excel-Data-Junkies.com. Open it up and follow along below, then let's discuss it in the comments section below. For a methodology review, take a look the intro "Data Download."
Headline: Total Petroleum Stocks Down 7 Million Barrels
Last week, a 14 million bbl surge of crude imports pushed total stocks up 9 million bbls. This week, imports came in 11 million bbl lower at 49 million bbls, resulting in a 7 million bbl draw in total stocks. Crude inventories were up 2.4 million bbls offset by a decrease in product stocks of 9.4 million bbls. In the past 10 weeks, we have seen 8 draws in total stocks totaling 40 million bbls, for an average draw of 4 million bbls a week. I'm not projecting it will continue, but at this rate, inventories would be drawn down to "normal" levels of 1.8 billion bbls by about this time next year.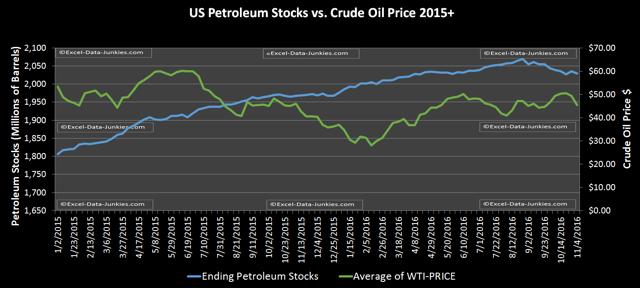 For The Bulls
A 7 million bbl stock draw is bullish no matter how you look at it. Imports reverted to the mean, giving some credence to my thoughts that last week's 60 million bbl spike was just a one-off. If - and that's a big "if" - imports and exports more or less stabilize here, we could see inventories continue to drop at about 2 million bbls a week. That's not a fast pace, but added to an OPEC agreement and a cold winter, we could end the year down another 40 million bbls and oil prices breaking through $50 again and on their way to $60.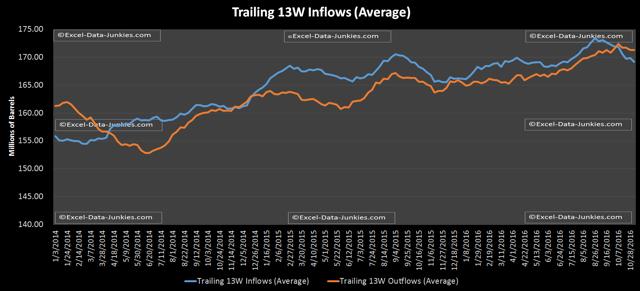 What The Bulls Are Dreaming About Tonight:
Continued weekly draws in total petroleum stocks
Increased demand
OPEC unity
For The Bears
Maybe last week's sky-high imports were a fluke, but all it will take to balance this decline going forward is about one extra supertanker a week. Product stocks are down a mere 40 million bbls off of record highs, and are still 40 million bbls over where they were last January, when oil prices (NYSEARCA:USO) were under $30. Furthermore, thanks to a revision, reported domestic production is up 170,000 bbls a day, or 1.1 million bbls a week. This probably means prior weekly reported production was underreported and ended up in one of the "Other" buckets. Whatever the case, US oil production has not only stopped declining, but is now increasing.
In any given week, this change is a pretty small line item, but it grows cumulatively and has a huge effect over time. For example, not so long ago, I was modeling the decline at -15k daily per week. In any given week, that is only a 105,000 bbl decline dwarfed by the swings we are seeing in imports and exports. However, after a year, it adds up to a 5.5 million bbl a week loss in production. Following that logic, flipping a 15k decline a week to a 15k increase a week would mean an 11 million bbl/week delta after a year. I wouldn't forecast that at this point, but you get the point - domestic production increasing is a big deal.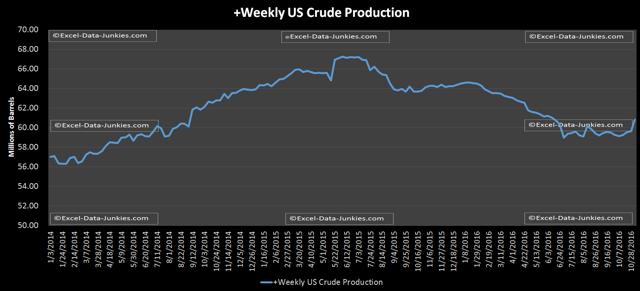 What The Bears Are Dreaming About Tonight:
US production increasing
Global recessions
Another warm winter
Gut Feeling
On fundamentals, I would expect prices to slowly head up from the $45 level, based on the solid stock draws and likely continuation of that trend. On the other hand, given the US presidential election and continued OPEC drama, the next few weeks are unlikely to be driven by fundamentals.
Disclosure: I/we have no positions in any stocks mentioned, and no plans to initiate any positions within the next 72 hours. I wrote this article myself, and it expresses my own opinions. I am not receiving compensation for it (other than from Seeking Alpha). I have no business relationship with any company whose stock is mentioned in this article.