On November 8, just prior to the US presidential election, CVS Health Corporation (NYSE:CVS) announced third-quarter earnings for the 90-day period ending September 30, 2016.
On a fundamental basis, financial performance was robust. However, the stock dropped precipitously after the announcement.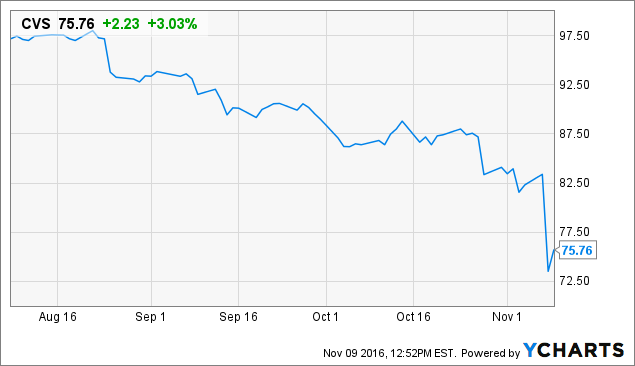 Naturally, this made me ask - why the stock dropoff? If financial results were good, why is everyone selling this?
Further investigation showed me that there are other stories here that cannot be discerned from the company's financial statements. There are reasons for this stock price drop, but the market may have overreacted and this may present a buying opportunity.
Financial Highlights
As I've said, the financial performance of CVS in this quarter continued to be robust. Here are a few selected highlights.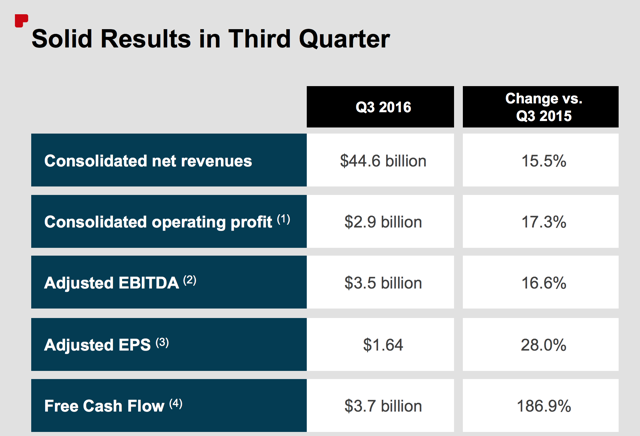 Source: CVS Q3 Investor Presentation
My thoughts:
15.5% revenue growth is fantastic.
17.3% growth in operating profit is also fantastic.
16.6%, 28.0%, and 186.9% (!!!) growth in adjusted EBITDA, adjusted EPS, and free cash flow is - you guessed it - fantastic.
Obviously, high-level results are fantastic, which is why I was surprised to see the stock price dropoff. However, while that slide presents an excellent high-level overview of the company's financial performance, it certainly doesn't tell the whole story. I'm going to present a few other slides that will provide investors with additional details with regard to the company's financial performance.
Let's first consider the income statement, starting at the top with revenue.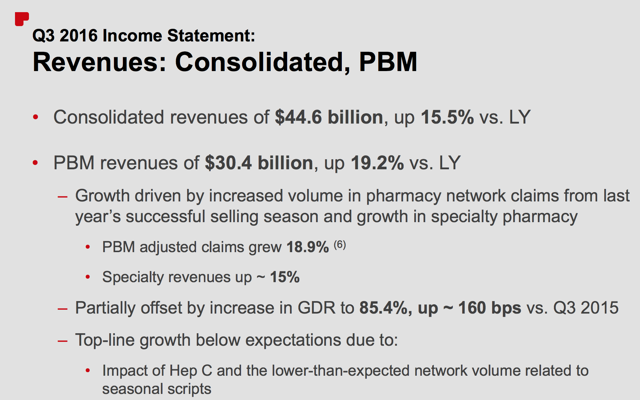 Source: CVS Q3 Investor Presentation
As stated before, consolidated revenues increased 15.5% year over year. PBM - which stands for Pharmacy Benefit Management - was a huge driver of growth, composing ~68% of revenues and growing 19.2% year over year.
One downside presented in this slide is the increase in GDR, which stands for generic dispensing rate. This is a metric that pharmacies are commonly evaluated on, calculated as the number of generic fills divided by the number of total prescriptions. Since higher GDRs mean more prescriptions are being filled by generic drugs (which are inherently cheaper), this takes away from CVS' revenue (though arguably benefiting the patient in return).
The next slide will present the bottom of the income statement - earnings.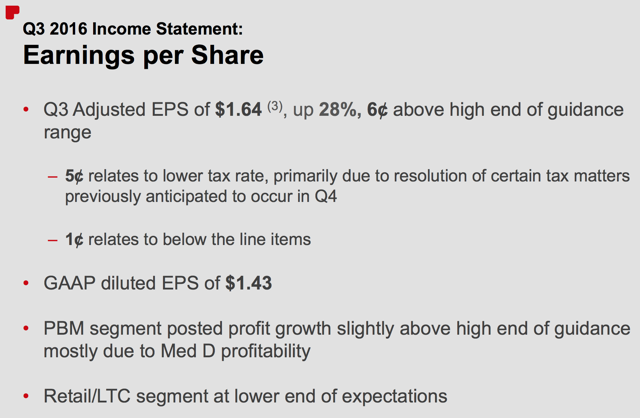 Source: CVS Q3 Investor Presentation
As you can see, CVS beat its earnings guidance by 6 cents per share and grew adjusted EPS by 28% year over year. This is a fantastic rate of growth by any measure.
Next, I will touch on the capital allocation policy of this drugstore.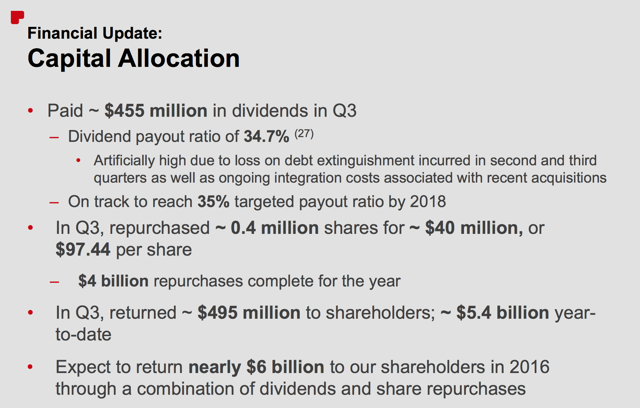 Source: Q3 Investor Presentation
As you can see, CVS is focused on returning cash to its shareholders through both share repurchases and dividends. For a company with a market capitalization of $72 billion to return $6 billion in a fiscal year is very significant and presents a shareholder yield of 8.33%.
It also continued to grow its store base on a net basis, which is positive for its future growth prospects.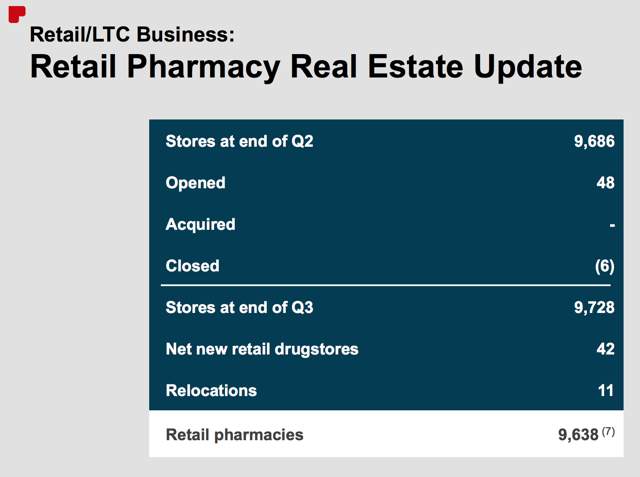 Source: Q3 Investor Presentation
Like I've said, the financial performance for CVS in this quarter was robust by essentially all metrics. Moving on, I'll next highlight a few of the negative reasons why CVS' stock dropped after its earnings release.
Dropoff In Prescription Numbers
The main reason why CVS sold off so sharply after its earnings release is the announcement that certain changes to its distribution network will result in more than 40 million retail prescriptions shifting out of its stores on an annualized basis. More details are presented in the following slide.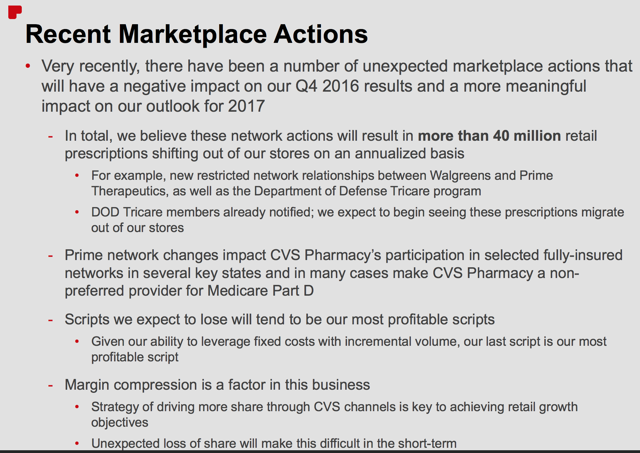 Source: CVS Q3 Investor Presentation
This has certainly effected the company's forward guidance, which I will speak more on later. If you're curious about the particulars of the changes causing these prescription losses, I encourage you to read the following article:
MarketWatch: CVS is about to lose more than 40 million prescriptions
Reduced Guidance Moving Forward
As I've said, CVS updated its earnings guidance. This applies for both fiscal 2016 and fiscal 2017. For the current fiscal year:
Full-year GAAP diluted EPS lowered and narrowed to $4.84 to $4.90 from $4.92 to $5.00, including third-quarter acquisition-related integration costs
Full-year Adjusted EPS lowered and narrowed to $5.77 to $5.83 from $5.81 to $5.89
Provided fourth-quarter GAAP diluted EPS of $1.52 to $1.58, excluding acquisition-related integration costs
Provided fourth-quarter Adjusted EPS of $1.64 to $1.70, up 7.00% to 10.75%
Raised full-year cash flow from operations to $9.3 to $9.5 billion; free cash flow to $6.8 to $7.0 billion
For fiscal year 2017 (which is a preliminary outlook):
Provided full-year GAAP diluted EPS of $5.16 to $5.33
Provided full-year Adjusted EPS of $5.77 to $5.93
Both include the projected loss of more than 40 million retail prescriptions related to new restricted pharmacy networks
GAAP diluted EPS includes impact of previously announced termination of pension plan
Source: CVS Q3 Earnings Release
While guidance has been reduced, this will still present suitable growth over last year's numbers.
Current Valuation
Now that we understand the dynamics behind the company's dropoff, let's evaluate their current valuation. More specifically, does this dropoff present a buying opportunity?
Price-to-Earnings Ratio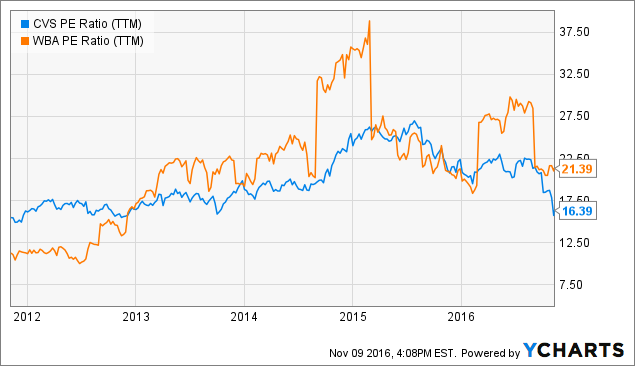 CVS PE Ratio ((TTM)) data by YCharts
Based on earnings, the valuation of CVS is very attractive compared with its primary peer Walgreens Boot Alliance (NASDAQ:WBA).
Price-to-Book Ratio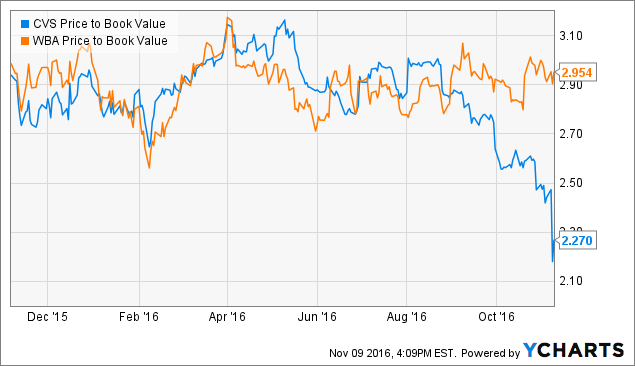 CVS Price to Book Value data by YCharts
This valuation trend continues if we look at their price-to-book-value ratios, as CVS trades at a discount to both its main competitor and its short-term historical average.
Dividend Yield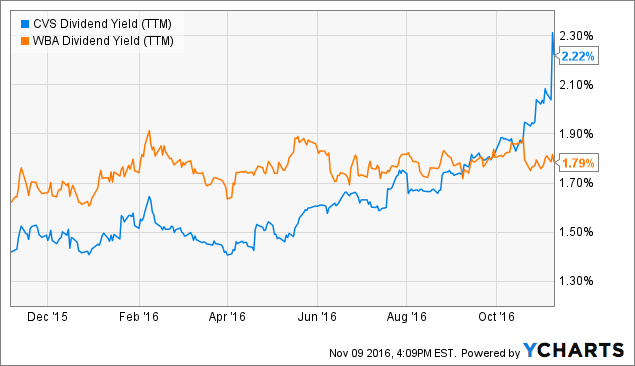 CVS Dividend Yield ((TTM)) data by YCharts
As you can see, the trend again continues with dividend yield, where CVS is again attractively valued.
The Bottom Line
The drop in share price after CVS' earnings report comes after a much longer period of stock price deterioration. However, the iShares US Healthcare ETF (NYSEARCA:IYH) experienced a similar decline, suggesting that the long-term decline in CVS is due to industry dynamics rather than company-specific dynamics.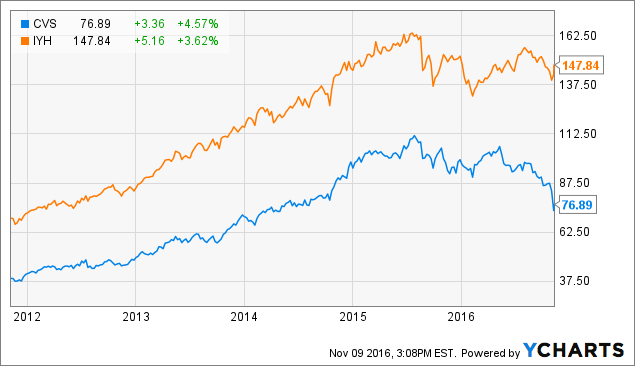 I believe that for investors that have faith in the future of CVS, this presents an excellent buying opportunity. After all, the stock has already recovered significantly from its post-earnings drop, and I believe the business is still fundamentally strong based on its financial performance this quarter. It is also attractively valued. Thus, I believe CVS is a buy.
Disclosure: I/we have no positions in any stocks mentioned, and no plans to initiate any positions within the next 72 hours. I wrote this article myself, and it expresses my own opinions. I am not receiving compensation for it (other than from Seeking Alpha). I have no business relationship with any company whose stock is mentioned in this article.