Some investors bought Cemex (NYSE: CX) shares before the election after commentators suggested it would be a Trump ("Build the Wall") stock.
Cemex is the largest cement company in North America and is located near the border with Mexico & Texas. With Trump elected, when "The Wall" is built, lots and lots of concrete will be needed.
However, on Wednesday after Trump's win, CX sold off unexpectedly, perhaps due to fears that Trump's position on NAFTA might reduce their business. However, concerns about NAFTA were well-known before the election, just as the prospects of building a wall were well-known.
Only 28% of Cemex's business comes from the US. What's missing in today's trading is Cemex has been has been a big beneficiary of the weak PESO -- which makes CX's pricing even more competitive. So with the Peso dropping 8-10% on the Trump win, the favorable currency for Cemex should provide a healthy tailwind that should substantially offset fears of a NAFTA phase out.
In other words, phasing out NAFTA might make Mexican goods more costly, but on the other hand, the Peso is substantially weaker, so Cemex's products will be correspondingly cheaper to other countries.
But let us suppose NAFTA takes a 10% chunk out of CX's business with the US (which is about 28% of CX's revenues)... Well, that would mean CX's revenues might decline 2.8%. Offsetting that is the fact that with Peso just devalued overnight by 8-10% due to NAFTA fears, CX's products will be that much more attractive to US buyers.
In short, NAFTA vs. WEAK PESO could be a wash -- or even advantageous for Cemex.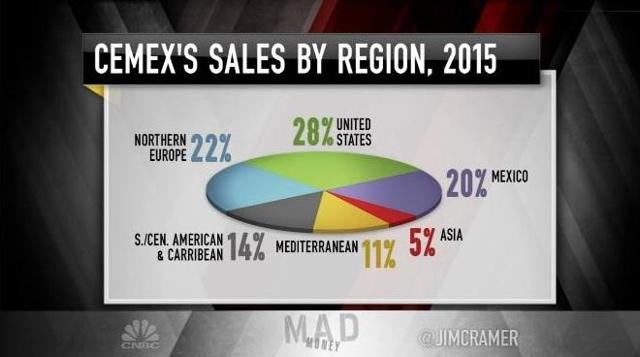 *Chart Copyright of CNBC
A weaker Peso means the other countries in the pie chart seen above might also find Cemex's products more cost-competitive, thus supporting sales. Surprisingly, only 20% of Cemex's revenue is domestic (Mexico). The rest is from exports.
Furthermore, if there is a wall built, a long-term contract for billions of dollars to build "The Wall" would likely be the largest project Cemex has ever done and should offset the negative effects of dismantling NAFTA.
This may be another case of where the markets are being inefficient, e.g. selling CX because of NAFTA fears, but ignoring the largely favorable currency tailwind CX will now have, and ignoring the substantial net-positive for the stock in building "The Wall."
With the Republican sweep of the House & Senate, it is much more likely "The Wall" will be built than if Trump won the election but lost the House.
Because Cemex is located near the border and would most certainly be contracted to provide volumes of cement -- especially if Mexico is paying for it -- they'll likely contract their largest cement company (Cemex) for the cement.
It is often said that it's uneconomical to transport masses of heavy construction materials more than 200 miles, so Cemex's position near the border will pretty much "cement" its position as the primary provider of cement for the wall.
Jim Cramer on CNBC both praised & panned CX a day before the election and said wait until after the election to buy it... This seemed to be one of those times when one reads thru his words and sees it as a Cramer "Stay away so I can buy" spot on FastMoney. But it appears Cramer was right this time (to wait to buy Cemex) and now is the time to buy. After all, in April 2016, Cramer was gushing about Cemex.
Bank of America is out with a downgrade from buy to neutral, but if you look in the months following their prior calls on CX -- downgrade in June 2009 and upgrade on January 31 2012 -- one would be better off doing the opposite of what BofA says and take profit from a "contra-BofA" play in a month or two.
Sometimes analysts downgrade to "reset" the price of stocks they follow so they and their clients can accumulate. Such may be the case here with BofA.
Other construction stocks rallied as they were perceived as beneficiaries of "The Wall" construction: MLM (Martin Marietta Materials), VMC (Vulcan Materials), GVA (Granite Construction), TTEK (Tetra Tech), X (US Steel), NUE (Nucor), STLD (Steel Dynamics), DE (Deere), CAT (Caterpillar), FLR (Fluor Coporation). But buying these stocks at this point may be late to the party...
On Wednesday, Cemex rallied off its selloff lows on high volume and now may actually have more bounce potential than the above US construction stocks that already spiked up on the Trump wall rally.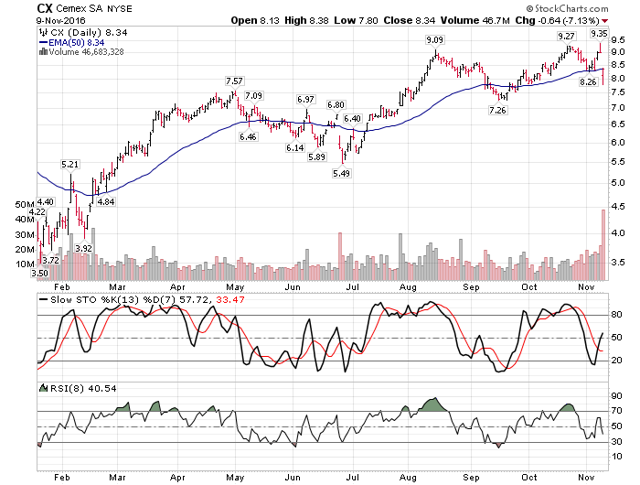 CONCLUSION: Now that the presumed Trump NAFTA phase-out is being priced in to CX shares, the stock may rally when the reality sinks in that the Peso decline will turn out to be VERY favorable for CX. And "The Wall" will be built with lots of concrete.
Disclosure: I/we have no positions in any stocks mentioned, but may initiate a long position in CX IBB over the next 72 hours. I wrote this article myself, and it expresses my own opinions. I am not receiving compensation for it. I have no business relationship with any company whose stock is mentioned in this article.
Additional disclosure: The author makes no warrant for the accuracy of the content herein other than the links provided to traditional online sources of information for verification purposes. Additionally, investors shall not take any comments stated herein as advice to buy or sell any equities and if investors do so, they acknowledge that they have done their own proper due diligence and proceed at their own risk. The author is not employed by any companies (or their agents) discussed herein.