After the market closed on November 7th, the management team at Oasis Petroleum (NYSE:OAS) released the company's financial results for the third quarter of its 2016 fiscal year. In the report, management revealed some decent news but one thing I noticed is that the firm still has some work that it should be doing in order to maximize shareholder value in the long run. In what follows, I will give my thoughts on these issues and what they mean for the business moving forward.
Costs ticked up...
In this tough (but improving) energy environment, what investors want and need to see is a management team that is able to work on cost reduction, not increasing costs unless doing so ends up boosting the firm's bottom line through more work being done. Unfortunately, for Oasis during the quarter, we are seeing the opposite take place.
If you look at the table below, for instance, you can see that many cost categories for Oasis are up on a year-over-year basis for its third fiscal quarter. One such example is the company's lease operating costs, which came in at $8 per boe (barrel of oil equivalent) during the quarter. Although this is lower than some players in the energy space, it does represent an increase of 4.3% compared to the $7.67 per boe seen the same quarter last year.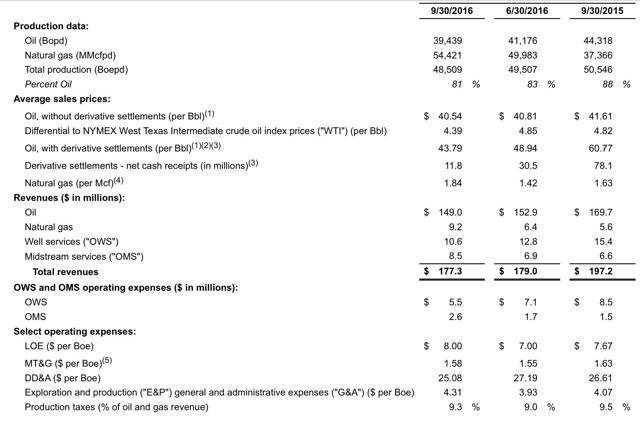 *Taken from Oasis Petroleum
Other categories have seen similar upticks. If we look at overall general and administrative costs, expenses came out to $5.12 per boe, up materially from the $4.81 per boe seen the same time a year earlier. If we look solely at general and administrative costs relevant to exploration and production, costs came out to $4.31 per boe, up from the $4.07 per boe seen a year earlier. Thankfully, however, marketing, transportation, and gathering expenses did manage to tick down from $1.63 per boe last year to $1.58 per boe but in a scenario where output for Oasis would average the 48,509 boe seen in this past quarter in perpetuity, these changes would have (including non-cash expenses like share-based compensation), a negative impact on earnings of $10.45 million per year.
Cash flow and its impact
Speaking of costs, it's important to look at the end result of Oasis's efforts for the quarter. During the quarter, and due to capital expenditures totaling $78.5 million for the quarter, Legacy's free cash flow, as calculated by management, came out to -$3.39 million. For the entire three quarters reported so far this year, the measure comes out to -$25.36 million. Obviously, if the reason why management is generating small amounts of negative free cash flow is so that it can continue to keep production as robust as possible (total production fell just 4% year-over-year), that's not a bad thing but it does mean that the firm doesn't have much opportunity to pay down debt (which fell just around $1 million during the quarter) or engage in additional acquisitions.
However, this does not mean that everything is negative. As I reported on previously, the management team issued a significant amount of shares after the quarter and used those proceeds toward the purchase of 55,000 net acres in the Williston Basin in a move that will alter the company's operations. In the image below, for instance, you can see the firm's updated guidance as a result of these operations.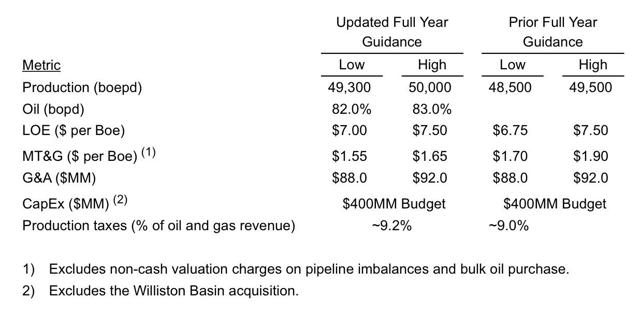 *Taken from Oasis Petroleum
As a whole, if you look at costs (converting the mid-point of general and administrative costs and using the mid-point for all of the firm's costs for the year), 2016's disclosed and expected costs as provided by management imply a reduction of $0.14 per boe during the year and should result in slightly greater output thanks to the acquisition. That said, while costs will be lower than the prior forecast suggested, that doesn't mean that management should not still be able to reduce costs outside of its acquisition in this tough environment.
Takeaway
Based on the data provided, the picture facing Oasis really doesn't appear to be terrible but management has some work to do. While I would be okay with the firm buying assets as opposed to paying down debt, especially when debt is going for a price near par, and while I'm okay with some negative cash flow so far this year, a continuance of this prolonged energy downturn could prove troublesome in the long run. For now, this is not a problem but I hope that the firm can work on making progress when it comes to costs and, as a result, push its cash flow metrics into the black.
Disclosure: I/we have no positions in any stocks mentioned, and no plans to initiate any positions within the next 72 hours. I wrote this article myself, and it expresses my own opinions. I am not receiving compensation for it (other than from Seeking Alpha). I have no business relationship with any company whose stock is mentioned in this article.