The numbers are in, and things are looking good for ConocoPhillips (NYSE:COP). During the third quarter of 2016, the firm generated $1.28 billion in operating cash flow (working capital changes were basically a wash last quarter), spent $916 million on capital expenditures, and paid out $314 million in dividends. That means ConocoPhillips was able to effectively cover its capex and dividend payments with cash flow when realizing an average price of $29.78/BOE, up from $27.79/BOE in Q2 2016.
A huge accomplishment for ConocoPhillips and one that appears to have gotten noticed by the market. It proves that ConocoPhillips can sustain its payouts and cover its capex in the current environment even as many of its large peers continue to suffer immensely. Cash flow neutrality in a high $40s Brent world means free cash flow generation next year has a very high probability of happening, with or without an OPEC deal.
Recent signs point towards a production cut deal looking unlikely with only a freeze, which wouldn't change the current state of the crude market, being seen as feasible short of a fundamental change in OPEC and non-OPEC negotiations. Investors shouldn't bank on an OPEC agreement saving the market, and more importantly, the cash flow streams of firms with upstream operations as that leaves you very exposed to events far beyond the control of your investments.
The company exited Q3 with $9.64 billion in current assets, $7.54 billion in current liabilities, and $27.53 billion in long-term debt. $1.34 billion of its current liabilities is short-term debt that can be paid off with its $4.09 billion cash balance that is being bolstered by small divestitures. $1.25 billion in short-term debt was paid off in October.
On October 28, Conoco completed the sale of its three exploration blocks off the coast of Senegal to Woodside Petroleum (OTCPK:WOPEY) for $440 million, which includes $90 million in closing adjustments. There were originally some minor roadblocks both parties had to navigate, particularly the strategic maneuvers of one of the junior partners that wanted to buy Conoco's 35% stake itself, but now it appears those problems have been dealt with.
ConocoPhillips' justification for the deal is that the company is exiting deepwater exploration endeavors and this is another step in that process. The super-independent already has a massive resource base to develop, and deepwater exploration efforts are expensive and can often come up empty. In order to right size its expenditures and generate the most value for investors, Conoco wants to invest in projects that offer a lot more certainty.
Operational gains
In Australia, ConocoPhillips is one of the three firms participating in the Australia Pacific LNG venture, which it has a 37.5% stake in. ConocoPhillips constructed and operates the LNG facility on Curtis Island, which currently has two trains up and running. Each train has the capacity to produce 4.5 million metric tons of liquefied natural gas, with the natural gas sourced from massive coal seam gas resources. Below is a look at how the partnership is extracting natural gas from CSG reserves: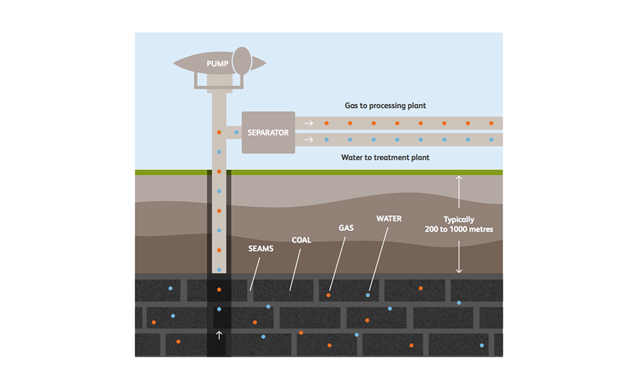 Source: APLNG Website
At the beginning of 2016, the first LNG cargo was shipped out from the first train, marking a major milestone for the expensive development. In the third quarter of this year, the partnership was able to turn the second train online, which marked the second major milestone. The first LNG cargo from that train was shipped out around October 8.
Management commented that the venture was "experienc[ing] a very smooth startup" with the second train with "no issues there". Now that both trains are up and running, ongoing costs will come in at a much lower rate while cash flow generation roars upwards, providing a very favorable catalyst for ConocoPhillips and its partners. As of Conoco's earnings report, 50 LNG cargos had been shipped from the facility.
What is very intriguing is that the first train is operating "at more than 10% over the nameplate capacity". It won't be until the second quarter of next year that the upstream portion of the project will pump out enough natural gas to run both trains at full capacity, and based on results from the first train, the venture may be able to produce in excess of 9 million metric tons of LNG a year. Those extra cargos are being sold at spot rates which aren't ideal at the moment, but still a big win for the partnership.
Guidance changes
ConocoPhillips has once again cut its expected 2016 capex, this time from $5.5 billion to $5.2 billion. Its adjusted operating cost guidance also moved lower by $200 million to $6.6 billion, but major developments coming online are enabling Conoco to spend below that rate while still generating output growth. On top of a lower spend rate, COP is also guiding for its adjusted (for asset sales) production base to grow to 1.565 million BOE/d on average in 2016, up from the previous midpoint of 1.555 million BOE/d.
In Q3, the firm pumped out 1.557 million BOE/d, up an adjusted 4% from a year ago and 3,000 BOE/d without the adjustment. Management is guiding for that to grow to somewhere between 1.555 million BOE/d and 1.595 million BOE/d in Q4, aided by the start-up of major developments like the APLNG venture.
At the beginning of 2016, ConocoPhillips was forecasting zero production growth when assuming a $6.4 billion capex budget, a picture that has significantly changed for the better over the past three quarters. Strong operational performance is leading the way as its assets across the board continue to outperform.
Final thoughts
Q3 was a strong quarter for ConocoPhillips and one that should put a lot of fears to rest. ConocoPhillips' Big Oil peers are having a much harder time taming their outspends and are banking on Brent marching up to $60 before that happens. For the company, Brent at $60 means free cash flow generation, debt reduction, and production growth while also offering a chance for dividend increases once the debt reduction process is over. Investors looking for a strong big-cap name in the oil & gas space should take a good look at ConocoPhillips.
Author's note: Some of the companies mentioned above don't trade on a major US stock exchange, which comes with its own set of risks and rewards. Always do your own due diligence before investing.
Disclosure: I am/we are long COP. I wrote this article myself, and it expresses my own opinions. I am not receiving compensation for it (other than from Seeking Alpha). I have no business relationship with any company whose stock is mentioned in this article.