Advanced Micro Devices (NASDAQ:AMD) recently announced that the Polaris-based Radeon PRO WX series of video cards will be available starting this month. Please understand that the 14-nm Polaris-based Radeon Pro WX 7100, WX 5100, and WX 4100 are not the high-end video cards that can compete with Nvidia's (NASDAQ:NVDA) flagship GTX 1080 gaming GPU (Graphics Processing Unit).
The new Radeon PRO WX-series video cards are intended to be affordable alternatives to Nvidia's upcoming Pascal Quadro P5000 and Quadro P6000 workstation GPUs. The budget-friendly Radeon RX 480 is still AMD's top Polaris video card for gamers this year. There are major differences between gaming and workstation graphics cards.
The Radeon Pro WX 7100 can do 5.73 TLOPS, almost similar to the 5.8 TFLOPS peak performance of the Radeon RX 480. Unfortunately, old tests have proven that workstation-class GPUs cannot match the FPS (Frames Per Second) gameplay performance of game-specific video cards.
The Radeon Pro WX tag is AMD's new brand for its FirePro workstation graphics card products.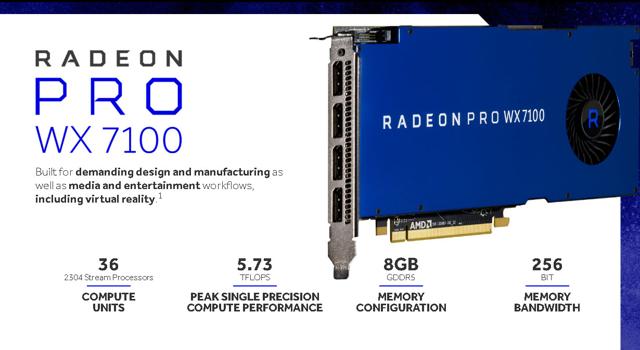 AMD is again using a budget-pricing approach in its quest to win market share in the workstation GPU market. Nvidia previously announced that its Quadro M6000 workstation GPU will cost $5,000. There's a $4,770 Quadro M6000 for sale online.
On the other hand, AMD's new top workstation GPU, the Radeon Pro WX 7100 will only retail for $799. The WX 4100 will retail for $399. Yes, high performance computing workstations will probably go for the Quadro P6000 (which has a peak performance of 12 TFLOPS). However, not many people and companies can afford a $5k discrete graphics accelerator card.
AMD wants to prosper in the market segment for sub-$1,000 workstation GPUs.
Why It Matters
AMD is currently focused on gaining market share against Nvidia. It has no intention yet to compete in the lucrative market for pricey video cards. Selling affordable gaming and workstation add-in video cards helps AMD's momentum of taking back market share in discrete GPUs.
Yes, there might be fewer number of workstation PC-using people than there are PC gamers. However, they still are coveted potential customers. Any target audience which can help increase Polaris GPUs' total addressable market is worth appreciating.
The affordable Radeon Pro WX-series workstation GPUs can help AMD reach 30-33%% market share in discrete GPUs by the end of 2016. As of Q2, AMD's share in desktop discrete graphics card is only 22.8%. Back in Q4 2013, AMD's share was 35%.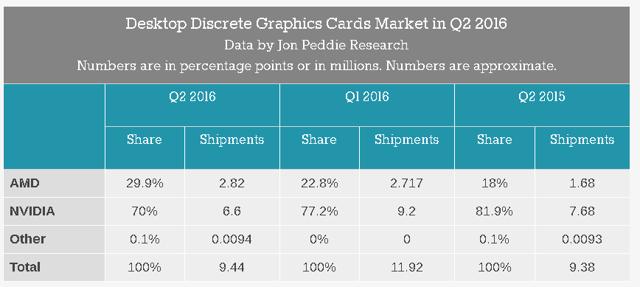 (Source: Jon Peddie Research)
The November release of Radeon Pro WX video cards are just in time for the December holiday shopping season. Many designers, CAD artists, 3D Modellers, animators, and content creators will probably use some of their 13 th Month pay and Christmas bonuses to upgrade their video cards.
Conclusion
I remain long AMD. Its decision to focus first on affordable Polaris video cards this year is practical. A budget-pricing strategy helps AMD win back GPU customers. For now, it is given that there's lower margins on budget video cards. However, what matters more for AMD right now is to impress industry observers with robust market share gains against Nvidia.
AMD's stock will probably go back to $8 if Jon Peddie Research reports AMD has more than 30% market share in discrete GPUs in Q4 2016.
Going forward, I expect AMD to again win the GPU supply contract for Apple's next iterations of the iMac and Mac Pro. Apple (NASDAQ:AAPL) used Polaris-based Radeon Pro graphics for its 2016 MacBook Pro. The $399 WX 4100 will probably go to the next models of the iMac. The Radeon Pro WX 7100 will replace the FirePro D-series GPUs in the Mac Pro workstation.
As long as AMD has the exclusive GPU supply contract for Mac computers, it will benefit from spending power of Mac loyalists. It only took five days for the Radeon-equipped MacBook Pro 2016 to become the best-selling high-end laptop this year.
Based on the data chart (derived from email receipts of 12,129 U.S. online shoppers) from Slice Intelligence, AMD will likely receive more Radeon Pro GPU orders from Apple. The Radeon-equipped MacBook Pro 2016 has generated far more revenue in five days than the Surface Book did from April 10 to October 31, 2016.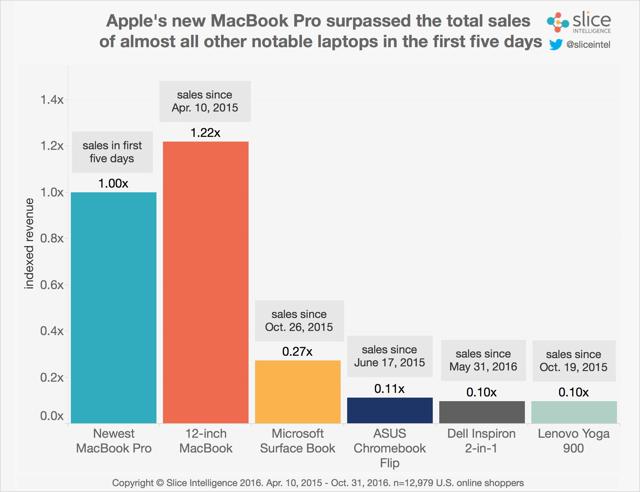 Disclosure: I am/we are long AMD, NVDA, AAPL. I wrote this article myself, and it expresses my own opinions. I am not receiving compensation for it (other than from Seeking Alpha). I have no business relationship with any company whose stock is mentioned in this article.