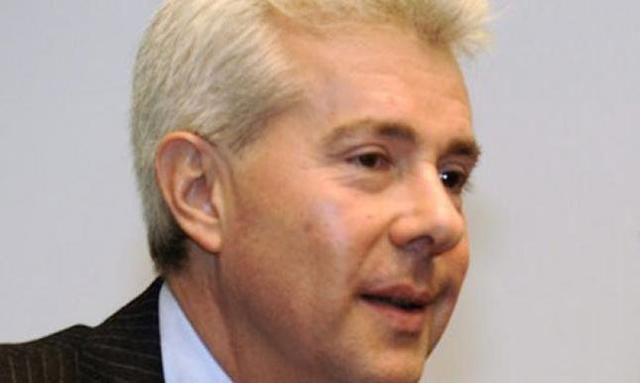 Weatherford CEO Bernard Duroc-Danner
In a move that surprised the financial markets, Weatherford (NYSE:WFT) announced the departure of CEO Bernard Duroc-Danner effective immediately:
Weatherford International plc announces the departure of Bernard J. Duroc-Danner, Chairman of the Board, President and Chief Executive Officer effective immediately. Mr. Robert Rayne, current Vice Chairman of the Board, will serve as Chairman of the Board. Mr. Krishna Shivram will lead the Company as interim Chief Executive Officer, and will continue as Chief Financial Officer ("CFO") until a new CFO is named in the coming days...

Mr. Rayne commented further, "We look forward to moving ahead to build upon the successes of the Company that Dr. Duroc-Danner has built and grown and are infinitely thankful for his service. We will continue to rely on our very experienced and talented management team to steer the Company forward and to continue making progress on enhancing shareholder value. We have full confidence that Mr. Shivram is the right person to lead the Company in this very challenging market and he has our full support."
The news was announced in late trading Wednesday. WFT skyrocketed 32% to close over $5.
The Situation
The downturn in the oil patch has punished Weatherford. Its revenue and EBITDA have free-fallen, yet its $7.5 billion debt load still needs to be serviced. In the first half of 2016, the company raised over $3.3 billion in capital to shore up its balance sheet and push near-term principal payments out into the future. Despite the capital raise, Weatherford has hemorrhaged cash; through Q3 2016, the company has burned through $540 million. Its EBITDA is well shy of its $129 million quarterly interest expense, so the bleeding will likely continue for the foreseeable future.
In September, the SEC fined the company $140 million for inflating earnings by more than $900 million from 2007 to 2012. The accounting fraud was not only shocking due to its size, but for its brazenness. The fine came at an inopportune time; due to Weatherford's cash burn and $7.5 billion debt load, the margin for error is very slim. In early October, the Houston Chronicle called for the CEO to resign for having failed his employees. Just over a month later, Duroc-Danner is out.
The Pain Ahead
WFT is down over 50% over the past 12 months. The stock hit a 52-week low of $3.83 this week due to concerns over its ability to comply with debt covenants. I previously estimated Weatherford would have to reduce leverage by about $500 million at the end of Q4 to comply with debt covenants. Days later, the company revised its covenant calculations; based on such revised metrics, my estimate would be lowered to $300 million.
Nonetheless, the company will not likely have the necessary liquidity to pare debt. At Q4, Weatherford had cash on hand of $440 million. It is burning nearly $150 million in cash per quarter, and payments on its $140 million SEC fine kick in Q4. The company will be hard-pressed to fund itself with more debt. Its $7.5 billion debt load is over 30x run-rate EBITDA. By my estimation, Weatherford is insolvent by over $3 billion. Management and its bankers will likely argue that it could dig its way out of its capital hole [i] through another equity offering, and [ii] a continued rebound in North American E&P.
A capital raise of $900 million - four quarters of cash burn, plus a $300 million debt pare-down - could potentially buy Weatherford enough time to benefit from a rebound in the oil patch. Such a large equity raise would likely wipe out current investors. Bankruptcy or a highly-dilutive event seems to be inevitable. Either way, there appears to more pain ahead for WFT.
Conclusion
Weatherford's management team has a track record of over-promising and under-performing. The exit of Duroc-Danner appears to be a step in the right direction. Hopefully, the new management team will offer some transparency on Weatherford's insolvency and the steps needed to cure it. Since Q1, I have screamed that WFT is insolvent, yet management and its bankers keep raising new money and the company keeps burning it. In my opinion, WFT is worthless, and investors should sell the stock.
Disclosure: I am/we are short WFT.
I wrote this article myself, and it expresses my own opinions. I am not receiving compensation for it. I have no business relationship with any company whose stock is mentioned in this article.