Attunity (NASDAQ:ATTU) stock has been decimated, falling 61% so far this year to close near a multi-year record low of $4.36 yesterday. The extremely weak market action is a combination of 1) punishment from the Street for not meeting expected growth targets, and 2) moving into a net loss (but still positive cash flow). Other big-data software stocks like Tableau (NYSE:DATA) have also been punished recently for cash burn (on a much larger red-ink scale than Attunity).
Attunity is in the high-growth big-data software sector, specializing in data connectivity. The company transports large amounts of data in real time across heterogeneous platforms and networks. I encourage readers to read my in-depth Attunity articles from 2015, 2014, and this sector article from 2013 for more information on the Cloud Computing and Big Data market.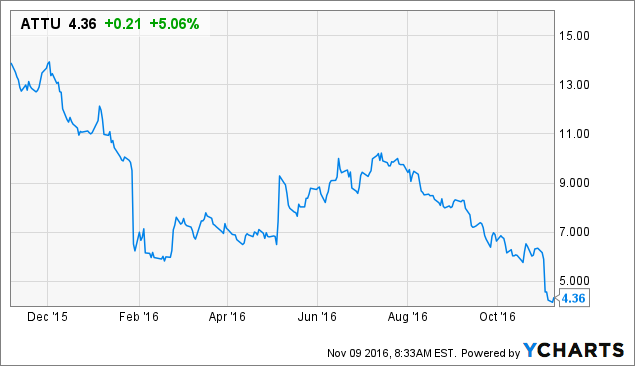 The few analysts that follow Attunity have a lot to gripe about. On the Q1 results conference call, management aggressively presented a sales pipeline of $90M, causing the stock to jump 36% to $9.29 in three days. In the subsequent two quarters, much of this pipeline was not monetized, as sales growth continued to moderate. In the meantime, GAAP net losses mounted as sales and marketing costs skyrocketed. Furthermore, Attunity committed the cardinal sin of having a declining top line growth rate, which is a death knell for a growth stock. Consequently, ATTU was punished for not meeting quarterly expectations with easing top line growth.
A closer look at the numbers and a deeper conversation with management, however, reveals a different story. Excluding the legacy non-SAP business, revenues should grow over 20% in 2016, despite all the headwinds of longer sales cycles and disappointing revenues of the new Appfluent/Visibility product (data optimization geared for Hadoop).
Revenues

2013

2014

2015e

2016e

2017e

Replicate

$6M

$13M

$21M

$29M

$37M

RepliWeb

$8M

$9M

$9M

$7M

$4M

Data Connectors (legacy batch non-SAP business)

$11M

$9M

$6M

nominal

nominal

Hayes/SAP

NA

$4M

$5M

$6M

$7M

Other*

NA

$1M

$7M

$11M

$15M

Total

$25M

$36M

$48M

$53M

$63M

License

$13M

$20M

$27M

$27M

$33M

Maintenance

$12M

$16M

$21M

$26M

$30M

*includes consulting and services like CloudBeam, Visibility, Maestro, Compose, etc.
The Replicate platform continues to be the primary growth driver, and should continue to do so for at least the next few years. Roughly 60% of Replicate's revenue so far this year came from new customers. Thus, core revenue growth is not slowing as much as the headline figures indicated.
Replicate's unique selling proposition is the automated, real-time transport of petabytes of data between all the different data silos ranging from enterprise databases like SAP or Oracle to cloud platforms such as Amazon (NASDAQ:AMZN) Web Solutions, Microsoft (NASDAQ:MSFT) Azure, and Hadoop. The need for Replicate will only grow. The superiority of its product is evidenced by a win-rate of 98% versus peers. The main limiting factor is that many existing big data transport customers do not want to bother switching from larger vendors like Oracle (NASDAQ:ORCL) and IBM (NYSE:IBM).
| | | | | |
| --- | --- | --- | --- | --- |
| 2016 Revenue (estimate) | License | Maintenance & Service | Total | % of Total |
| Replicate | $19M | $10M | $29M | 55% |
| RepliWeb | $5M | $2M | $7M | 13% |
| Hayes/SAP | $3M | $3M | $6M | 11% |
| Other | - | $11M | $11M | 21% |
| Total | $27M | $26M | $53M | 100% |
Relatedly, a 2% headline revenue increase in Q3 2016, was against a stronger year-ago comparison. Management guided Q4 y-o-y revenue growth to be around 12%, Quan is estimating 10%.
Cash burn is not an issue, and the company will not need to do a financing as rumored in the online chat discussions. Attunity has $9M in cash, and cash flow from operations was +$1.0M in what could be a nadir Q3. The company had a host of non-cash charges last quarter that led to a GAAP net loss of ($4.0M) and a non-GAAP loss of ($1.7M), which included a $2.0M write-down of previously-acquired Appfluent.
Management stated that Attunity should return to profitability by next year. Sales and marketing expenses will be under a tighter leash, with less productive sales people leaving, and more experienced enterprise sales reps taking their place. Management is two-thirds of the way through the sales force restructuring, which should be completed by the end of Q1 2017.
Aiding better margins in 2017 will be better top line growth. Management views the inability to convert the sales pipeline as a "short-term timing issue," as demand today is "greater than ever before." Thus, revenues should rebound in 2017. The quarterly timing of that revenue pick-up is less clear, but certainly by Q2 of 2017, some revenue pick-up should occur (Q1 is a seasonally weak).
Our confidence in future revenue growth is supported not only by Attunity's very high product win rate, but also by its strong partnerships with Hortonworks, Cloudera and MapR in the Hadoop space, as well as Microsoft, Oracle, Amazon Web Services, Hewlett Packard Enterprise (NYSE:HPE), Teradata (NYSE:TDC), among others in the big data sector in general.
So, if cash burn is not an issue, core revenue increases from Replicate provide an engine for growth, comparisons will get easier in coming quarters, and profitability and growth should improve next year, why is the stock near an all-time low? It is really a question of credibility, time horizon, and investors not completely understanding Attunity's growth drivers.
Missing recent quarterly guidance since Q4 2015, easing headline revenue growth from +35% in 2015 to +12% in the first nine months of 2016, and non-GAAP losses in Q1 and Q3 of this year hurt the stock. Furthermore, bragging about a "qualified" sales pipeline of $90M to $100M (nearly doubling current sales levels), and then not converting that pipeline in the subsequent two quarters, confused investors and probably hurt management's credibility.
| | | | | | | | |
| --- | --- | --- | --- | --- | --- | --- | --- |
| $, millions (GAAP) | 2011 | 2012 | 2013 | 2014 | 2015 | 2016e | 2017e |
| Revenues | 15.2 | 25.5 | 25.2 | 35.7 | 48.2 | 53.0 | 63.0 |
| Gross Profit | 13.7 | 23.1 | 23.1 | 32.3 | 40.9 | 44.0 | 53.5 |
| % of revs. | 90.4% | 90.8% | 91.5% | 90.7% | 84.9% | 83.0% | 84.9% |
| Optg. Profit | 0.1 | 2.5 | -0.1 | 1.5 | 1.3 | -9.0 | -1.0 |
| % of Revs | 0.5% | 9.9% | -0.2% | 4.2% | 2.8% | -17.0% | -1.6% |
| Net Income | -0.8 | 1.5 | -0.6 | -1.7 | -3.6 | -8.0 | -1.5 |
| EPS | -$0.09 | $0.12 | -$0.05 | -$0.11 | -$0.22 | -$0.47 | -$0.09 |
Attunity is an evolving company with just $53M in revenues, in a dynamic, fast-changing big-data sector. Thus, it is normal to have hiccups along the way. In the first half of 2013, Attunity had some temporary issues that led to flat sales and a small loss. However, the company rebounded to 41% and 35% top line growth in 2014 and 2015 respectively, and an operating profit in both years. Today, the company is again going through a transition. But the underlying growth is still there; Attunity should be back on track for higher growth and profitability in 2017-2018.
Underlying my optimism for 2017 and beyond is the Hadoop market potential. Hadoop is an open-source storage platform that is replacing traditional ETL (extract, transform and load) batch workloads and performing large scale analytics more cheaply. Hadoop replaces previous batch processing with speedier analytics and lower-cost storage for large data sets. Corporations are starting to implement Hadoop, but it takes time to build the accompanying support systems. Nevertheless, corporations are already spending on Hadoop. Hortonworks (NASDAQ:HDP), a Hadoop pure-play, had a 73% jump in LTM revenues.
The revenue hyper-growth of companies like Hortonworks, along with peers like Cloudera and MapR, are mainly coming from internal Hadoop installations. The next phase is to externalize this Hadoop data, and transport this data back and forth between the Cloud and different enterprise silos. This is Attunity's sweet spot, by successfully adapting Replicate to Hadoop. The company then extended its Hadoop capabilities beyond data transport to related "production" tools that optimize data traffic and storage costs via the Appfluent acquisition (Visibility product line).
To implement Replicate for Hadoop, and especially Visibility, is a much longer sales cycle, requiring more consulting, more corporate and legal sign-offs, etc., as these corporations are making a long-term commitment to a new data infrastructure. Previously, Replicate, Repliweb, and Attunity's other pure data transport businesses were more transactional, with a shorter sales cycle but also a lower selling price. The numerous Visibility deals in the pipeline are all seven-figure contracts. These deals should eventually come through in 2017, and possibly even start in Q4 2016. Quan's 2017 revenue estimate of $63M assumes only a few Visibility contracts will close next year.
Visibility, combined with Replicate, provides a compelling value proposition for the customer by lowering data storage and processing costs from $100k/terabyte to $10k. Visibility measures actual data usage, and in combination with Attunity Replicate, then offloads less-used data from more expensive data warehouses to Hadoop for lower-cost processing and storage.
Attunity can be viewed in four parts:
The core Replicate business (55% of 2016 revenues) growing around 30% annually.
The steadier growing (SAP ETL) business (11%), which should pick-up in 2017 with new Hadoop capabilities.
The sun-setting file replication (Repliweb stand-alone) and older ETL batch businesses (13%).
Consulting and newer product lines, which are draining resources today, but have explosive growth potential (21%, which is categorized as "Other"). These revenues should exceed those of Replicate in a couple of years, if management executes.
The majority of the "Other" revenue category is consulting and related services, which is growing nicely to help clients deal with these new Big Data implementations. Previously-discussed Visibility, as well as CloudBeam, Maestro (Enterprise Manager), and Compose have small revenue bases today, which can potentially become much larger.
Currently priced at $4.36, Attunity carries an enterprise value of only $64M, or 1.2x LTM revenues. At $64M, Attunity is trading at only 1.7x Replicate's 2017 revenues, which is profitable and growing ~30% annually. The other 45% of Attunity's revenues are essentially a free call option.
Attunity has never been cheaper versus its historical multiples of 2.5x-to-5.0x revenues. Furthermore, Attunity's stock is trading well below its peers, despite their relatively weak stock performances. Attunity's EV/LTM Revenues of 1.2x is well below its peer median multiple of 3.4x. Using an EV/Revenues-to-Growth ratio (a popular SaaS measure which adjusts valuation for top-line growth), Attunity's ratio of 0.10x is at a 47% discount to the peer median of 0.19x.
Big Data SW Peers

Ticker/
Price (11/8/16)

EV/ Revs

Revs
LTM
% chg

EV/Revs
-to-
Growth

EBITDA Margin LTM

Teradata

TDC, $27.50

1.3x

-6%

Neg. Growth

15.5%

GlobalSCAPE

(NYSEMKT:GSB)
$3.54

3.5x

+9%

0.39x

17.7%

Tableau

DATA, $46.20

3.4x

+31%

0.11x

(12.5%)

Splunk

(NASDAQ:SPLK)
$59.78

8.9x

+48%

0.19x

(38.7%)

Talend

(NASDAQ:TLND)
$23.00

7.3x

+38%

0.19x

(26.7%)

Hortonworks

HDP, $8.35

2.5x

+73%

0.03x

(139.5%)

Datawatch

(NASDAQ:DWCH)
$6.55

1.6x

+1%

1.60x

(34.6%)

Median

-

3.4x

+31%

0.19x

(19.6%)

Attunity

$4.36

1.2x

+12%

0.10x

(6.7%)

Peer M&A: Informatica sold for 4.6x EV/Revs in 2015, Qlik Technologies sold for 4.1x EV/Revs in 2016
Putting a 3.5x multiple on 2017 revenues would provide a 3x return to ~$12.50. If management executes, and reaches its target of $100M in revenues in a few years, then the returns would be substantially higher. Investor downside from these levels is limited. Replicate provides a revenue and growth anchor, which not only limits downside risk, but creates upside as this dynamic has not been made very clear to the investment community.
The common wisdom is never to catch a falling knife. Why buy a stock that is just hitting new lows? Wait for the chart to stabilize, even if it is 10% or 20% higher than today. Still, investors should start accumulating at these levels. The stock cannot stay this low much longer in our opinion.
Disclosure: I am/we are long ATTU. I wrote this article myself, and it expresses my own opinions. I am not receiving compensation for it (other than from Seeking Alpha). I have no business relationship with any company whose stock is mentioned in this article.