I have been a big bull with respect to high-yield income vehicles over the last two years, largely because the prospect of higher interest rates and super high (covered) dividends translated into compelling upside for them. One of the companies that I specifically liked - despite all the controversy - was Prospect Capital Corp. (NASDAQ:PSEC), a Business Development Company that alienated a lot of investors with its share issuances below Net Asset Value, and an abrupt dividend cut at the end of 2014.
Despite the negative sentiment surrounding Prospect Capital and the wide Net Asset Value discount that shares were selling for at the time, I decided to buy the BDC for my $100,000 high-yield income portfolio. My weighted average purchase price was $8.79/share, which translates into a ~$2,400 paper loss as of today (not factoring in the dividends that have been paid since March 2015).
Prospect Capital has had a difficult time with shareholders since it slashed its dividend, but I nonetheless thought that buying the BDC at a rather wide discount to Net Asset Value translated into compelling total return potential.
That being said, though, my views about Prospect Capital are slowly evolving after the company reported rather soft 1st quarter results this week that highlighted a couple of problem areas that could have a material impact on the BDC's dividend policy moving forward.
Concerns Over Ongoing Distribution Coverage
Prospect Capital's Net Investment Income, or NII, a highly important stat for Business Development Companies, slumped from $91.2 million in the 1st quarter a year ago to $78.9 million in the most recent quarter. On a per-share basis, Prospect Capital pulled in only $0.22/share in Net Investment Income, which was $0.04/share lower than a year ago.
While the ~15 percent decline in per-share NII in itself is a worrying sign, it is even more worrying that Prospect Capital significantly underearned its cumulative quarterly dividend in the last quarter. In the quarter ending September, Prospect Capital paid $89.4 million to shareholders as dividends, but only earned $78.9 million in NII. And if you remember, Prospect Capital only managed to lift its Net Investment Income over $0.25/share in the last quarter through the sale of Harbortouch Payments LLC, which contributed $0.04/share to Prospect Capital's Q4-16 NII.
With the absence of positive, one-time NII contributions in the 1st quarter, lower Y/Y Net Investment Income and sort of expected CLO losses, Prospect Capital's declining dividend coverage has become a real concern for me.
Prospect Capital's NII dividend coverage declined from 1.04x in last year's September quarter to just 0.88x in the most recent one...Which is a rather big difference. On a distributable income, or DI basis, the coverage ratio has worsened even more, falling from 1.12x last year to 0.88x. The decline in dividend coverage is not the end of the world, of course, but it clearly shines a light on Prospect Capital's ongoing difficulties to earn its current dividend rate with current NII or DI.
Prospect Capital's lower Net Investment Income has been reflected in a declining portfolio yield, too, which is an issue for income investors considering the high cost of equity of Prospect Capital's shares.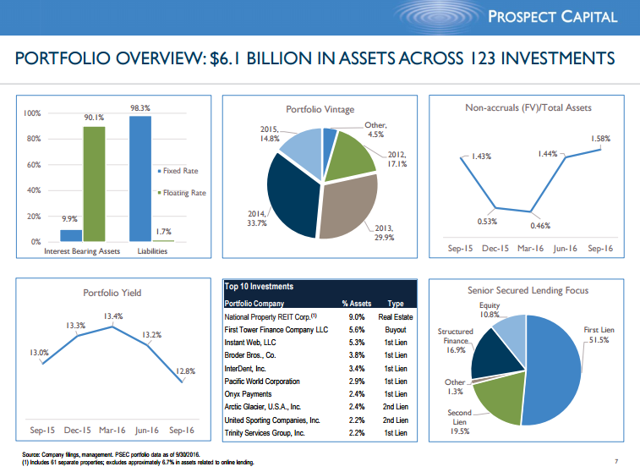 Source: Prospect Capital
Stable Dividends...For Now
Prospect Capital looks as if it may run into some problems in the medium term unless company manages to turn around the trend of declining portfolio yields and falling NII.
On the other hand, the decline in dividend coverage does not mean that the company will slash its dividend soon. Prospect Capital has $96.6 million or $0.27/share in "spillback", which counts toward prior year dividend requirements and can be thought of as undistributed dividends.
Further, Prospect Capital used the opportunity again this week and declared a couple more monthly dividends. According to Prospect Capital's press statement, the Business Development Company declared three more monthly dividends at a rate of $0.08333/share from November 2016 to January 2017. For now, the dividend is safe.
Your Takeaway
It is time to be a little more cautious about Prospect Capital. One of the reasons I continued to recommend the BDC as a high-yield cash cow last year and in 2016 was because Prospect Capital covered its dividend payout with recurring NII. Lower NII, a decline in portfolio yield and dividend coverage are red flags in my opinion. I don't think there is any reason to panic just yet, largely because of Prospect Capital's "spillback" and because the BDC declared stable dividends until January 2017, but shareholders need to carefully watch Prospect Capital's NII coverage ratio and the trend of its portfolio yield. I am putting Prospect Capital on probation for now.
If you like to read more of my articles, and like to be kept up to date with the companies I cover, I kindly ask you that you scroll to the top of this page and click 'follow'. I am largely investing in dividend paying stocks, but also venture out occasionally and cover special situations that offer appealing reward-to-risk ratios and have potential for significant capital appreciation. Above all, my immediate investment goal is to achieve financial independence.
Disclosure: I am/we are long PSEC. I wrote this article myself, and it expresses my own opinions. I am not receiving compensation for it (other than from Seeking Alpha). I have no business relationship with any company whose stock is mentioned in this article.