Industry Overview
The truck rental industry is currently an $18 billion dollar industry that is expected to grow to $21 billion by 2021. Additionally, recent mergers and acquisitions within the industry have led to a fairly oligopolistic group of five companies including U-Haul, Enterprise, Budget, Penske and Ryder. Furthermore, high capital expenditures make this an industry with high barriers to entry.
Investment Thesis
Our investment thesis is predicated upon three points:
Macroeconomic moving trends amongst millennials and baby boomers will drive top line growth in Amerco's (NASDAQ:UHAL) moving and self-storage businesses. Amerco's U-Haul business has distinct competitive advantages due to its brand name and size. These advantages would be incredibly difficult to replicate. Amerco has a highly profitable self-storage business that we believe is mispriced due to investor overreaction. Amerco's self-storage business has a large amount of "hidden earnings" that have not yet been taken into account by investors. Additionally, Amerco could unlock substantial shareholder value by spinning off its self-storage business into a real estate investment trust (REIT).
Amerco Background
Amerco was founded in 1941 and has been continually run by the Shoen family for over 80 years. In terms of products, Amerco rents trucks, trailers and moving supplies through its U-Haul subsidiary. The company also operates over 44 million square feet of self-storage space through its self-storage subsidiary. Lastly, it sells property, casualty and health insurance through its Repwest and Oxford insurance subsidiaries. Amerco's revenue breakdown is as follows: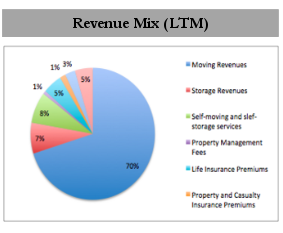 Source:Amerco 2016 10-K
Geographical Span
Amerco operates throughout all 50 states and the most populous provinces in Canada. It is almost entirely domestic with over 21,000 locations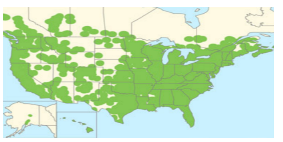 Source: Amerco Investor Presentation
Recent Sell-off

Source: Nasdaq.com
Amerco released poor earnings during Q1 2017 (most recent quarter) and the stock sold off by over 20%. The company missed earnings due to higher than expected cost of goods sold and depreciation expenses. However, the company is up significantly since the financial crisis.
Why Would Amerco be Mispriced?
We believe Amerco has become mispriced due to a number of reasons. First of all, the recent bad earnings have caused investors to abandon the stock. Since there is such low trading volume on this stock, even a small sell-off can lead to a gap down in share price. Additionally, there is virtually no sell-side coverage on this stock. Amerco is a diversified conglomerate that operates in everything from insurance to truck rentals to storage and real estate. As a result, most of the coverage on this stock is from buy-side analysts who conduct proprietary research. As a result of the above factors, it is easy to see how Amerco might become mispriced.
Convergence of Macro-Trends
The first part of our thesis is predicated on the convergence of several different macro-economic trends. We believe that macro-economic trends amongst millennials and baby boomers will drive top-line growth in Amerco's self-storage and truck rental businesses.
This part of the thesis rests on general moving trends, trends amongst millennials and trends amongst baby-boomers.
Currently, Americans move in massive numbers every year. Just this past year, over 40 million Americans moved, necessitating moving services. There has been an uptick, in recent years, in movement between the north-east and mid-west due to better weather and lower taxes. Additionally, prior to the recession, close to 17 percent of American households moved every year. During the recession, this number dropped to 11 percent but has since rebounded to 15 percent and is expected to climb higher as wage and employment growth remain strong. Furthermore, ever since the recession, the percentage of Americans who rent has changed from 31% to 36%. Since renters are more transient and tend to move more often than home-owners, this will bode well for Amerco.
Below you will see moving patterns as well as rental patterns within America for the last ten years: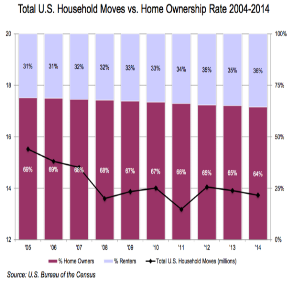 Source: U.S. Bureau of the Census
Millennials are Reaching Peak-Moving Years
The trend that will really drive Amerco going forward is the massive number of millennials that are reaching their peak moving years. There are over 75 million millennials in America right now and they are rapidly reaching peak-moving years, which occur between the ages of 18 and 35. People in this age group have (fairly consistently) moved 2x more (as a % of population) than the rest of Americans. For millennials, 25-30% of them make a move every year compared to 15% of the general population. As millennials are rapidly reaching this age range, they will begin to move more than before. This mass of millennial movement will drive the need for moving services over the next 15 years.
Additionally, there are several factors that will lead to an increase in millennial moving trends. Urban housing rates have risen rapidly, forcing many older millennials to actually move to the suburbs. We have already seen this; the percentage of millennials who live in an urban center has declined from 21% to 17% over the last year. Overall, as millennials age, they will move far more often than their older counterparts and will naturally turn towards U-Haul for their moving needs.
Millennials Moving to the Suburbs
Although there is pessimism surrounding lack of household formation amongst millennials and the idea that millennials want to perpetually live in the suburbs, their needs as well as the realities of urban living will cause an eventual migration to the suburbs. Close to three quarters of millennials surveyed claimed that they wished to move from an urban center to the suburbs at some point in their life. This bodes well for Amerco as they will turn to U-Haul for both truck rental as well as self-storage facilities.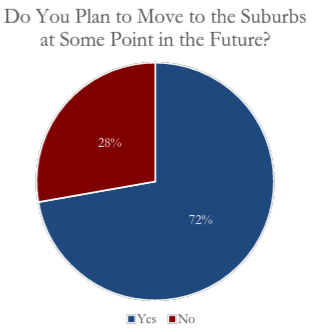 Source: Proprietary Surveys
Trends Amongst Baby Boomers
Baby boomer trends will also drive top-line growth for Amerco. Baby boomers are rapidly moving as they face lifestyle changes. Over half of baby boomers expect to buy a new home after they retire. Additionally, over 35 percent said they would purchase their new home when their children leave the house. Over the last 10 years, they have also been moving out of urban centers. Overall, baby boomers either moving, downsizing or heading to retirement homes will drive business for both the moving as well as the self-storage business.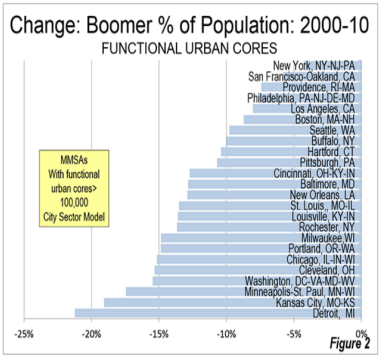 Source: Census Data
Competitive Advantages
Amerco's U-Haul business has distinct competitive advantages due to its network, size and brand name. These competitive advantages would be incredibly difficult to replicate.
In terms of brand-name recognition, U-Haul is far ahead of its competitors. According to a Google Trends Analysis, U-Haul is searched up to 10x more than its closest competitors including Ryder, Enterprise, Budget and Penske.

Source: Googletrends
U-Haul is looking to target the millennial market as the millennial generation has a higher propensity and appropriate income for Do-It-Yourself Moving. U-Haul has specific appeal to millennials because of its strong brand name. Nearly 66 percent of people surveyed remarked that moving was the most stressful part of their life, even more so than divorce. In stressful situations people naturally gravitate towards well-known brands. As a result, they will turn to U-Haul for their moving needs.
Brand Name Recognition
Millennials specifically have a particular affinity for strong brand names. Over 95% of millennials consider a name brand very important or slightly important. Additionally, in a survey of millennials, 95% believed U-Haul to be the most recognized moving company, compared to Ryder, Enterprise, Budget and Penske. Clearly, U-Haul is well-positioned with its brand name. Furthermore, according to Elite Daily, millennials are 62% more likely to engage with a company that engages with social media. U-Haul's social media presence far outweighs its competitors', as shown in this graphic below:

Source: Facebook, Instagram, Twitter
Network Effects
In this industry, especially within inter-city moves, it is important to have the biggest network possible. Over 60 percent of current moves amongst millennials are inter-city. A person who wants to move from Chicago to San Francisco will only choose a moving company that will allow them to drop off the truck at the end-point. U-Haul is uniquely positioned as it has the largest network by far. The company has over 21,000 locations and 250,000 trucks and trailers available for rent. This is over 10x and 4x as many locations and trucks as the next closest competitor. Additionally, U-Haul captures close to 50% of the DIY Moving market as opposed to 10% for Penske and Ryder, respectively. U-Haul is in every state and the most populous provinces in Canada. When a consumer thinks about who they will turn to for their moving needs, they will naturally turn towards U-Haul for convenience reasons. Here is the span of their network: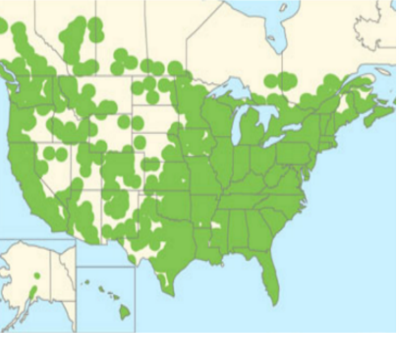 Source: Amerco Investor Presentation
Furthermore, amongst intra-city moves, a consumer would still rather go with a company that has competitive pricing yet also has a big network. If a mover is moving across town, they will want the flexibility to return their truck to multiple locations rather than being forced to return it to a single one. U-Haul excels in this area.
Retrenchment in the Industry
While U-Haul has sought to aggressively expand its fleet to meet consumer's demand for high quality trucks, other companies have begun to retrench and cede market share to U-Haul. Most recently, Avis' CFO made this remark about his companies' budget truck rental division: "In our truck rental segment…a 10% reduction in our fleet…the restructuring of our truck rental segment was designed to create a more profitable, albeit smaller business."
Network Effects and Consumer Preferences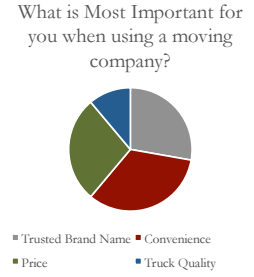 Source: Proprietary Survey
Above all consumers value convenience. They also value price, a trusted brand name and truck quality. U-Haul excels in all of these fields, indicating to us that U-Haul possesses a substantial competitive moat in the moving and truck rental industries.
Entrenched Position and High Barriers to Entry
Amerco has spent over one billion in growth capital expenditure just this past year. While other companies are retrenching, Amerco is working to cement its position in the trucking and self-storage markets. Additionally, competitors cannot replicate its huge network of 21,000 locations, nor its incredibly strong brand name without a huge expense. It has taken 75 years to build up this position and will not be easily replicated.
Amerco's Economies of Scale
Amerco's large size has given it particular abilities to negotiate lower input costs for its services. Amerco possesses economies of scale in the following ways:
Discounts on trucks due to massive purchases. Scale in terms of purchasing other goods such as boxes, cargo containers and moving supplies. The ability to negotiate lower repair and maintenance costs due to its large scale.
As a result of these competitive advantages, Amerco is highly profitable compared to its competitors as shown below:

Source: CapitalIQ
Self-Storage Business
Lastly, we believe that Amerco has a highly profitable self-storage business that has become mispriced due to investor overreaction. There are sizeable "hidden earnings" that the market has yet to take into account. Additionally, Amerco could unlock substantial shareholder value by spinning off its self-storage business into a REIT.
Self-Storage Industry Overview
Amerco is a sizeable player in this industry; if it were a REIT, it would be the third largest player in the market. The self-storage business is also a very attractive industry. Self-storage units provide sticky recurring revenues and do well in both recessionary times as well as economic expansions. Furthermore, it is a highly fragmented industry which gives Amerco the ability to gain scale. It is also quite compatible with Amerco's core moving business.
Trends in Self-Storage
As rents continue to rise in major metropolitan areas, millennials will increasingly turn to self-storage units to alleviate storage needs. Occupancy rates have continued to rise for self-storage units to 89% this past year. Rents have also risen 2-4 percent in the past year as the supply of self-storage has not been able to meet demand. Self-storage owners expect rents to increase 3-4 percent over the course of the next year. From a demographic perspective, 25% of millennials believe they will eventually need a self-storage unit. Lastly, baby boomers who are downsizing will turn to self-storage to store their excess possessions. Below you will see Amerco's growing pricing power in the self-storage business: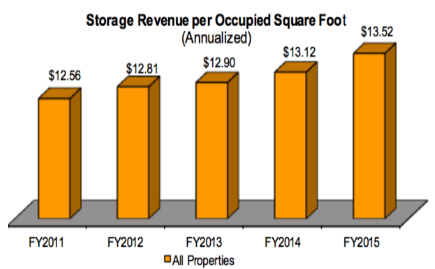 Source: Amerco Investor Presentation
Self-Storage Profitability
Overall, self-storage is quite profitable; the company is able to charge high prices but maintenance expenses are not too significant. The average EBITDA margin for the self-storage industry is 60% vs. an EBITDA margin of around 30% for Amerco's core business. We can also see an improving profitability profile for Amerco's moving and storage segment due to its expansion into self-storage.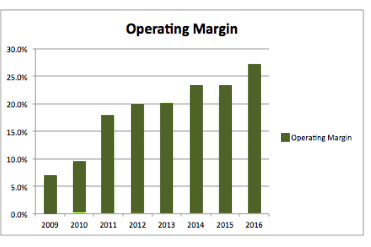 Source: Amerco 10-K 2009-2016
Complementary Product Offering
Amerco is uniquely positioned to expand into this area because of its ability to cross-sell its truck rental and insurance products to a "captive" self-storage consumer. Every time a person moves into a self-storage facility, they have to use a truck. 55% of these people have to rent from a truck rental company. However, Amerco can easily capture this market of people who need to rent trucks. As a result, 25 percent of self-storage users also rent a truck from U-Haul. As the self-storage segment continues to grow, the truck rental business will grow as well. Lastly, Amerco is the only self-storage business company with this sort of complementary product offering.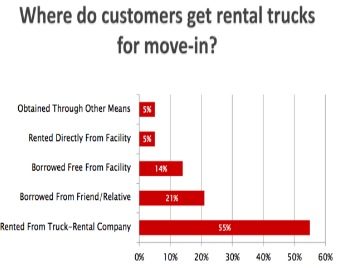 Source: Inside Self-Storage
Unrecognized Self-Storage Asset
Amerco has expanded aggressively into the self-storage segment; it has purchased over 6.5 million square feet of storage space over the last 2.5 years. However, investors have been disappointed by the result. They've seen a huge increase in capital expenditures without a significant increase in earnings. We believe, however, that there is a significant amount of "hidden earnings" that investors have yet to take into account.
Investors have become disappointed because as they've expanded rapidly into self-storage, earnings have not increased and occupancy rates have actually declined from 82% to 77%. However, if we look closer, we realize that this can be explained by a simple shift in strategy. About 2-3 years ago, Amerco shifted its strategy from acquiring existing self-storage facilities to building its own from scratch. According to Amerco CEO Joe Shoen: "Market conditions continue to make development and conversion, often a preferred choice compared to acquisition. Conversion and development, however, have a longer timeframe to occupancy and profitability." Amerco sought to do this as prices for existing facilities were quite high. When Amerco develops property from scratch, it comes "on line" at 0% occupancy. The property immediately starts to incur costs such as depreciation, maintenance and operating expenses. However, Amerco does not see a commensurate increase in earnings or cash flow because the property takes 2-3 years to achieve high occupancy rates and make enough revenue to cover costs. In the interim, this strategic shift brings down occupancy rates as well as earnings.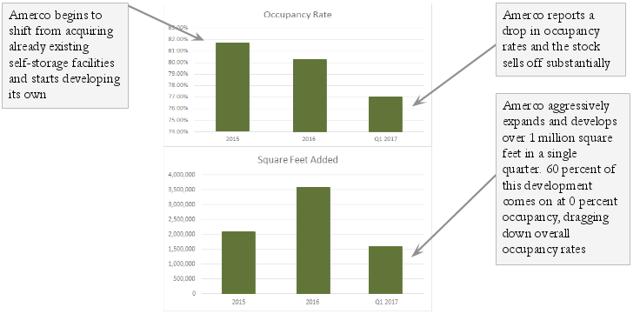 Source: Amerco 10-K 2015-2016
Additionally, the CEO has remarked that if you control these new properties, occupancy rates are in fact over 90% which is a fantastic metric for this industry. As we approach the 2-3 year time frame for this strategic shift, we expect to see a sharp increase in self-storage EBITDA as large amounts of self-storage properties come "on line" and start to generate positive cash flow.
REIT Spin-off
Amerco can unlock substantial shareholder value by spinning off its self-storage business into a real estate investment trust. Self-storage REITs are trading at very high valuations with cap rates of 5% being seen for LifeStorage, Extra Space, Public Storage and Cube Smart. We went ahead and calculated a sum of the parts valuation for Amerco and found the following: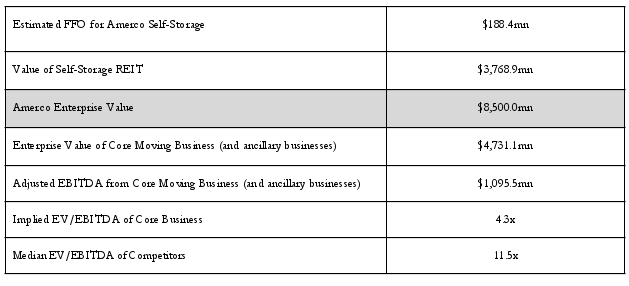 Source: Author using data from CapitalIQ
We found that using the median of comparable REITs, Amerco's self-storage business would be valued at close to $3.8 billion. If we look at Amerco's current enterprise value of $8.5 billion and the corresponding EBITDA for its core business, this valuation would mean the market is implying a 4.3x EV/EBITDA for Amerco's core business, which is far lower than the 11.5x median of its competitors. A REIT Spin-off will lead investors to eventually realize the undervalued nature of the core business. Additionally, using further analysis, we came up with a sum of the parts share value of $722.90, compared to Amerco's current share price of $319.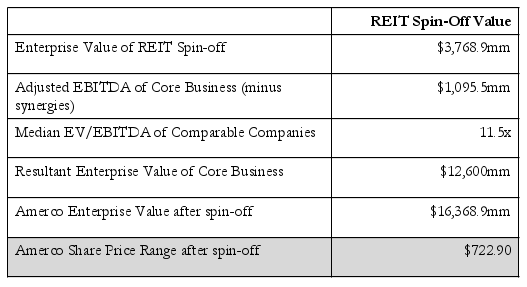 Source: Author using data from CapitalIQ
Clearly, Amerco could unlock substantial value by separating its two businesses. Although Amerco would sacrifice some of its ability to cross-sell services, the overall value creation far exceeds the costs. In the calculation below, we see that the spin-off would hardly even affect the revenues and EBITDA of the split company: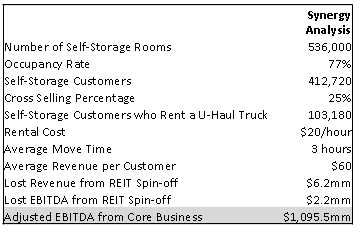 Source: Author using data from CapitalIQ
Additionally, management/insiders might be incentivized because they own substantial shares and would benefit greatly from this spin-off. Although Joe Shoen has been reluctant to actually pursue this course of action, pressure from activists as well as insiders might eventually act as the catalyst for the spin-off.
Other Investment Merits
Amerco is highly shareholder-focused as the CEO and his family controls close to 55% of the outstanding shares. Amerco employees own another 15% of shares making the management highly incentivized to manage competently. Additionally, CEO Joe Shoen has led the company over 25 years and has methodically sought to increase market share and cement a solid position for the business. Amerco is now an industry leader in most of the segments that it operates in. Investors have seen Shoen execute a strategy with clear, long-term goals that promote discipline and measured growth.
Catalysts
Our catalysts for the realization of shareholder value are mostly shareholder-driven as many investors are eager to unlock value through the divestitures and spin-offs. The two main catalysts that we see are the spin-off of self-storage business into a REIT and the divestiture of its non-related health and life insurance business. Both of these would result in a more focused core business for Amerco, increased sell-side coverage, higher investor awareness and possibly lead to higher multiples.
Valuation
Here you will see our football field analysis using comparable companies, sum-of-the-parts and discounted cash flow valuations. Additionally, we have also provided our discounted cash flow analysis with our bull, base and bear assumptions.


Source: Proprietary Models
Comparable Companies Analysis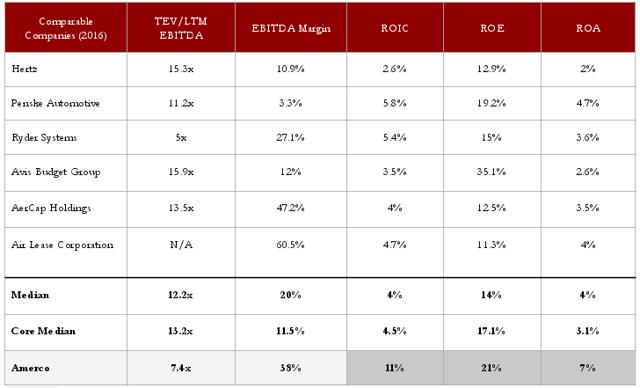 Source: CapitalIQ
As you can see from the comparable companies analysis, Amerco is trading at a significant discount to its competitors likely due to the disparate nature of its business, low sell-side coverage and recent release of bad earnings. Despite this, the company has much better fundamentals including significantly higher margins, ROIC, ROA and ROE than most of its competitors. This exemplifies a disconnect between the fundamentals of the company and its valuation.
Base Valuation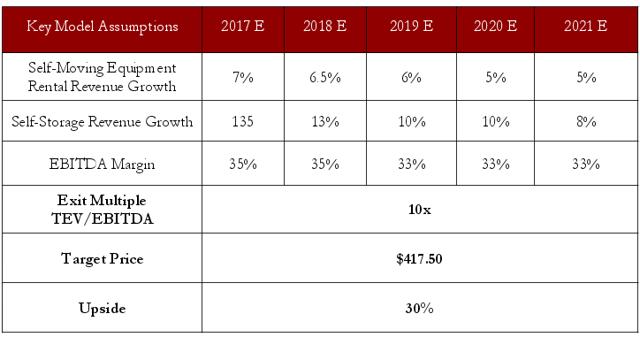 Source: Proprietary Models
Bull Valuation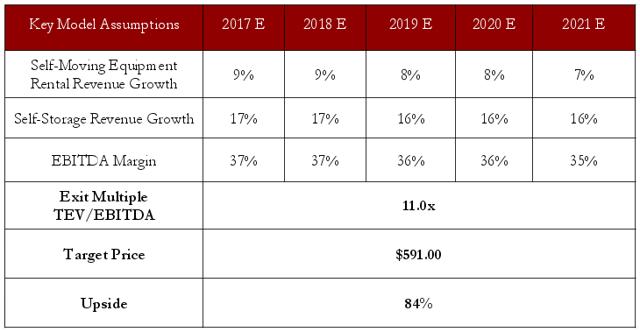 Source: Proprietary Models
Bear Valuation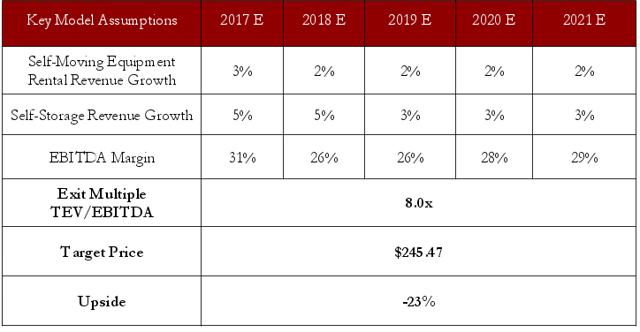 All of these valuations use fairly conservative estimates of growth. The bear valuation considers a scenario where the company faces a mild recession over the next few years and sees a sharp reduction in margins and revenue growth. We have confidence that there is a margin of safety in this investment.
Risks, Mitigations and Contingencies
There are several risks to this investment listed below. One of the chief concerns that people are worried about is that millennials will either fail to form households or continue to live with their parents. Currently, close to 30% of millennials live with their parents. Although investors point to this statistic as proof that millennials will never form households, during the 90s (during an era of economic expansion), 28% of younger people still lived with their parents. The notion that so many millennials will never form households is overblown to say the least.