Please take note this is only one aspect in weighing the attractiveness or non-attractiveness of the companies mentioned in the article as an investment and should not be used independent of other factors such as valuation which are not addressed.
China's economic rebalancing and its cooling economy have contributed to slowing profit growth and rising bad debt among Chinese banks. The continued economic slowdown has made it difficult to repay debt, resulting in increasing non-performing loans as a government stimulus package in 2009 led to a boost in credit issuance.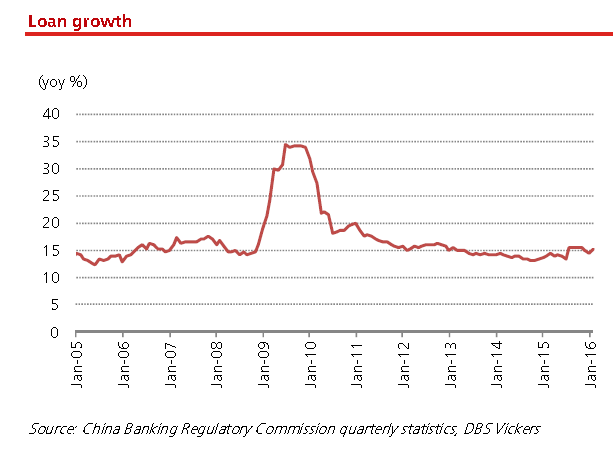 Source: DBS Vickers
In 2015, the combined net profit of the 26 listed banks reached RMB 1,332.37 billion, up by 2.56% from 2014, slowing by 5.47 percentage points from 8.03% in 2014. Narrower net interest margins and increased provisions were contributing factors. Net profit growth of listed banks has slowed for five consecutive years since 2011.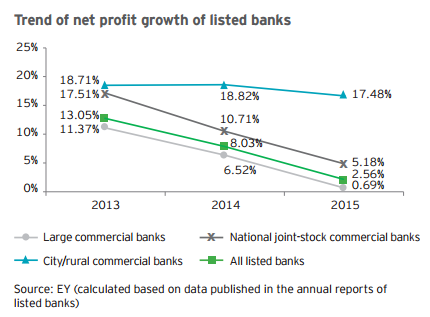 Source: EY.com
According to data from the China Banking Regulatory Commission, bad loans stood at 1.4 trillion yuan, (about 1.75% of total lending) compared to 400 billion yuan in 2009 (about 0.5% of total lending).
Since the beginning of 2012, the NPL balance of Chinese listed banks has increased for four consecutive years.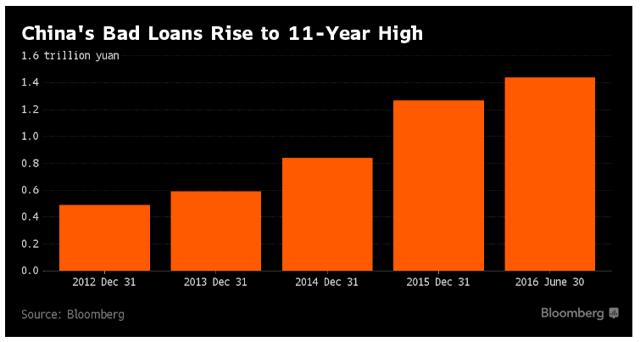 Source: Bloomberg
As at 31 December 2015, the weighted average NPL ratio of 26 listed banks climbed to 1.62% at the end of 2015 from 1.21% at the end of 2014.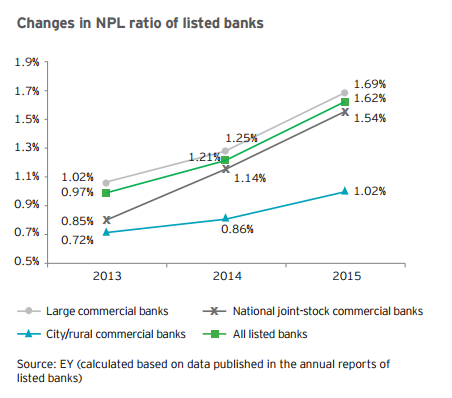 Source: EY.com
"Special mention loans" which are not considered to be NPLs but where borrowers are experiencing repayment difficulties, have also been on the rise.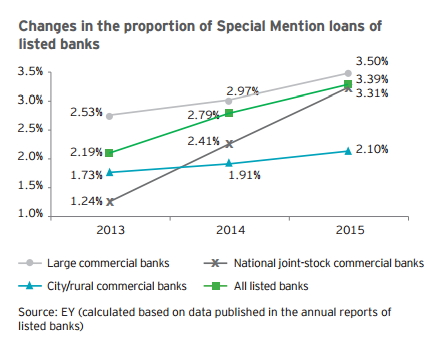 Source: EY.com
The bad debt is largely from China's corporate sector. Over the past decade, China's household debt has increased to over 40% of GDP. However, this is still lower than levels in the U.S. before the subprime mortgage crisis when U.S. household debt almost touched 100% of GDP in 2007.
The minimum cash downpayment for a primary residence in China is 20% of the purchase price, which is considerably higher than the median 2% downpayment for first-time home buyers in the U.S. in 2005 (before the sub-prime mortgage crisis) with 43% of those buyers making no downpayment whatsoever.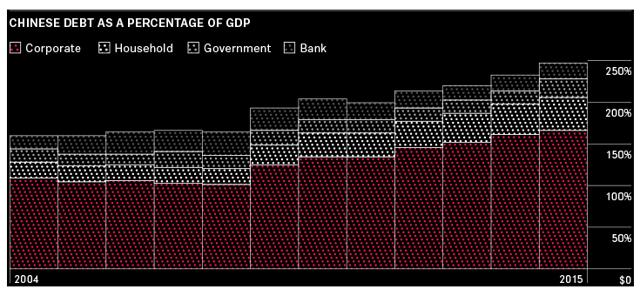 Source: Bloomberg
Within the corporate sector, bad loans are largely caused by loans to state owned enterprises (SOEs) in industries of the "old economy," most of which are suffering from overcapacity, such as the steel sector (which is one of the most leveraged sectors), the coal mining sector, shipbuilding, cement and railways.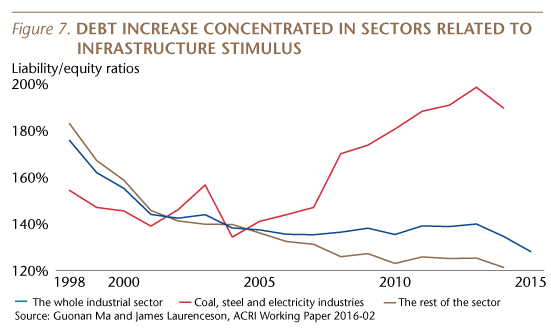 Source: Matthews Asia
State Owned Enterprises (SOEs) account for 55% of China's corporate debt which is far higher than their 22% GDP contribution.
According to data from Bloomberg Intelligence, in 2015, the median earnings before interest and taxes (EBIT) for Chinese energy companies was less than one times total interest expense while at materials companies the figure was two times. On the other hand, companies in China's "new economy" are in relatively better shape. The median EBIT for Chinese healthcare companies was nine times total interest expenses while at technology companies the figure was more than five times.
While "old economy" firms struggle to generate cash, new economy companies, such as those in the consumer and technology industries, have seen swelling cash piles lately.
By the second quarter of this year, Chinese firms' cash holdings stood at record levels.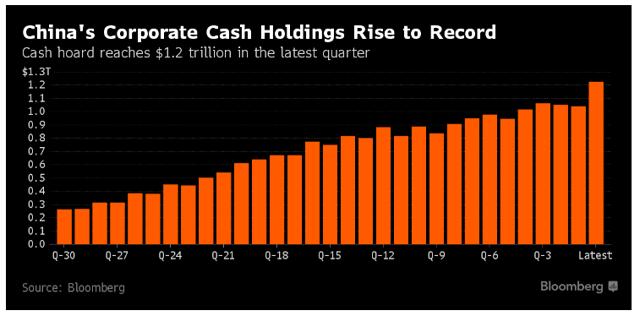 Source: Bloomberg
And at an 18% quarter-on-quarter growth, China's cash hoard grew at the fastest rate in 6 years, eclipsing the growth rate in Japan (13%), the U.S. (5%) and Europe (1%).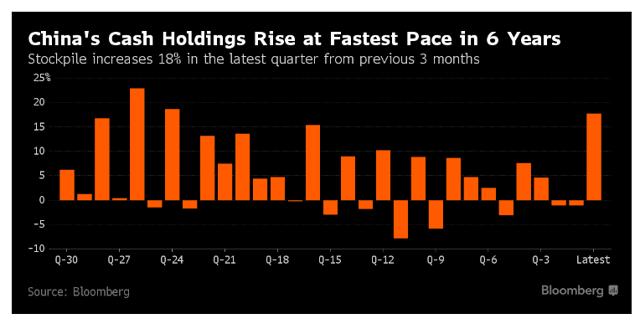 Source: Bloomberg
Interest margins are under pressure due to interest rate cuts by the central bank and China's move towards interest rate liberalization. Shrinking net interest margins and China's slowing economy are contributing to increasing bad debts and sluggish profit growth which are pressurizing banks' ability to return capital to shareholders. The top four Chinese banks - Bank of China (OTCPK:BACHY) (OTCPK:BACHF), Industrial and Commercial Bank of China (OTCPK:IDCBY) (OTCPK:IDCBF), China Construction Bank (OTCPK:CICHY) (OTCPK:CICHF), and Agricultural Bank of China (OTCPK:ACGBY) (OTCPK:ACGBF) - cut the dividend payout ratio to 30% in 2015 from 35% a year earlier in an effort to preserve capital.
At the end of 2015, NPL coverage at China's top banks fell close to the regulatory minimum (China's banking regulator, the China Banking Regulatory Commission i.e., CBRC requires banks to maintain an NPL coverage ratio of at least 150% - which is high by global standards).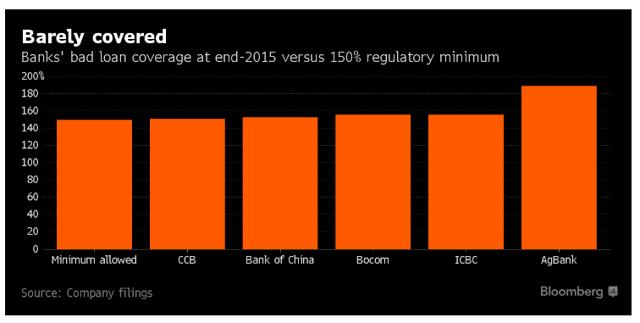 Source: Bloomberg
Last month, Bank of China and ICBC had both breached the regulatory threshold of 150% NPL coverage when they reported third quarter earnings.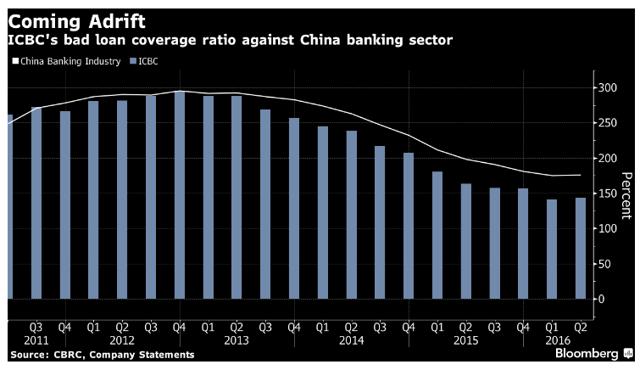 Source: Bloomberg
With China's ongoing economic rebalancing to an economy dependent on consumption, services and high-tech industries from one that is reliant on resources and energy-intensive industries, it is possible for China's economic growth to slow in the near future which could lead to further increases in bad debt and pressure on profit. China's year-on-year GDP growth dropped to 6.9% in 2015, the slowest in 25 years. In the first half of this year, China's GDP growth was 6.7% and the International Monetary Fund has forecast that in 2017, China's economic growth could further drop to 6.2%.
China's bad loans may worsen to 2.5% of total lending at the end of 2017 according to DBS Vickers analysts. Bank of China analysts expect China's non-performing loan (NPL) ratio to climb to 6.6% by 2018, up from 1.67% (totaling 1.27 trillion yuan - a 10-year high) at the end of 2015.
China's restructuring plan is a long-term initiative. Consumption currently accounts for less than 40% of GDP, compared to over 70% in the United States.
It has been estimated that for China to lift consumption to 50% of GDP in 10 years would require Chinese consumption growth to exceed GDP growth by at least 4% points every year for a decade (the article was published in 2012).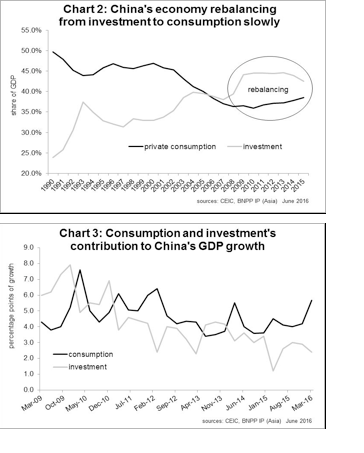 Source: The SWIFT Institute
Initial indications are constructive so far. Consumption contributed 66.4% to the gross domestic product (NYSEMKT:GDP) in 2015, up 15.4 percentage points from 2014, according to data from the National Bureau of Statistics (NBS).
In the first half of this year, China's service industry accounted for 54.1% of its GDP growth, up 1.8% year on year, and consumption accounted for 73.4% of GDP growth, up 13.2% year on year.
China's consumption contributed 71% of economic growth in the first three quarters, up by 13.3% percentage points compared with the same period last year according to data from China's National Bureau of Statistics. Retail sales of consumer goods grew by 10.4% year on year in the first three quarters.
While China posted GDP growth of 6.9% in 2015, its slowest GDP growth in 25 years, the country's online retail sales grew 33.3% YoY (helping Alibaba (NYSE:BABA) increase net income by over 190% YoY during the financial year ending 31 March 2016), total retail sales including restaurant receipts grew 10.6% and Chinese outbound tourists increased by 9% and tourism expenditure increased by 16.6% (helping Ctrip.com International's (NASDAQ:CTRP) net income soared almost tenfold in 2015).
Until China's long-term structural reforms yield dividends, slower economic growth in the near term suggests that overcapacity sectors are likely to continue to struggle which may lead to continued bad debt buildup and sluggish profit growth for banks going forward.
Disclosure: I/we have no positions in any stocks mentioned, and no plans to initiate any positions within the next 72 hours. I wrote this article myself, and it expresses my own opinions. I am not receiving compensation for it (other than from Seeking Alpha). I have no business relationship with any company whose stock is mentioned in this article.
Editor's Note: This article covers one or more microcap stocks. Please be aware of the risks associated with these stocks.