Since Tesla (NASDAQ:TSLA) first announced their proposed merger with SolarCity (SCTY), the investment community has lampooned the deal as a bailout for SolarCity shareholders, in particular Elon Musk.
For some crazy reason, I've found myself strangely attracted to SolarCity over the past few months. While the entire analyst community seems to strongly believe that the company is just waiting to go bankrupt, it seemed to me that the 2GW+ of installed solar power systems were worth something, and I began to wonder if the market might not be missing something.
Since February I've explored many different aspects of the company, and urge those interested to take a look at my previous articles. Each article lays out a piece of my bullish view on the company, a view that has been strongly attacked as being wrong by the shorts. Luckily, I have very thick skin and actually enjoy skeptics tremendously, and today I'm going to lay out what may be the best example of the value hidden within SolarCity's complex financial statements.
What is the value of SolarCity's current portfolio?
In order to properly value SolarCity, this is the key question that must be answered. The problem is, there is no one answer, because you can discount the future cash-flows at various rates, and there is some uncertainty regarding the actual receipt of cashflows going out 20 years, and even more uncertainty regarding renewals.
What is clear, is that every quarter, SolarCity installs more solar leases, leading to an increase in the total amount of projected payments. With those payments, the company will cover their ongoing operations and maintenance (O&M), payments to tax equity partners, debt interest and principle payments, and cash equity payments.
(From SCTY Q3 2016 Presentation)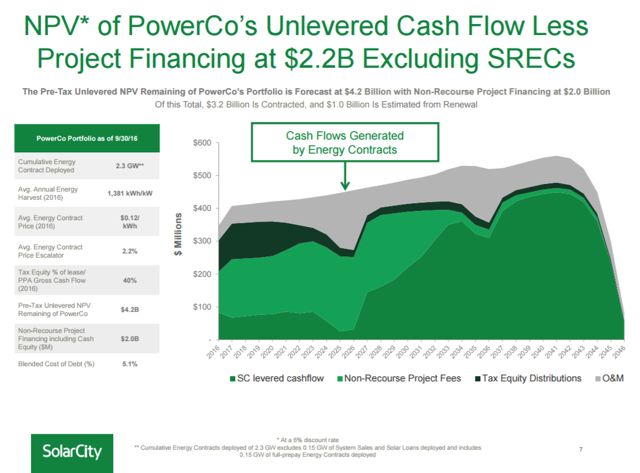 What's left is their net portfolio cashflow, which the company depicts in their quarterly presentation, shown above. On this chart, they assume that all existing contracts will renew out to 30 years after their initial lease term. This is likely an aggressive assumption, and one big reason the bears argue that the company overvalues their portfolio.
I tend to agree with the bears on this point. While I do think that we will see a lot of renewals, they will be at much lower price points than the company currently projects. As such, I think its safer to look only at the contracted cashflows when analyzing the value conservatively.
As of the end of the 3rd quarter, SolarCity projects that the unlevered NPV6 of the remaining contracted payments for the portfolio is about $3.2B, while non-recourse debt is $2.0B. If we eliminate the potential value of renewals, we're left with a present value of only $1.2B, which doesn't cover recourse debt. Therein lies the crux of the bear argument.
Taking Work-in-Progress into account
While analyzing the company's balance sheet, I came to realize that there is a substantial asset not being taken into account in the calculations of NPV, the company's solar energy systems under construction. As seen below, the company had almost $365M classified in this category as part of their overall solar energy systems asset.
(from SolarCity 2016 Q3 10-Q page 16)

If we look back at the company's calculated future cashflows, they specify that this figure includes the value of all deployed energy contracts. At this point, its probably a good idea to define some of the terms used by the company:
"MW Installed" represents the megawatt production capacity of solar energy systems, for which (NYSE:I) all solar panels, inverters, mounting and racking hardware, and system wiring have been installed, (ii) the system inverter is connected and a successful DC string test has been completed confirming the production capacity of the system, and (NASDAQ:III) the system is capable of being grid connected (including pending a utility disconnect procedure), the latest of which is completed during the applicable period.

"MW Deployed" represents the megawatt production capacity of solar energy systems that have had all required building department inspections completed during the applicable period.

"MW Interconnected" represents the megawatt production capacity of solar energy systems that have had all required building department inspections completed by the authority having jurisdiction and subsequently interconnected to the utility grid.

Solar energy systems under construction represents systems that are under installation, which will be depreciated as solar energy systems leased to customers when the respective systems are completed, interconnected and subsequently leased to customers.

Solar energy systems held for lease (leased and to be leased) to customers are installed systems pending interconnection with the respective utility companies and will be depreciated as solar energy systems leased to customers when the respective systems have been interconnected and placed in service.
Here's a quick look at the company's cumulative totals for each category of MW:
| | |
| --- | --- |
| MW Installed | 2547 MW |
| MW Deployed | 2492 MW |
| MW Interconnected | 2359 MW |
The takeaway here is that "solar energy systems under construction" are not included in the company's projection of future cash flows, yet we know that they will be in the near future. It also turns out that the company's revolving aggregation credit facility, what they use to finance the in progress installs, is part of their total non-recourse debt.
Thus, I would argue that we need to either include the value of the systems under construction in the unlevered cash flow calculation, or remove the aggregation facility from the recourse debt calculation. This facility totaled $415M as of the end of Q3. Removing it from the non-recourse debt leaves us with the following calculation:
| | | |
| --- | --- | --- |
| Value of the current 2.3GW Portfolio | Nominal | NPV6 |
| Unlevered contracted cashflow | $4.8B | $3.2B |
| Unlevered renewal cashflow | $4.2B | $1.0B |
| | | |
| Net recourse debt payment (Prncpl+Int) | $3.1B | $1.6B |
| Net contracted cashflow | $1.7B | $1.6B |
| Net contracted+renewal cashflow | $5.9B | $2.6B |
Thus, the value of the current portfolio is somewhere between $1.6-2.6B. I don't think the renewals will be worth nearly as much as the company hopes, so I'm marking it down to a simple $2B.
Future portfolio value growth
Last quarter, the company grew the portfolio by 167MW. It cost them $2.89/W, and generated a contracted value of $3.38/W, a margin of about $.40/W. The value for the quarter was subdued in part due to the larger commercial project mix, so lets assume a contracted margin can increase to $.50/W going forward. If the company grows their portfolio by 160MW per quarter, it will be increasing the contracted net present value of the portfolio by $80M per quarter, or $320M/year. This is the net increase after any additional financing is taken into account.
In addition, the company will be directly selling 50-60MW per quarter. This will bring in another $80-100M or so of margin/year.
Adding it all up
Current portfolio (incld non-recourse debt): $1.6-2B
Value of future portfolio growth: $320M x 5 multiple = $1.6B
Direct sales margin: $100M x 10 multiple = $1B
Total = $4.2-4.6B
Less Recourse Debt: $1.6B
Current Value of SolarCity: $2.6-3B
Plus 50% of synergies with Tesla: $75 x 10 multiple = $750M
Total SolarCity value to Tesla: $3.5B+
Conclusion
Having seen the current quarter, I'm starting to believe that Tesla is underpaying substantially for SolarCity. At current prices SolarCity shareholders are only getting about $2.1B of Tesla stock in exchange for their SolarCity shares, yet I believe the company is worth $3.5B+ to Tesla. I'd argue that the top of the initial valuation range, .133 TSLA shares/SCTY share, would be a fairer price, but of course the market thinks SolarCity is a leper and should be grateful to be purchased, so that won't happen.
Disclosure: I am/we are long SCTY. I wrote this article myself, and it expresses my own opinions. I am not receiving compensation for it (other than from Seeking Alpha). I have no business relationship with any company whose stock is mentioned in this article.