Looking for values in the "fall buying season?" Some stocks are presenting good values, since Mr. Market has pushed them down over the past few weeks.
We've covered Sunoco LP (NYSE:SUN) in past articles - they just reported their Q3 earnings. This is a company which has expanded rapidly over the past two years, transforming itself into a C-store/gas station/taco-flippin' juggernaut.
SUN operates in two main arenas:
1. Wholesale Fuel distribution, which distributes Sunoco-branded motor fuel to 6,800 convenience stores, independent dealers, commercial customers and distributors including approximately 1,340 C-stores and retail fuel sites operated by SUN.
2. Convenience store/gas stations, within which it has ramped up its food offerings, via its Laredo Taco Company restaurants, which improve its margins and customer loyalty.
As of September 30, SUN operated approximately 1,345 convenience stores and retail fuel outlets along the East Coast in the Southwest and in Hawaii. Third-party operated sites totaled 5,600 locations. (Source: SUN site)
In the first nine months of 2016, SUN's two biggest sales segments, Retail and wholesale motor fuel, both saw revenue falling due to a decrease in the average selling price of fuel, but the wholesale division's gross profit grew over 36%.
SUN's Merchandise segment did very well - even though its sales only grew 4.46%, and were just 15% of total revenue, it chipped in nearly 33% of SUN's total gross profit.
Rental income also grew - at a 10% clip.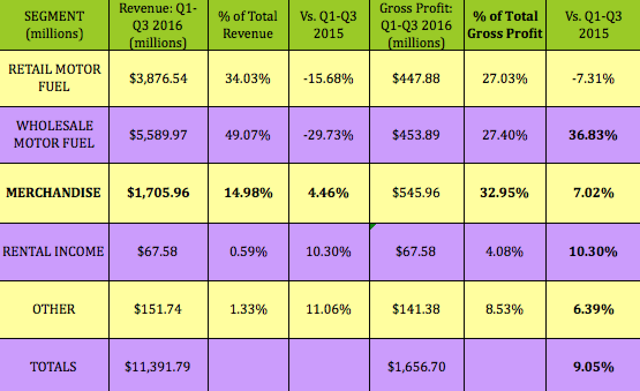 In Q3 2016, total gross profit was $577.4M, up 10% vs. $524.8M in Q3 2015. "Key drivers of the increase were higher wholesale motor fuel and merchandise profits partly offset by a decrease in retail motor fuel gross profit. Revenue fell 8% vs. Q3 2015 "the decline was the result of a 47.1 cent per gallon decrease in the average selling price of fuel partly offset by increased merchandise sales and additional gallons sold." (Source: SUN site)
However, SUN did grow its EBITDA by 27%, its DCF by over 10%, and has achieved some very big TTM growth numbers - EBITDA is up 30%, and DCF is up 79%, thanks to the finalization of SUN's huge acquisition from sponsor Energy Transfer Partners (NYSE:ETP) earlier in 2016.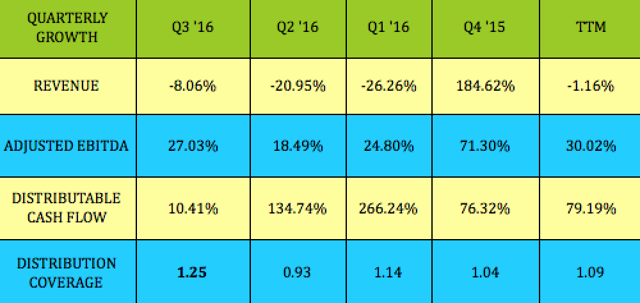 Note: These are SUN's as reported figures from these quarters and haven't been adjusted retroactively, which show how the company has grown via its acquisitions.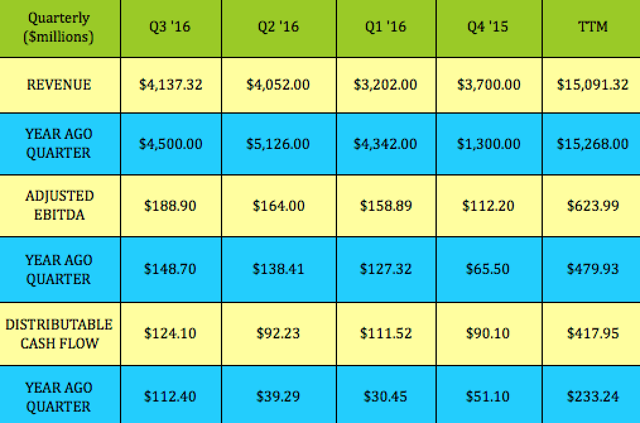 (We've listed a breakdown of SUN's EBITDA and DCF calculations at the end of this article.)
Distributions: Our High Dividend Stocks By Sector Tables track SUN's price and current dividend yield (in the Energy section).
SUN had a string of 13 straight distributions up until its most recent one - it left its distribution unchanged from Q2, at $.8255, which is a 10.7% increase vs. Q3 2015. Its next payout should be around the beginning of February 2017.

SUN's Distribution Coverage had been a bit lumpy over the past four quarters, but it jumped in Q3 to 1.25x:

Our Covered Calls Table, which tracks over 25 other income-producing trades now has this new trade for SUN. The March $27.50 strike pays $.80, with an ask of $1.10, putting it in a range where you could double your next distribution.

The caveat here, though, is that the $27.50 strike is only $.38 above SUN's $27.12 price/unit, so your shares may be assigned/called prior to the February ex-dividend date.
This table breaks down each income/gains scenario - static, assigned before ex-dividend date and assigned after the ex-dividend date.

There's also an attractive put-selling opportunity available for SUN if you want to go out around four months to March. There's a wide bid/ask spread of $1.00/$1.70, and this put actually closed at $1.40 on 11/9/16, so you may be able to attain a better yield than what you see here:

You can see more details for this and more than 25 other put-selling trades in our free Cash Secured Puts Table.
Performance: SUN has lagged the market since receiving two analyst downgrades in the summer. However, coverage has been initiated or resumed by four different research firms since mid-August - Morgan Stanley, FBR, Citigroup and Mizuho.

(Source: finviz)

Valuations: SUN is selling at a modest 1.08 book value multiple and a price/sales ratio of just .20, both of which are much lower than broad industry averages. Its 7.61 price/DCF also looks cheap.

Analysts Targets and Estimates: With its recent pullback, SUN is now over 23% below analysts' mean price target of $33.56.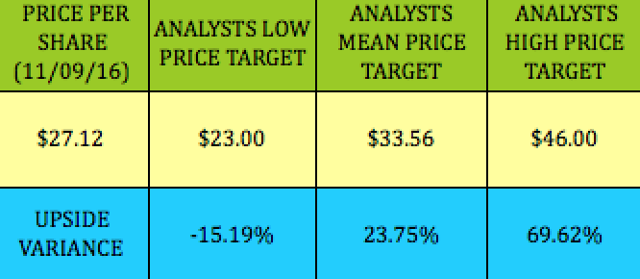 Analysts are forecasting a 17% rise in 2016 earnings in 2016, to $1.64, but are showing flat earnings of $1.65 in 2017.
Given that SUN has earned $1.25/unit in the first nine months, and this with only one month of earnings from its acquisition of fuel services business from Emerge Energy Services LP (NYSE:EMES) and that it just closed its $54M acquisition of Denny Oil's C-store/fuel distribution business on 10/12/16, SUN's Q4 2016, and 2017 sales and earnings should expand.
Another supporting factor for growth is that SUN has been building 35 new "Stripes" retail fuel/C-Store locations in 2016 which will feature its higher margin food outlets.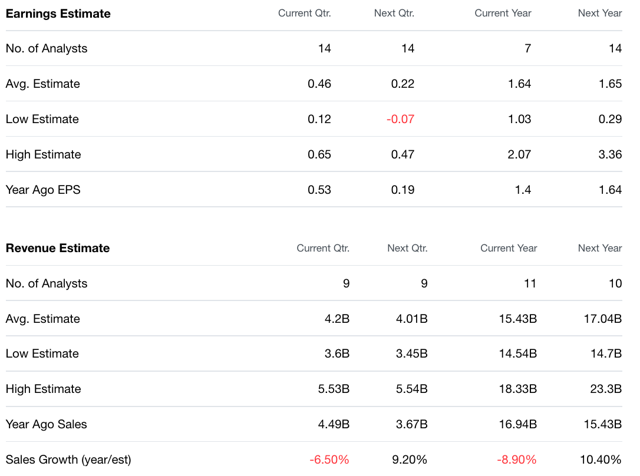 Major Holders: SUN has gotten support from the Street as several large players own shares. But the total institutional holdings only make up around 44% of the current float, so it's certainly not saturated yet.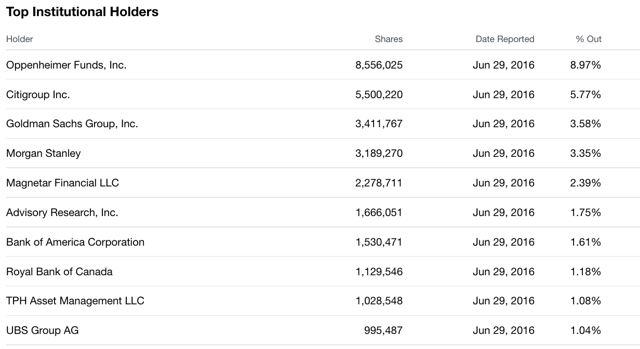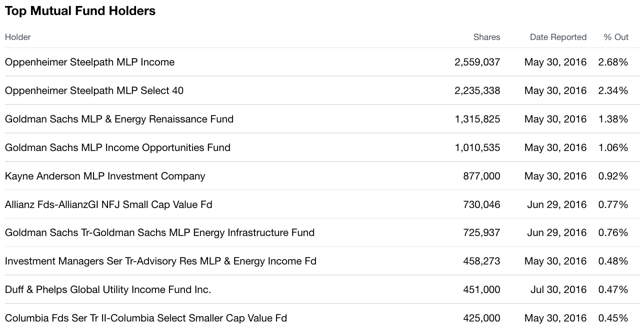 (Source: Yahoo Finance)
Financials: SUN's management efficiency ratios and operating margin do need improving - we'd like to see some improvement in these figures in the coming quarters.

Debt: SUN has a 55%/45% mix of fixed/floating rate debt and its nearest debt maturity isn't until 2019. Its current debt/EBITDA ratio is at 5.97x. Their term loan and revolving credit agreement leverage ratio covenants allow them to temporarily raise the ratio to 6.25x through the first quarter of 2017 before it decreases to 5.5x.

EBITDA and DCF Calculations: These figures are from the new Q3 2016 earnings release. They seem straightforward - management adds back the usual items to obtain EBITDA and then adjusts it for non-cash expenses and one-time asset disposals.
Management then deducts interest expenses, maintenance capex, and transaction expenses, and adjusts for income tax expenses/benefits to derive its distributable cash flow figure.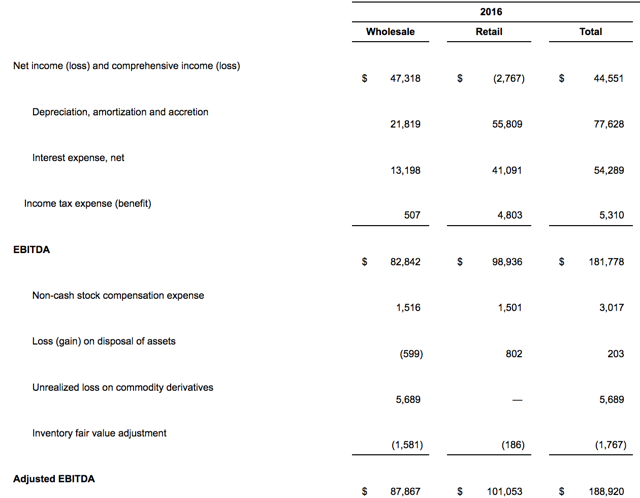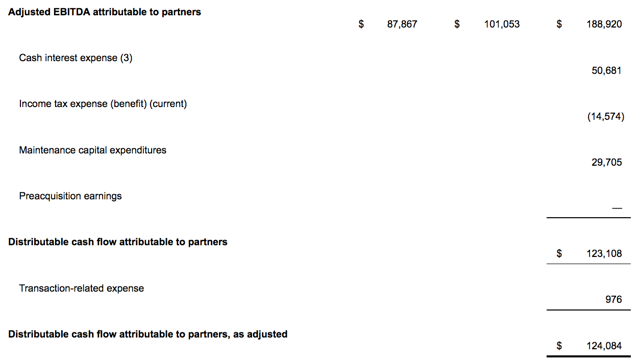 (Source: SUN site)
All tables furnished by DoubleDividendStocks.com, unless otherwise noted.
Disclaimer: This article was written for informational purposes only, and isn't intended as personal investment advice. Please practice due diligence before investing in any investment vehicle mentioned in this article.
Disclosure: I am/we are long SUN, ETP. I wrote this article myself, and it expresses my own opinions. I am not receiving compensation for it (other than from Seeking Alpha). I have no business relationship with any company whose stock is mentioned in this article.