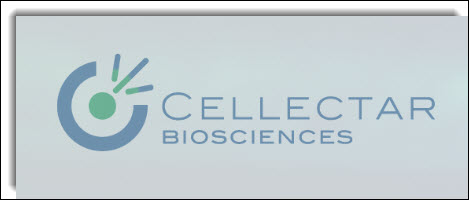 Quick Take
Cellectar Biosciences (NASDAQ:CLRB) has registered to sell up to $10 million worth of common stock, warrants to purchase common stock and shares of Series A convertible preferred stock in a follow-on offering.
The company will announce Phase I trial results for its lead candidate on December 5, 2016.
My guess is that the company knows its trial is going well and wants to take advantage of the upcoming trial result announcement to re-fill its coffers.
In my opinion, the stock is a short-term BUY in expectation of a positive trial result announcement on December 5.
---
Company
Madison, Wisconsin-based Cellectar was founded in 2002 and develops cancer treatments based on the research by founder and former Chief Scientific Officer Jamey Weichert into PDCs, phospholipid drug conjugates.
Company CEO James Caruso joined the firm in June 2015, after previously having been founder and COO of medical device developer Hip Innovation Technology.
Significant stockholders include the Wisconsin Alumni Research Foundation, Greenway Properties, Venture Investors (John Neis) and the Hertzberg Family Trust, who combined own or have the right to acquire a total of 44.82% of the outstanding shares of the company.
Technology
Cellectar is a clinical stage biopharmaceutical company developing phospholipid drug conjugates that can deliver diverse oncologic drugs to a variety of cancers and cancer stem cells.
The company's lead candidate is CLR 131, "a small molecule, broad spectrum, cancer targeting radiotherapeutic PDC that is designed to deliver cytotoxic (cell-killing) radiation directly and selectively to cancer cells and cancer stem cells."
Below is a chart showing the company's development pipeline: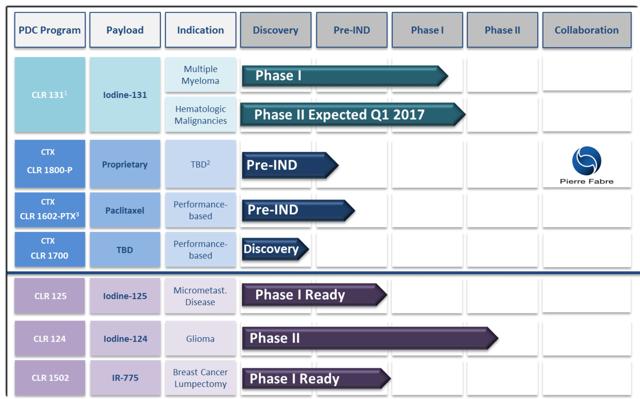 (Source: Cellectar Biosciences)
The company recently announced that it will publish data from its Phase 1 clinical trial of its lead candidate CLR 131 treatment for multiple myeloma on December 5, 2016. However, in September, it announced that early results indicated all eight patients "achieved stable disease and progression-free survival," a very positive signal.
Multiple myeloma is a cancer of the bone marrow that forms in a certain type of white blood cell that produces abnormal proteins that cause kidney disorders.
In the first half of 2017 Cellectar expects to initiate Phase 2 studies of CLR 131's ability to treat other hematologic malignancies.
Also, the company is seeking collaboration partnerships or out-licensing for its Phase 2 trial-ready CLR 124 isotope and related PLE delivery platform to improve PET imaging for the "diagnosis, staging and treatment assessment in oncology."
Additional programs are in early stages of development, as shown on the pipeline graphic above.
Market
According to a 2015 report by GBI Research, the worldwide multiple myeloma treatment market will grow from $7.3 billion in 2014 to $8.9 billion in 2021.
This represents a 2.7% annual growth rate during the period.
The main driver of treatment growth is the rising prevalence of multiple myeloma among an aging population.
However, GlobalData's 2015 report has a much larger growth trajectory. It forecasts a growth from $8.9 billion in 2014 to $22.4 billion by 2023, a CAGR of 11.2%.
So the market size range is rather wide, and as a result, it is difficult to come to any meaningful conclusion in the out years.
Competition
Cellectar's competitors in the multiple myeloma treatment space include, but are not limited to:
Celgene (NASDAQ:CELG)
Bristol-Myers Squibb (NYSE:BMY)
Millennium Pharmaceuticals
Genmab/Janssen Biotech
However, GlobalData industry analyst Dan Roberts has noted that both Celgene's Revlimid and Millennium's Velcade will both expire in the next few years, paving the way for new treatments.
Financials
CLRB's recent financial results are typical of development stage biopharmaceutical companies in that it has no revenues but has significant R&D and G&A expenses.
Below is a partial operating statement for the past three calendar years (Audited GAAP):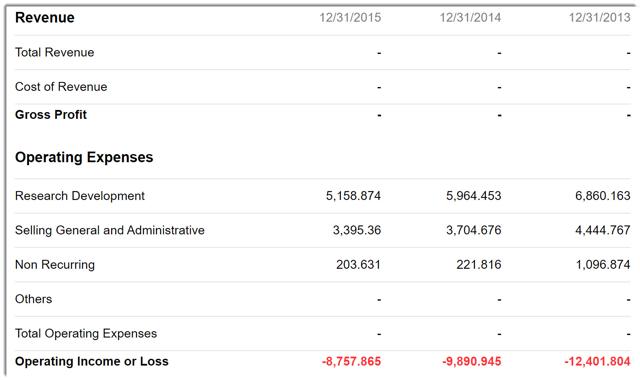 (Source: Yahoo Finance)
As of June 30, 2016, the company had $7.98 million in cash and $1.5 million in total liabilities.
Offering Details
CLRB intends to raise up to $10 million in an offering composed of two types of securities units:
1. Common stock and Series C Warrant
2. Series A Preferred Stock and Series C Warrant
The company has not disclosed how much of each type of stock/warrant other than to state that purchasers of 5% or more of outstanding common stock would be able to purchase, at their option, the Series A Preferred/Series C warrant in lieu of the other unit.
CLRB intends to use the proceeds from the offering as follows:
to fund our research and development activities, including the further development of CLR 131, and the research advancement of our CTX Program, including product candidates, CLR 1601-PTX and CLR 1602-PTX.

For general corporate purposes, such as human resource acquisition to support organizational priorities, general and administrative expenses, capital expenditures, working capital, repayment of debt, prosecution and maintenance of our intellectual property, and the potential investment in technologies, products or collaborations that complement our business.
Commentary
Cellectar is an early stage biopharma with promising initial results from its treatment for multiple myeloma.
The company has meaningful competition from large industry players that are further along in their development process.
CLRB will formally announce results from its lead candidate CLR 131 on December 5, 2016, so this could be a possible short-term catalyst for the stock.
My guess is that management already knows the Phase I trial is going well enough and that is why they are moving forward with this current $10 million funding raise.
So while there is a potential for short-term upside, the company will require significantly more financial resources to continue product development to commercialization.
In a rising interest rate macro environment, this could become more expensive for CLRB to obtain.
Accordingly, I view CLRB as only a short-term BUY based on my expectation of a positive Phase I trial result announcement on December 5.
I write about IPOs, M&A, and billion dollar privately-held tech companies. If you want to receive future articles automatically, click the +Follow link next to my name at the top of this article.
Disclosure: I/we have no positions in any stocks mentioned, and no plans to initiate any positions within the next 72 hours. I wrote this article myself, and it expresses my own opinions. I am not receiving compensation for it (other than from Seeking Alpha). I have no business relationship with any company whose stock is mentioned in this article.
Editor's Note: This article covers one or more microcap stocks. Please be aware of the risks associated with these stocks.