Where there is fear, there is opportunity. Office Depot (NYSE:ODP) presents such a case. Value trap or a fantastic opportunity. At least those who bought the stock at the beginning of the month at just over $3 are patting themselves on the back. The stock has not been this low since 2012. Is there an opportunity? That is what we will investigate in this article.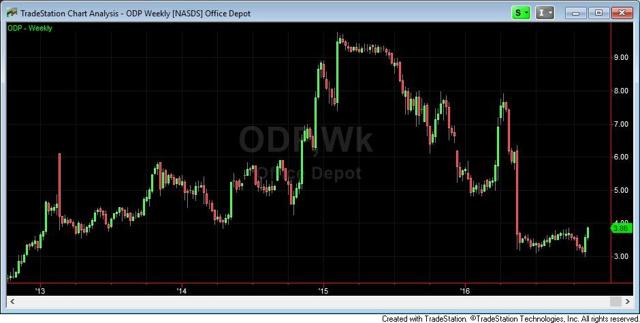 (Source: TradeStation)
To those unfamiliar with the company, this supplier of office products acquired a competitor (Office Max) in November 2013 (announced in February 2013). This explains the jump in sales in 2014 and 2015. $363m of goodwill is on the balance sheet as of 3Q16, while it should be noted that a huge write-off of goodwill in 2008 explains the drop in book value shown in the table below.

During 2015, revenues dropped by -10% while core operating margin improved as $300m in synergies from the OfficeMax acquisition were realized. Days before announcing full-year 2015 results, the company announced that it would be acquired by Staples (NASDAQ:SPLS). The deal was blocked but valued ODP at $7.25 in cash + 0.2188 shares in SPLS. In May 2016, SPLS ended up paying ODP $250m in breakup fees. Following the announcement, the stock plummeted and ever since has been trading between $3-4. From a technical perspective, it appears that the stock has found a base.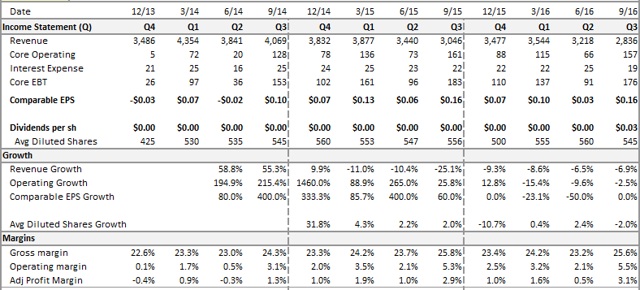 Over the last three years, the peak drop in sales occurred in 3Q15 at -25% and over the last 2 quarters has settled down to -6.5% and -6.9% respectively. Operating profit in the last 3 quarters also dropped y-o-y but margins did not suffer as 9M16 operating margin was 3.5% vs. 3.6% last year. Competition has been fierce and Amazon's (NASDAQ:AMZN) entry into the corporate business area made it worse as AMZN hit over $1 billion in sales earlier this year. On the other hand, there were rumours that AMZN was interested in buying ODP's corporate business. If there is any truth in that, then at current prices, there is the possibility that some deal re-appears.
Management has been taking steps that will help the company and the stock:
Initiated a quarterly 2.5c dividend (10c annually).
Retired $262m in 9.75% notes that will save the company $24m in annual interest.
Put in place a buyback program which has $169m remaining (from $250m).
Selling loss-making international businesses. The European business (with $2.25bn in sales) is being sold to the AURELIUS group and the deal is expected to close by the end of the year. The international businesses (with $600m in sales) located in Australia, New Zealand, South Korea and China are expected to be sold in the next 12 months, while its sourcing and trading operations (with $6m in sales) in Asia will be retained.
Closing and optimizing stores.
Since 2014, it has closed 400 stores, and plans on closing an additional 300 stores over the next 3 years. It will also convert/open around 100 smaller stores in a new format (see below).
(click to enlarge)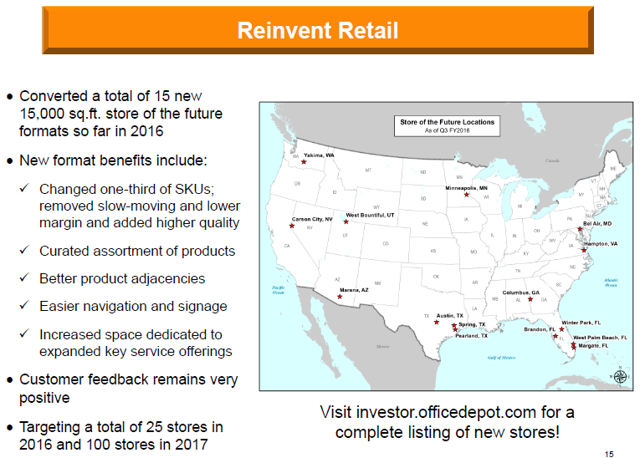 (Source: Investor Relations)
In addition, the company believes it will achieve $750m in synergies from the OfficeMax integration and within 2 years achieve an additional $250m in savings.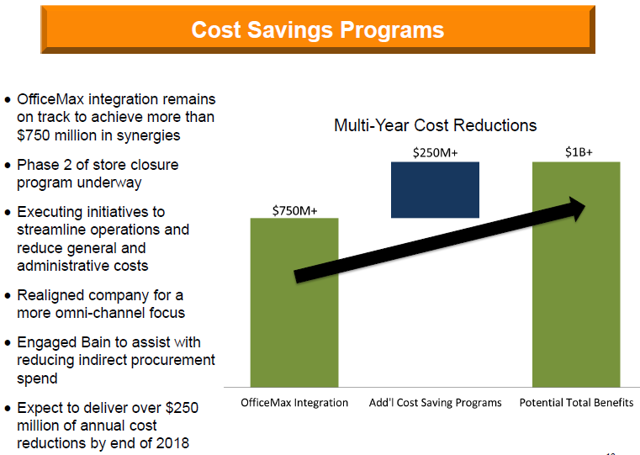 (Source: Investor Relations)
Currently, ODP trades at a discount to comparables such as Staples, ACCO Brands (NYSE:ACCO) and Essendant (NASDAQ:ESND). If ODP were to trade at the average price based on EV/EBITDA, P/E, P/S, and P/B, it would be valued at $5.83. The stock currently trades at 2.8x EV/EBITDA. Let's break that down: EV = Market Cap ($2.2bn)+ Debt ($1.2bn) - Cash ($0.8bn+$0.9bn note receivable) = $1.7bn. With $0.6bn in adjusted LTM EBITDA, we arrive at 2.8x. Management guidance for adjusted operating income in 2016 and 2017 are $450-470m and $500m respectively.
Last twelve months depreciation was $203m which puts EBITDA at 653-700 over this year and next. Analysts according to Bloomberg have estimated $633m for this year and $615m for 2017. If we assume that only $550m in EBITDA is achieved but the stock trades at 4.0x EV/EBITDA (still cheap and still at a discount to similar companies and retail in general) then we arrive at an equity value of $2.7bn.
With 528m shares outstanding that translates to a share price of $5.11. Personally, I will be looking for opportunities to purchase the stock under $4. Any positive news could launch the stock higher, while I wouldn't be surprised to see an activist or private equity investor become involved.
Disclosure: I/we have no positions in any stocks mentioned, but may initiate a long position in ODP over the next 72 hours.
I wrote this article myself, and it expresses my own opinions. I am not receiving compensation for it (other than from Seeking Alpha). I have no business relationship with any company whose stock is mentioned in this article.