After writing my most recent article concerning healthcare stocks, it was suggested by several readers that I do a review of New Senior Investment Group (NYSE:SNR). I haven't really looked into SNR until this point, but due to the number of readers who have requested my thoughts on SNR, I decided to move it up my list. As I mention at the end of all of my articles, please, let me know if you would like me to review a particular stock. I love helping others and learning about new investments for my own portfolio in the process.
SNR Background
According to the company's website, SNR is a publicly-traded real estate investment trust with a large portfolio of senior housing properties — a total of 154 properties across 37 states. These properties are broken up into the following categories:
105 Independent living properties.
44 Assisted living/memory care properties
5 Continuing care retirement communities
These properties are categorized as either managed properties (operations managed based on property management agreements) or as Triple-Net-Lease properties (leased to tenants who are responsible for taxes, insurance, and maintenance costs plus rent).
SNR is externally managed by Fortress Investment Group, LLC (NYSE:FIG).
SNR Details
SNR is a pure play senior housing REIT with $3 billion in assets. Here are some of fundamentals that I like about this company:
100% of NOI is derived from private pay companies.
51% of NOI from managed operators, 49% from Triple Net Lease. The following illustration is from page 3 of the companies Q3-2016 Investor Presentation.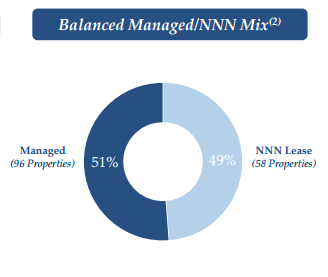 Independent living facilities have a 41% margin vs 23% for assisted living facilities.
Asset sales in October resulted in a $13 million gain on sale (Purchased for $10 million, sold for $23 million). This sale also increased the margins on the managed portfolio. The company notes it has additional sales in progress and that it is focused on maximizing sales price. The following illustration is from page 6 of the company's Q3-2016 Investor Presentation.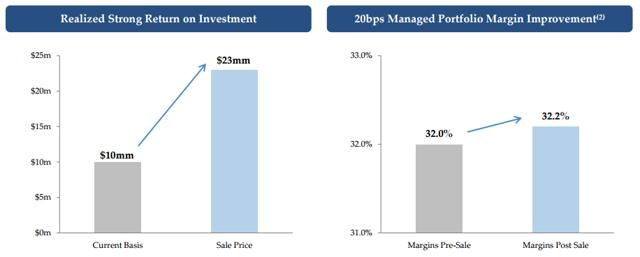 I really hope that SNR can continue to develop deals like these, because I would like to see them deleverage. While their debt load isn't out of control, I further elaborate on concerns I have about their debt in the following section.
SNR is looking to benefit from a large increase in the retired 75+ population over the next several years. In addition to this, SNR has chosen properties that are in close proximity of these aging populations. The following chart is from the company's Q2-2016 Investor Presentation: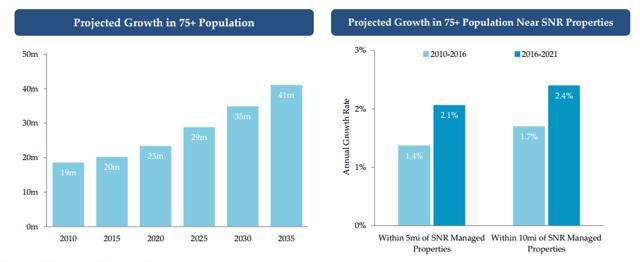 Some of the concerns I have with SNR include the following:
Reliance on Holiday (the largest independent living operator in the US) and Blue Harbor. While these two entities appear to be financially sound, there is always a risk associated with a portfolio that is too strongly concentrated. The following illustrations from the Q3-2016 report show how dependent SNR is on these entities: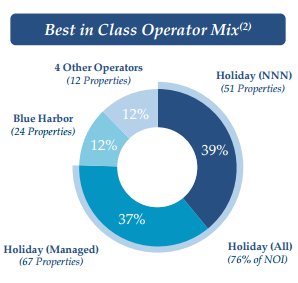 It can be argued that a concentration in two, top-of-the-line senior housing operators is actually a good thing, but I think we really need to also give consideration to how significant a default of Holiday would be to SNR. If Holiday can continue to be a fiscally-sound operator, then this concern will actually become a positive aspect.
Underperformance of 5 properties has had a significant impact on the 2016-Q3 numbers.
Throughout the report there are several times where they report what YoY growth would have been if 5 underperforming properties would have been excluded.
For example, NOI for the managed portfolio was (3.2%) YoY, but if the 5 underperforming properties were excluded, it would have been up 2.0% YoY.
I would consider this 5.2% swing in NOI to be fairly significant given that this is the result of underperformance by 5 properties of the 96 properties in the managed portfolio. The following illustration from page 7 of the company's Q3-2016 Investor Presentation: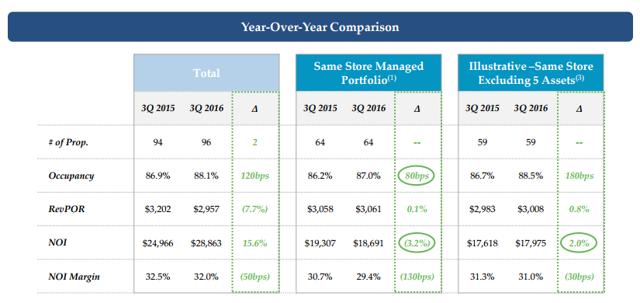 When we look at the capital structure of SNR, there is a combination of positives and negatives that I take notice of. The following illustrations are from page 21 of the Q3-2016 Investor Presentation and a list of positive/elements of concern: Relatively few debt maturities before 2020.

Debt mix is 41% variable rate and 59% fixed rate. The current average effective rate is 4.2% with a total weighted average maturity of 5.6 years.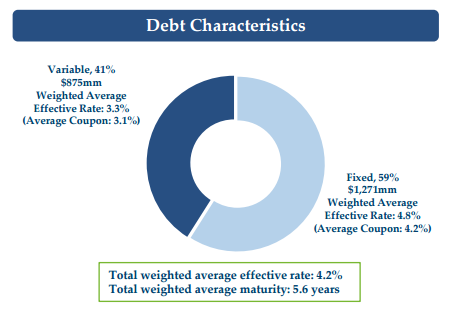 My biggest concerns are in the variable rate debt and the short-term of the average maturity date. I don't believe we will see any significant rate changes in the upcoming year, but to have over 40% of your debt subject to market changes is always a point of concern. I do like that the biggest obligations won't need to be addressed until after 2020, which will allow SNR to continue to grow and refinance their debt on more advantageous terms.
SNR Dividend Reinvestment Model
I always like to look at a company's dividend history, as I think this is often overlooked by traditional investors (I am especially fond of this when we have a company with a serious track record of payout history). In SNR's case, the payment of dividend history is consistent, but extremely limited due to the company's short existence. Let's assume we purchased 100 shares on October 27 th for $16.83/share, giving a total investment of $1683.00. The following shows us where this investment would be today:

While the dividend history has generated meaningful returns, we can see that those who initially invested in SNR stock took a severe capital hit within the first year. At the time of writing this article, the current stock price is at 9.61/share. Based on the history of the stock, the current price reflects all-time lows when compared to historical stock prices. I will also add that the dividend appears to be safe.
The safety of the dividend lies in the fact that it is covered by FFO and AFFO. Below are quarter-over-quarter and YoY comparisons for FFO and AFFO. It's important to note that as an investor I am concerned about these two metrics on a per share basis. The first chart from the Q1-2016 Investor presentation gives us the following year-over-year metrics: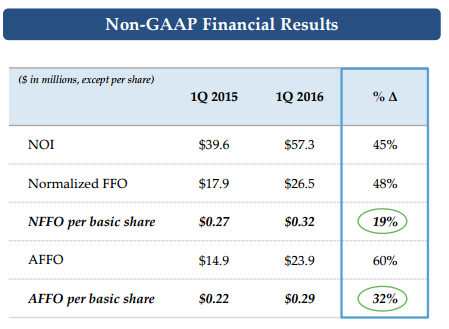 The Q2-2016 Investor presentation gives us the following quarter over quarter metrics.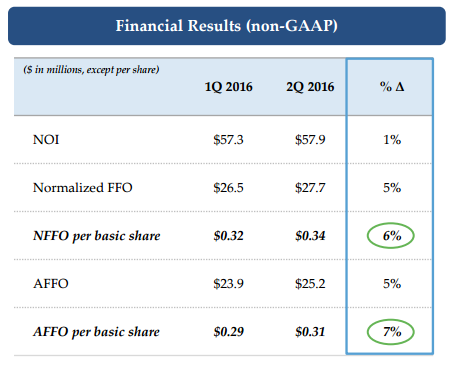 The last chart from the Q3-2016 Investor Presentation gives us the YoY metrics for the 3rd quarter.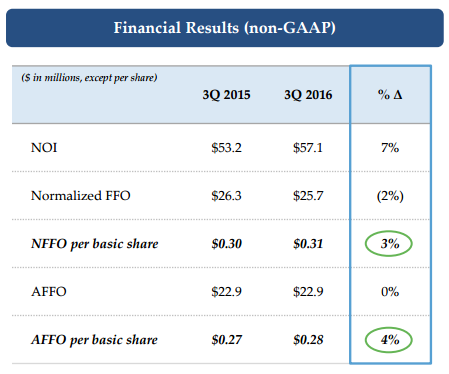 I was concerned at first about whether or not the company was cherry-picking information, but we have to consider the seasonality of the 49 properties that have higher turnover and are potentially more subject to fluctuations when senior citizens tend to be more ill (for example, seniors are likelier to become ill in the winter time more so than the summer). As long as we continue to see YoY growth of these numbers you can consider me a happy camper. Although the dividend is covered by FFO, I am more concerned that the dividend is covered by AFFO because these are the funds available after capital expenditures for maintenance of properties is taken into consideration. In all quarters for 2016 the dividend has been covered by this metric. This to me represents a safe dividend that also has the potential to grow.
Conclusion
SNR has positioned itself as a solid candidate for investment going forward due to the aging demographic of the US population. Over time, the company has moved to a business model that is entirely dependent on private pay (making SNR as close to a pure-play senior housing REIT as it can get), and that is something that I am extremely fond of because it reduces/eliminates the risk of changes to reimbursement rates for Medicare/Medicaid and insurance. From these numbers, I would like to see SNR make continued investments/purchases of Independent Living Facilities, because these carry with them a higher operating margin and longer-term tenant occupancy. SNR says that it has more sales of properties set to close in Q4-2016, and I find myself enthusiastic about these, especially if they can achieve returns similar to the properties they offloaded in Q3-2016 for a significant gain.
I want to be clear that SNR is a somewhat speculative investment, largely because it has a limited track-record, a debt structure that has significant exposure to fluctuations in interest rates, and is reliant on two operators for the majority of its business. This isn't to say SNR isn't a good investment, but I would not necessarily recommend it to those who are looking for a time-tested investment with proven returns. As mentioned above, the dividend is safe, and there is potential for capital appreciation.
At these levels I would rate SNR as a BUY. It appears as if the market put in the bottom for this stock. The stock may drop to $8.00 but I believe that at that level investors know it is too good of a deal to pass up. Considering SNR only operates in the senior living facilities (which owes its safety to the private-pay model) its stock price has been hammered like some of the skilled nursing facilities that are dependent on government and private insurance reimbursement. In my opinion, this stock appears as if it has been treated unfairly because of a lack of understanding and not because it has performed poorly financially. If SNR keeps performing well, Mr. Market may soon take notice of its performance, and hopefully result in meaningful capital gains. At these levels we can gather a solid dividend yield and expect long-term capital appreciation if SNR can continue to fill rooms and dispose of assets for meaningful proceeds.
Author's note: If you enjoy my articles, please take the time to follow me. While I enjoy performing analysis, following me is the best method for showing me that SA subscribers are finding my work useful. If you have any suggestions to improve my articles, or if you would like me to analyze a particular stock, please feel free to message me, and I will do my best to make it happen.
Disclosure: I/we have no positions in any stocks mentioned, but may initiate a long position in SNR over the next 72 hours.
I wrote this article myself, and it expresses my own opinions. I am not receiving compensation for it (other than from Seeking Alpha). I have no business relationship with any company whose stock is mentioned in this article.
Additional disclosure: This article reflects my own personal views and is not meant to be taken as investment advice. It is recommended that you do your own research. This article was written on my own and does not reflect the views or opinion of my employer.