Introduction
I have been investing in Lending Club (NYSE:LC) since 2015. I had a very clear investment plan. As with my stocks portfolio, I find plans to been essential for investors who look for consistent returns. I invested 60% in notes graded B, and 40% in notes graded A. I only lent money to people who looked for credit card refinancing, and debt consolidation as I believe these people are trying to get the financial situation right, and I want to help them. I also only lent to people who were looking for $10,000 or less.
The results of my investment after more than a year were pretty satisfying. I managed to achieve high annual return of 8.5%, with only one loan (less than 1%) charged off. I believe that participating in loans of less than $10,000 is a major key, as most people consolidating debt wouldn't want to default and lose their credit score too easily.
Well, after telling you how well everything goes, one might ask why did I leave Lending Club. Firstly, if you do want to invest there, I think my strategy is working. However, I still have my fears. The biggest fear is the lack of transparency. It makes it much harder to understand my investments. It works really nicely right now as unemployment is low, and the economy is growing. However, with lack of transparency it's hard to predict what will happen in case of slower economy, high unemployment or even a recession.
Why I didn't like it as a lender
As I said, transparency is the major issue. If I am to lend money to someone, I need plenty of information about him, and the goal of the loan. I believe that people who look to lend money from Lending Club are looking for better interest than they could get from the bank. Banks have plenty of information on their clients, while I got insufficient amount of data.
When there are problems with the payments, I barely got enough information. I only got short messages saying that they tried to contact the borrower, and whether a message was left. I need to understand what is going on with the loan, if there is a problem collecting the payments. These way I can know whether I should try and sell the loan for example.
Loan goals are not diversified enough. Sometimes it is really hard to understand what the borrower needs the money for. If you want to lend money for medical expenses, a lender should have much more information. A 70 year old guy dying from cancer is a different lender compared to a 35 year old guy who needs a lower back surgery. Without the necessary information, how can I choose where to invest my money. Compared to the world of stocks, where companies release quarterly transparent reports, it feels almost like gambling.
The clients coming from Lending Club are usually looking for a better interest rate than they could get from their bank or credit card. If the banks decided to charge higher interest rate, why should I give them lower rate, with less experience than the bank with much less information? It felt too much like gambling sometimes.
Why I didn't like it as an investor
When I analyze a company, I try to see if the products or services it offers are attractive. I don't find Lending Club to offer an attractive service for the lenders. Moreover, the company cannot create strong cash flow. It still loses money, and the inability to show significant free cash flow is frightening. Right now the economy is growing, unemployment is low, and most people pay their loans. If in this situation the company isn't highly profitable, what will happen in times of recession?
In addition, there are plenty of uncertainties in the bushiness right now. The first one is the SEC investigation regarding the founder's role in buyback plan, and whether information was withheld from the board. If this is the way a company is run, I am very concerned as a lender, but much more as an investor. If the board doesn't know, investors will have no knowledge as well. Lack of transparency for both the lenders and investors is a terrible way to do business.
Another aspect of uncertainty is the large change in the management team back in August. It doesn't make me feel more comfortable, and it might show that the previous management wasn't able to bring results. With such norms, like withholding information from the board, I wouldn't trust the new management as well.
The company offers an inferior service, can't give good service to the lenders, and isn't able to create profits in times when the economy grows. I believe that something isn't working the business model, and the SEC investigation for sure won't help. If the platform fails, who will help me as a lender to get my money back?
Let's take a deeper look into the fundamentals and valuation
First, look at the revenues of the company. The company managed to grow its revenues pretty quickly, which might be a good sign for investors. It means that the fee based service is generating a growing stream of revenues. I anticipated it as people are seeking more credit. Growing demand for credit, created huge surge in the top line.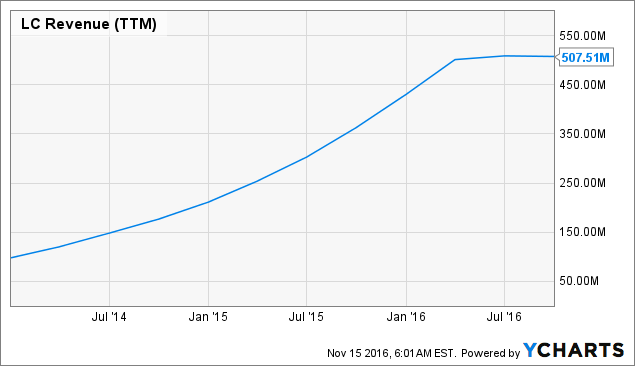 LC Revenue (NYSE:TTM) data by YCharts
However, when I analyze a company, the most important metrics for me are earnings and free cash flow. I want to make sure that the company I invested in, has a surplus of cash attributed to its shareholders. I know that some investors like to invest in companies that are losing money, because they are still growing, but this is far from my philosophy.
LC EPS Diluted (TTM) data by YCharts
As you can see in the graph above, Lending Club just can't create positive free cash flow and earnings. This is a major risk for investors and lenders. As the revenues grew by over 400%, the FCF and EPS actually declined, which is worrisome. The company might have to raise the fees it charges, as its business model is already very thin compared to traditional lenders like banks and credit cards companies.
While I discussed the risks to the company and the fundamentals, it is also important to look at the future opportunities that can drive the company forward. The current structure is much thinner and cost efficient, and allows the company to offer more attractive rates. Moreover, I believe that Lending Club can be a target for acquisition, because it holds the technology and the platform that can benefit traditional lenders. The valuation is very low when as the share price collapsed, and revenues are up. A buyer will probably use the technology and the platform, and will try to make the business profitable. The premium will be significant as valuation is very low right now.
However, the current situation is still too bad. The economic environment encourages people to take loans, and the percentage of charge offs is low. It cannot really get much better than that, and it may as well be the top of the cycle. Moreover, another huge risk is the regulation. If Lending Club and its peers will be regulated more tightly like traditional banks, it will have a very negative effect on earnings and cash flow.
Moreover, under president Trump, banks might enjoy deregulation, and will be able to compete better with peer to peer lending companies. I truly believe that the deteriorating fundamentals with several major risks, and not enough opportunities should drive investors away.
What to do?
I believe that investors who look for fixed income should concentrate on bonds ETFs. Sure, the yield might be lower, but there is no free lunch. The higher rate in Lending Club is due to higher risk. While bonds will offer lower yield, they contain lower risks and much more transparency, as you have plenty information regarding the company you lend to.
If you are looking for higher yields with higher risk, you can try investing in junk bonds ETF. While there are ETFs that offer a yield of over 25% with huge amount of risk, I like the larger ones. I prefer the iShares iBoxx $ High Yield Corporate Bond ETF (HYG) and the SPDR Barclays Capital High Yield Bond ETF (NYSEARCA:JNK). They offer yields of 5.5% and 6% respectively, which is a great yield in the current environment with modest risks.
A more sophisticated investor can try and combine several ETFs. Try combining some high risk junk bond ETFs with medium risk junk bond ETFs. You can also add safer treasury bonds, and even short TMF. Shorting TMF will be profitable as interest rate will go up, and long term treasury bonds will suffer from lower prices.
Is it the same?
I will start with the short answer- no. While the highest rated note in Lending Club will offer almost 6% return, which is higher than most bonds, investors should remember the difference. Bonds will allow you to create the yield you are looking for with the risk you are willing to take, with much more transparency and no fees for the platform. I believe that investors should keep in mind that there is no free lunch.
The higher yields in Lending Club are the results of higher risk. I believe that getting the same yield in the bond market will be much less risky. Start screening for ETFs, and build your own synthetic ETF with the yield you choose and the risk you want to take.
Conclusion
While the risk seems negligible, it is much higher than it seems. You might think, what can go wrong with lending money to average Joe in America. Well, as banks suffer from charge offs, you will suffer them as well. Banks have much more experience than you building a loan portfolio, so you should be very careful. If the bank didn't want a client or offered him higher interest, it probably had a good reason to do it.
I invest in stocks for the long term. That is why Lending Club seems very odd to me. Stocks are transparent, easy to liquidate, and you own them directly. These are three major advantages they have over Lending Club loans.
Lending Club might bring you similar returns when compared to stocks, but don't get confused, it isn't safer as you might think. The market is smart, and for the long term it is almost impossible to beat it. If it prices assets for a certain price, there are reasons for it.
I find Lending Club to be not good enough for lenders which are the clients. If the clients are not happy, it won't be good for investors as well. I advice you to avoid it both as a lender and as an investor.
Disclosure: I/we have no positions in any stocks mentioned, and no plans to initiate any positions within the next 72 hours.
I wrote this article myself, and it expresses my own opinions. I am not receiving compensation for it (other than from Seeking Alpha). I have no business relationship with any company whose stock is mentioned in this article.