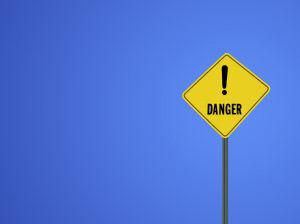 Bernanke today didn't match the scary caricature envisioned by gold and silver bulls. Sensible and restrained, he failed to stoke the easy money, worthless dollar, hyperinflation frights that have kept gold and silver buoyed.
What next? Today's sharp gold and silver price drops could be the start of a serious bear market. With the precious metals' fundamentals seriously depleted, buying support at previous lower levels could now be absent. Therefore, there is a high probability that last year's speculative blow-offs will go down as this decade's highs, similar to gold's 1980 peak. We could see a repeat of that multi-year decline, with only periodic trading bumps to encourage hangers-on.
Technically, the charts look terrible for the bulls. Both metals' sharp drops from their "crossroads" are negative signs.
Here is how today's price actions look for SPDR Gold Trust Shares (NYSEARCA:GLD), which couldn't break its high barrier: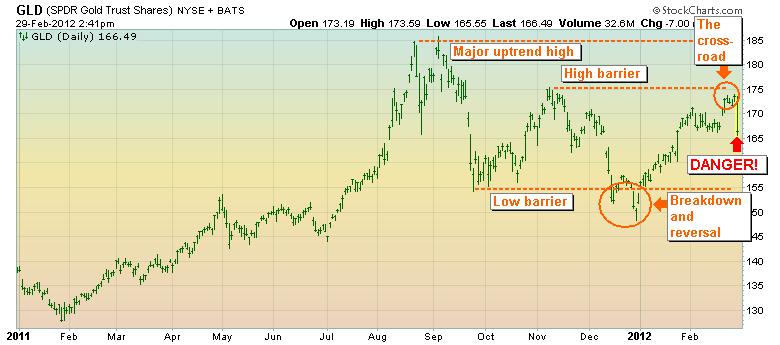 Stock charts courtesy of StockCharts.com.
And here is how iShares Silver Trust (NYSEARCA:SLV) looks, creating a reversal of yesterday's breakthrough (a negative sign of its own):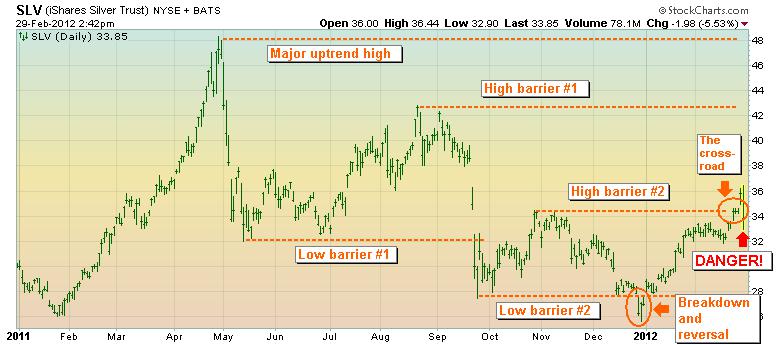 The bottom line
Gold and silver prices look to have hit a slippery slope. Bernanke's failure to support the domino fears emanating from easy money could be the final straw that breaks the back of this precious metals saga.
Whatever the future track, the risk of owning gold and silver at these prices is high compared to the potential return. Therefore, not only does this look like time to sell positions, it appears to be a good time to consider shorting both metals.
A note on shorting
A popular way to short gold and silver is to buy "inverse" exchange traded funds (ETFs) - i.e., those structured to be short positions. The leading inverse gold and silver ETFs are ProShares UltraShort Gold (NYSEARCA:GLL) and ProShares UltraShort Silver (NYSEARCA:ZSL).
Very important: Both ETFs are leveraged 2:1 (hence, the name "ultra"). Therefore, a $5,000 GLL or ZSL position is roughly comparable to a $10,000 short position in GLD and SLV.
My strategy
I never short company stocks because it is a bet against management being able to do something good. However, shorting a commodity is simply taking a position in expectation that supply/demand shifts will cause the price to fall. This view can be from anticipating increased supply (like natural gas) or reduced demand (like my view of gold and silver).
In addition, I rarely leverage positions because doing so can create emotion-driven actions in even the most seasoned investor - not to mention the wealth-destroying margin call sell-out. However, with commodities, I will consider it because often commodity price moves are small relative to stocks.
Today I bought one-half positions in both GLL and ZSL, equivalent to full, unleveraged short positions.