Enerplus (NYSE:ERF) has raised $1.2 billion (Cdn) through divestitures over the past six years while maintaining production of about 90,000 barrels of oil equivalent per day (BOE/day). The divestitures represented 11,000 BOE/day of production.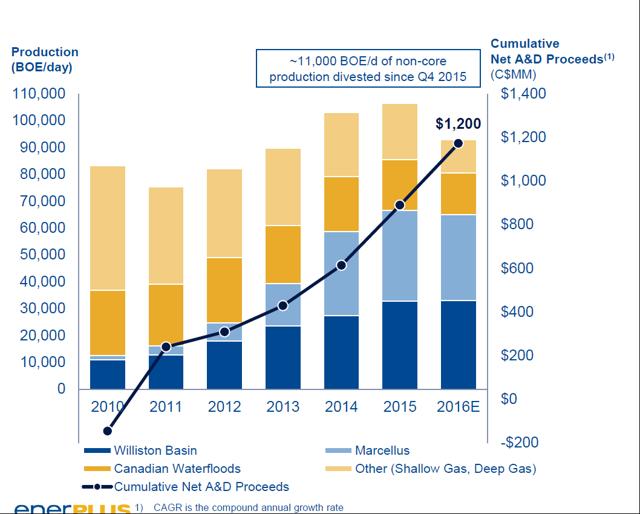 Source: Enerplus corporate presentation
If 11,000 BOE/day was worth $1.2 billion, it follows that the company's remaining approximately 90,000 BOE/day must have a value somewhere around $7 or $8 billion U.S. Enerplus's enterprise value today is about $2.5 billion. This stock is cheap by any measure.
Unlike many of its peers, Enerplus has a strong balance sheet with net debt at about $500 million ($674 million Cdn funds) and an undrawn $600 million ($800 million Cdn funds) line of credit. That puts ERF in an enviable position to not only expand its drilling program but also to acquire production at depressed prices.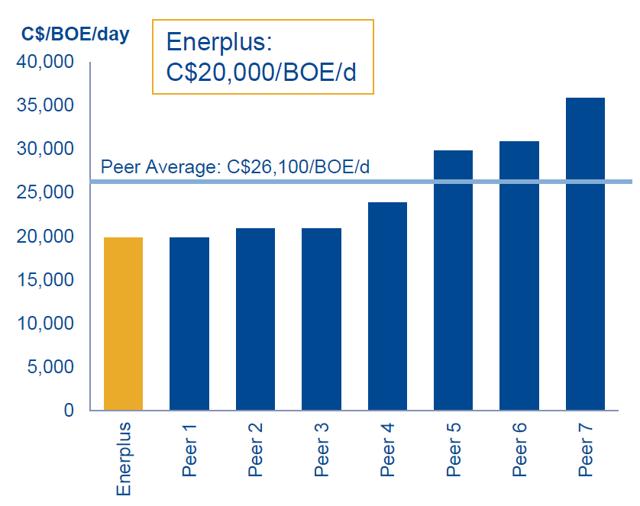 Source: Enerplus corporate presentation
Enerplus has one of the best capital efficiency measures in the industry. The combination of an impressive capital efficiency of $20,000 Cdn per barrel of oil per day ($15,000 U.S.) and a clean balance sheet gives Enerplus plenty of firepower if there is any improvement in commodity prices and the stock is undervalued even at today's prices.
I am long the stock and will add more.
Disclosure: I am/we are long ERF.
I wrote this article myself, and it expresses my own opinions. I am not receiving compensation for it (other than from Seeking Alpha). I have no business relationship with any company whose stock is mentioned in this article.