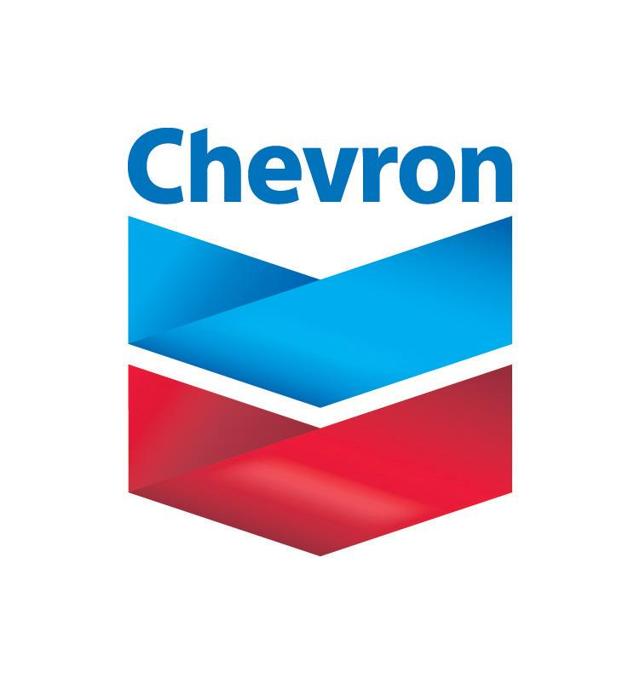 I was listening to famed investor Bill Miller on CNBC this morning, and he said we now have the first "free market" in the history of oil production. I concur. OPEC appears to be in disarray, and the large western IOCs can no longer dominate and/or control the price of oil and gas. The ban on U.S. exports has been repealed, and there are literally dozens of domestic frack-based E&P companies that can fairly quickly bring on additional oil production if the price rises to within a range of, say, $45-50/bbl. Net-net, of course, this means oil prices will remain "lower for longer." Perhaps much longer. So how does Chevron (NYSE:CVX) stack up in this new era of sub-$50/bbl oil?
Generally regarded as the most "oily" of the major integrated oil companies, Chevron will remain exposed to liquids pricing even as the majority of new production over the next couple years will come from natural gas projects in Australia: Gorgon and Wheatstone. Technically, LNG is a liquid. But more importantly, the long-term LNG contracts underpinning Gorgon and Wheatstone LNG production are tied to the price of Brent oil.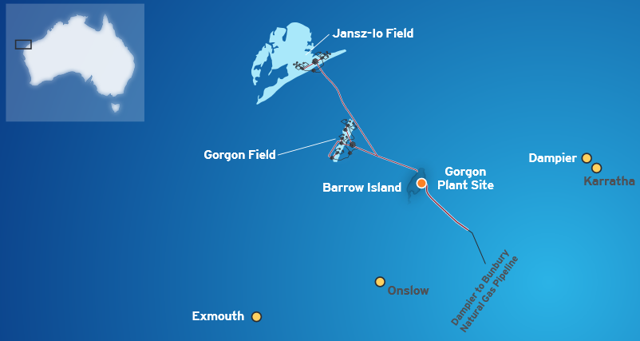 (Source: Gorgon Project Overview)
The Gorgon Project is a JV between the Australian subsidiaries of Chevron (47.3%), Exxon Mobil (NYSE:XOM) (25%), Shell (NYSE:RDS.A) (25%), Osaka Gas (OTCPK:OSGSF) (1.25%), Tokyo Gas (OTCPK:TKGSF) (1%) and JERA (0.417%). At full production, Gorgon's three LNG trains are expected to produce 15.6 million tonnes per annum ("MTPA"). With 1 million tonnes of LNG equivalent to 8.97 million bbl oil (see BP conversion factors), Gorgon represents roughly 380,000 boe/d of new production. That means Chevron's ownership stake in Gorgon will result in ~180,000 boe/d. That's big even for Chevron, whose production in Q3 (see the EPS report here) was 2.51 million boe/d.
As stated in the Q3 EPS release, Chevron has already had steady LNG production and cargo shipments from Gorgon Train 1, and recently started LNG production from Gorgon Train 2. As a result, the company expects December production to be between 2.65 million boe/d and 2.70 million boe/d. Note, that would be up ~7% over Q3, which is very impressive for a company Chevron's size.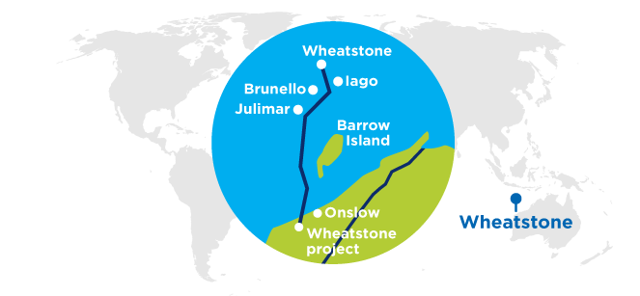 (Source: Wheatstone Project Overview)
The Wheatstone project includes two LNG trains with a combined capacity of 8.9 million metric tons per annum and a domestic gas plant. Chevron's 64.1% stake in Wheatstone is expected to deliver approximately 200,000 boe/d (net) at full production. Wheatstone is expected to ship the first LNG in mid-2017.
So, much like ConocoPhillips (NYSE:COP) - which I recently discussed in this Seeking Alpha article - Chevron's huge capex mega-projects are coming into service, and as a result, cash flow will shift dramatically in favor of shareholders. But not only did Chevron spend tens of billions of dollars building Gorgon and Wheatstone, the company emerged from these projects with arguably the second-best balance sheet in the industry - following Exxon Mobil - with a debt ratio under 30% and ample additional debt capacity: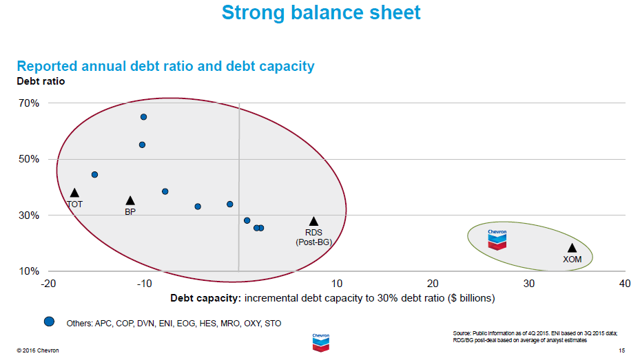 (Source: November presentation (available here))
But like every other oil & gas producer, CVX has been hit hard by the current low price environment. In Q3, the company earned net income of $1.3 billion, or $0.68/share. That didn't come close to covering its current $1.08/share dividend, which was recently increased by a penny and represented the 29th consecutive year in which Chevron raised the dividend. Going forward, the average analyst estimate for 2017 is for $4.73/share of net income. That will obviously cover the dividend, but the question really is: When will Chevron be able to cover the dividend plus capex?
The answer to that question likely hinges on how well the company can exploit its short-cycle time assets in the Permian Basin, where the company has a massive 2 million net acres and a 9 billion boe potential resource base. More importantly, 85% of those acres have low or no royalty payments, and 1.5 million of those acres are located in the very attractive Midland and Delaware Basins. As a result, Chevron predicts net production in those basins could triple over the next five years: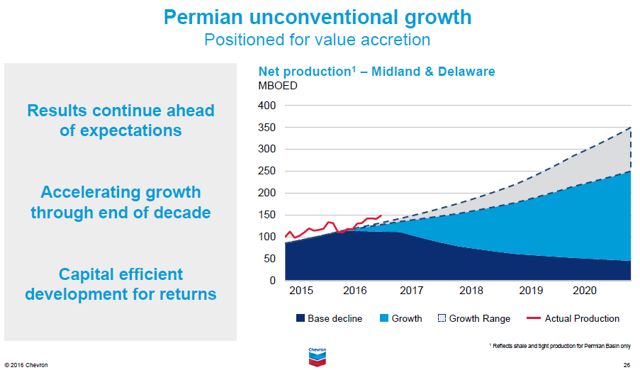 Summary and Conclusion
Chevron is on the cusp of a significant uplift in production as the Gorgon and Wheatstone LNG projects come on-line. These LNG shipments are tied to the price of Brent and maintain the company's exposure to liquids pricing. As these projects come on-line, the massive capex spending of the last several years will be dramatically reduced, and cash flow which will shift much more in favor of shareholders. Going forward, it will be critically important for Chevron to achieve adequate margins in the Permian Basin in order to fund the generous (4%) dividend as well as capital expenditures. Meantime, its chemical operations - CPChem, a 50/50 JV With Phillips 66 (NYSE:PSX) - and refining segment continue to perform well and help to offset sub-$50/bbl oil. Chevron is attractive here.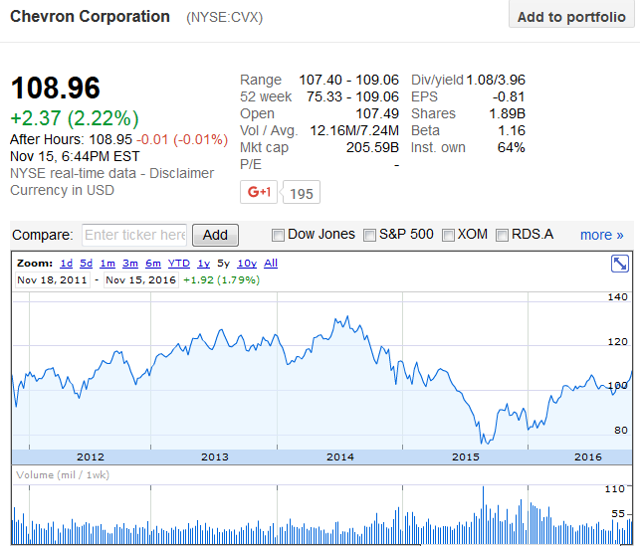 Disclosure: I am/we are long COP, PSX, XOM, CVX.
I wrote this article myself, and it expresses my own opinions. I am not receiving compensation for it (other than from Seeking Alpha). I have no business relationship with any company whose stock is mentioned in this article.
Additional disclosure: I am an engineer, not a CFA. The information and data presented in this article were obtained from company documents and/or sources believed to be reliable, but have not been independently verified. Therefore, the author cannot guarantee their accuracy. Please do your own research and contact a qualified investment advisor. I am not responsible for investment decisions you make.