Quick Take
Rennova Health (OTC:RNVA) aims to sell $10 million of units of its common stock and warrants in a follow-on offering.
While the company has an interesting family of physician support software and services with significant cross-selling opportunities, its financial results have been disappointing and indicate poor management controls.
My opinion is to AVOID the company stock until company leadership can demonstrate its ability to properly manage its operations and financial reporting.

---
Company
West Palm Beach, Florida-based Rennova Health is a group of brands that sell a family of healthcare services including diagnostics, laboratory testing, revenue cycle management software and healthcare analytics & decision support software.
In November 2015 Seamus Lagan was appointed CEO, President and a Director of the company at the close of its merger with CollabRx.
From 2008 to 2011, Mr. Lagan was a director of a waste management and alternative energy company in the UK which was placed into administration related to the tax authorities alleging that it reduced its debt to avoid tax.
As a result of the action, Mr. Lagan along with the other directors were banned from acting as a director in the UK for three years, until October 2015.
Principal stockholders in the company include Aella Ltd. (18.6%), Epizon Ltd. (18.9%), both of which are domiciled in Nassau, Bahamas, and various individuals.
Business Lines
Rennova operates in several different business segments and subsidiaries:
Medytox Diagnostics - CLIA certified laboratory network offering a range of testing services
Advantage Software - Web-based HIPPA-compliant software to track labor order status and reports
Clinlab - Windows-based laboratory information management system
Medical Mime - EHR (Electronic Health Record) system for substance abuse and behavioral health providers
CollabRx - Oncologist decision support system for diagnoses and treatment
Medical Billing Choices - Revenue cycle management tools
Platinum Financial Solutions - Loans to physician practices secured by accounts receivable
So, Rennova views itself as a 'vertically integrated' physician services and support software company.
Below is a brief explainer video about the company:
(Source: Rennova Health YouTube)
Market
Since the company is effectively a 'mini-conglomerate', it operates in seven different markets.
It is beyond the scope of this article to detail the market sizes of those seven different markets.
However, the company's structure is designed to provide a range of services to physician groups in order to streamline their operations, also known as 'Practice Management'.
According to a November 2016 report by Grand View Research, the global practice management market size is expected to reach $17.6 billion by 2024.
Key drivers for market growth include increased popularity of integrated software to help deal with increased practice complexity; cloud-based delivery will provide greater cost-efficiency and reduced IT challenges; high economic development boosting product development and commercialization in the U.S. and Canada.
Competition
Rennova's competitors in the practice management space include:
Henry Schein MicroMD (NASDAQ:HSIC)
Allscripts Healthcare Solutions (NASDAQ:MDRX)
AdvantEgde Healthcare Solutions
Athenahealth (NASDAQ:ATHN)
MediTouch
GE Healthcare (NYSE:GE)
Practice Fusion
Greenway Medical
McKesson Corporation (NYSE:MCK)
Accumedic Computer Systems
NextGen Healthcare Information System
The above list does not represent all of Rennova's competition, since the company also operates clinical diagnostics laboratories which operate in a fragmented marketplace with numerous additional competitors.
Financials
Rennova's recent financial results can be summarized as follows:
Revenue has been drastically reduced in recent periods
Gross margin has dropped
G&A expenses have ballooned even as revenues dropped
Below are the company's operational results for the past two and ½ years (Audited GAAP for 2014 only):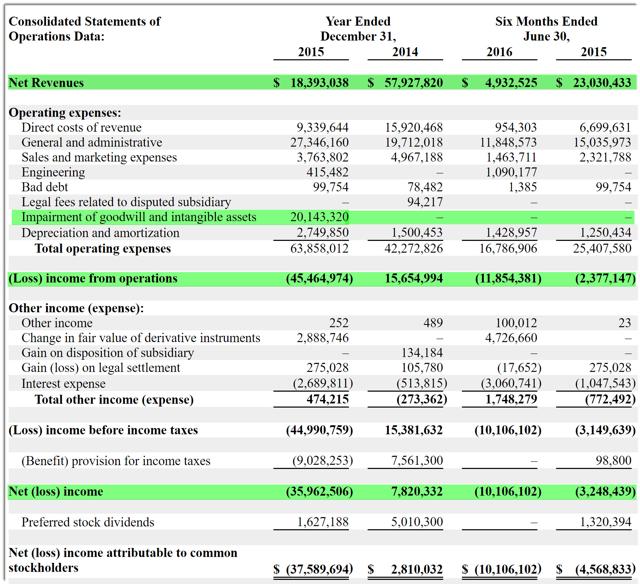 (Source: Rennova S-1 Filing)
Revenue
H1 2016: $4.9 million
2015: $18.4 million
2014: $57.9 million
Gross Margin
H1 2016: 19%
2015: 49%
2014: 73%
As of September 30, 2016, the company had $514,000 in cash on hand, $2.6 million in accounts receivable and total liabilities of $20.2 million.
Offering Details
Rennova intends to raise $10 million in common stock and related warrants in a follow-on offering.
The warrants will be exercisable at 125% of the public offering price.
As of November 15, 2016, the stock was trading at $0.10 per share and the company has received a delisting notice from NASDAQ. Rennova has been given a 180-day extension of time to comply with the notice.
Earlier in the year, the company successfully closed an equity offering of $7.5 million in net proceeds, which it used to purchase the interests of Genomas. Genomas is developing 'PhyzioType systems for DNA-guided management and prescription of drugs used to treat mental illness.'
Commentary
There are so many moving parts to Rennova's 'story' that it is difficult at this time to have a clear picture of what the company offers to investors.
The company dismissed its previous auditor and wrote down goodwill by $20 million at the end of 2015.
Its operating statement is puzzling, showing revenues in the first six months of $23 million, yet full year 2015 revenues of $18.4 million.
Rennova has also admitted to accounting errors for its 2015 financial statements, requiring it to disclose that its FYE 2015 statements could not be relied upon as being in compliance with GAAP.
Perhaps that is the reason why company CFO Jason Adams resigned in September 2016.
G&A expenses skyrocketed in 2015, yet revenues dropped from $57.9 million to $18.4 million, indicating poor financial management.
Further, the company has disclosed a number of related party transactions, obtaining loans from entities controlled by or affiliated with company directors, or directly from directors.
And for a company with such financial problems, senior management appears to be highly paid.
What's troubling is that Rennova has potentially valuable assets, with a family of services and software that can provide cross-selling opportunities in a large and growing market, but recent financial problems and uncertainties overshadow that potentially positive story.
It's most recent 10-Q filing for quarter ended September 30, 2016 showed even worse financial results, with revenues of only $290,000, G&A expenses of $7 million and bad debt write-off of $3.6 million: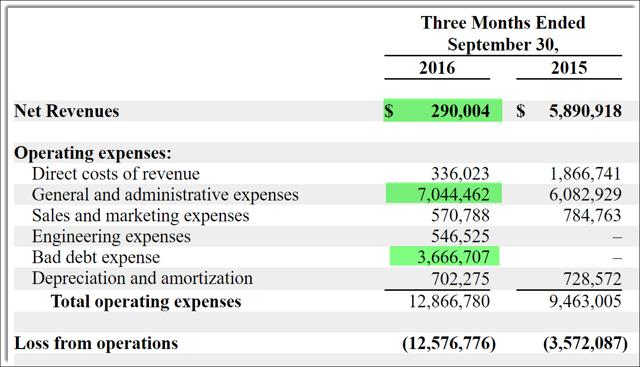 (Source: Rennova 10-Q filing)
While management continues to attempt to create value, investors would be wise to wait to see positive operational results that merit confidence in management's ability.
Accordingly, my opinion is to AVOID the stock until management can prove itself operationally and get its financial reporting house in order.
---
I write about IPOs, M&A, and billion dollar privately-held tech companies. If you want to receive future articles automatically, click the +Follow link next to my name at the top of this article.
Disclosure: I/we have no positions in any stocks mentioned, and no plans to initiate any positions within the next 72 hours.
I wrote this article myself, and it expresses my own opinions. I am not receiving compensation for it (other than from Seeking Alpha). I have no business relationship with any company whose stock is mentioned in this article.
Editor's Note: This article covers one or more stocks trading at less than $1 per share and/or with less than a $100 million market cap. Please be aware of the risks associated with these stocks.