Sberbank (OTCPK:SBRCY), Russia's biggest bank by assets and market value, reported a significant rise in profit for the 9 months ended September 2016 and for the 3rd quarter of 2016 earlier today. The bank showed increased demand for lending compared to lending contraction witnessed in some previous quarters.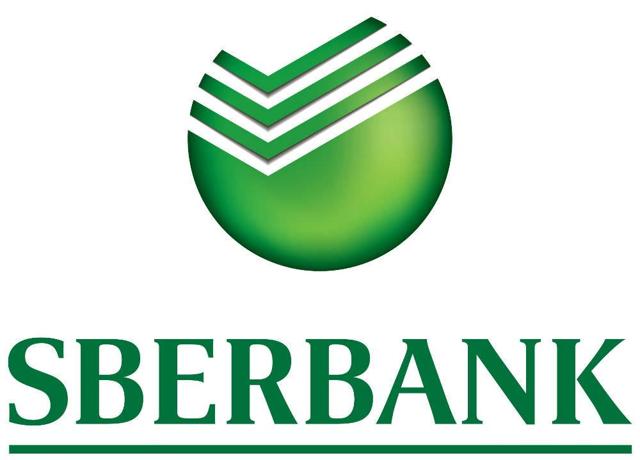 Take note thereof that unless the contrary is indicated or reference is made to the US ticker symbol all values are expressed in Russian Rubbles and that all percentages have been rounded.
The Results
Sberbank reported a 166% rise in profit YTD compared to the same time period in the previous financial year. This was supported by a 46% rise in net interest income and a 16% increase in fees and commission income. It may be worth noting that the jump is partially attributable to a weak 2015 and hence comes of a lower base.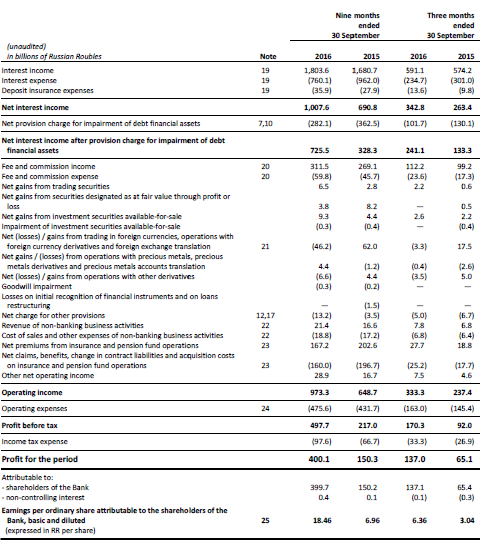 (Source: Sberbank Interim Results)
Sberbank reported a 110% increase in profit for the third quarter 2016 over the same quarter in the previous financial year. The results were supported by a 30% increase in Nett interest income while the banks expenditure remains firmly under control.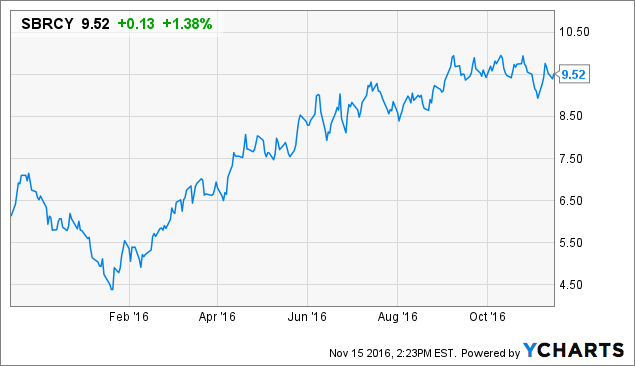 Sberbank reported a 9% decline in past due commercial loans to legal entities but past due commercial loans to legal entities has risen as a percentage of the total commercial loans to legal entities. The total past due loans to individuals increased by about 7%. (The 7% was calculated by considering all the categories of loans to individuals combined).
The Russian Economy
Sberbank can be considered a more traditional bank, that makes its profit largely from lending and fees than from trading and commissions, and is thus strongly impacted by economic conditions. The bank earns the vast majority of its revenue in the Russian Federation and economic condition in Russia have a substantial impact on the banks business.
In the past 9 months mixed economic data has come out of Russia, with the company's presentation aptly demonstrating this in the following line " At the end of the nine months of 2016 GDP declined by 0.7%1 year‐ on‐ year. The dynamics of GDP excluding the influence of seasonal factors has been uncertain (decline of 0.1% in July, increase by 0.3% in August, and decrease by 0.2% in September)."
The signs of improvement will have a positive impact on the bank. There has also been significant speculation that a Trump presidency may improve US-Russian relations and eventually lead to the lifting of sanctions. The lifting of sanctions will significantly benefit Sberbank. I am not, however, of the view that sanctions will be lifted in the near future as significant work still has to be done to repair US-Russian relations.
Sberbank has also been partially insulated from the sanctions and the ensuing increase in the cost of capital by its deep depositor base.
Conclusion
Sberbank has performed exceptionally well particularly given the economic conditions in Russia. The stock is also attractively valued with a TTM p/e ratio of about 8,7 and trading at 1,5 times book value which is only slightly above its 5-year average of 1.4. I currently rate Sberbank a hold and may improve this rating at a later stage if the Russian economy shows a clearer growth trend.
Disclosure: I/we have no positions in any stocks mentioned, and no plans to initiate any positions within the next 72 hours.
I wrote this article myself, and it expresses my own opinions. I am not receiving compensation for it (other than from Seeking Alpha). I have no business relationship with any company whose stock is mentioned in this article.