A lot has changed in the past week and shareholders of Freeport-McMoRan (NYSE:FCX) have the been the positive beneficiaries. The stock right now, in my opinion, is at a crossroads. On one hand, base metals prices - notably copper - should be slated to increase materially over the short and medium-terms. On the other hand, current supply and demand statistics from major producers indicate that there is a supply glut. So, what's the move with this stock going forward? Do you buy into President Trump's potential spending plan and a long-term cyclically rewarding scenario or do you try and short based upon negative supply/demand fundamentals?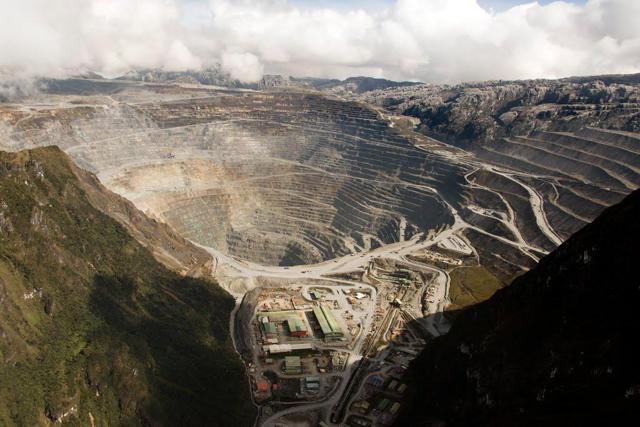 Source: Panoramio
Supply and Demand: Bearish
Across this site, it seems like everyone is pretty bullish on the company. However, no one is really taking an in-depth look at the supply/demand imbalance. A lot of what you may be reading is just company-specific in that individuals are researching just the internal actions made by the company in the last couple of quarters. Undoubtedly, the company has been doing a fantastic job of improving asset efficiency, paying down debt, and trying to identify growth opportunities, but that is just half the battle. The stock moves based upon shifts in copper prices, as the correlation is relatively heavy (R ~= 0.65). Thus, copper fundamentals need to be the core focus of any analysis on FCX.
As a result, I'll present the same data table this month as a I did last month, as I've yet to see these output and demand figures change. As the production statistics change, I will assuredly update them.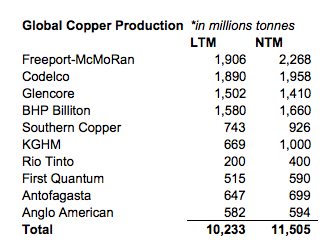 Source: Author Derived From Multiple Reports
All this data table does is simplify the supply/demand situation for copper and clarify the imbalance. It's comprised of the top 10 global producers of copper and their projected next twelve months production levels. Based upon the data I've consolidated, copper production over the next year is slated to increase 12.42%, which well exceeds projected demand growth.
Those same producers have all indicated that demand, stemming primarily from China, will increase 2-3% at best. Recall that China controls 48% of the global demand for copper and is a key component to the red metal's overall movements. Thus, there's about a 9-10% imbalance showing that supply exceeds demand. That's the core driver behind why I think FCX is not a solid short-term investment. Granted, these statistics could unwind, but it's clear that resistance in copper pricing prior to last week was present because of the overbearing supply glut. That becomes even more of a headwind when we begin to factor in inventories, notably those available via COMEX data: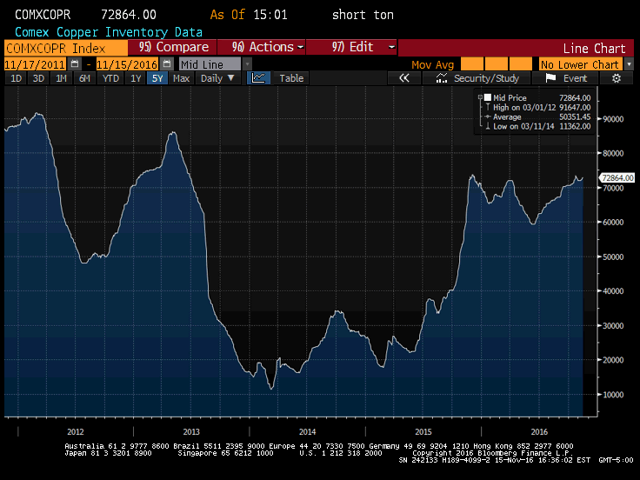 Source: Bloomberg
Inventories are at nearly three-year highs, which means that it's impossible for demand to be robust, otherwise we'd be seeing heavy retractions in this inventory data.
When I presented this data last month, a lot of the comments I received were saying that Chinese demand isn't growing at 2-3%, but rather at 6-7%, in line with GDP. Allow me to clarify that GDP growth for a country is not at all the same as a single commodity's growth. It's just inherently wrong. Again, these readers persisted in their commenting and stated that Chinese infrastructure development is going to pick up in China. Again, this is incorrect. The stimulus that China provided to the commercial real estate and housing markets earlier this year temporarily propped up growth in those industries in order to stabilize the previously free-falling growth rates. Demand from China, over time, should not be upward sloping in its growth. If anything, we should see marginal retractions each year as it fully transitions from emerging to developed.
It's interesting, too, that the stock has a 9.63% short interest, indicating that I'm not alone in my negative viewpoint on the commodity's fundamentals and their potential effects on Freeport. It's nothing against the company at all, it's just what the global copper market has shown to investors. Who knows how long these factors will weigh on copper prices? They could very well take multiple years to subside if producers keep on scaling production and not cooperating on production caps.
Trump's Presidency: Bullish
With the victory of Trump as the President-Elect, the mindset of investors has shifted towards one word: growth. That's why we saw such a massive shift in the price of copper and, consequently, the price of Freeport over the last seven days. Yet, there are some incredibly keen distinctions that investors need to make in understanding Freeport's near-term outlook.
Let's think about Freeport's revenue composition for a second. Based upon the 10-K filed back in February, here's the current breakdown:
67% attributable to copper
11% attributable to oil
10% attributable to gold
5% attributable to molybdenum
Remainder from undisclosed commodities/precious metals
*Additionally, no single customer accounts for 10% of consolidated revenues, which helps from a credit risk perspective
Give some credit to the bulls, after a bit of digging, this company has a high U.S. exposure. Just about 43% of revenues come from the United States and only 4.79% comes from China. I was shocked to find this and actually can't believe I overlooked this. What this essentially means is that Chinese demand is irrelvant to FCX from the perspective of its own operations. It still matters for global copper pricing, which in turn affects FCX, but with a Trump stimulus package going towards infrastructure (hopefully), FCX will benefit materially based upon their heavy U.S. exposure.

Source: 10-K
When you couple the potential spending with Freeport's aggressive plan to pay down debt, you really get a more refined company that is better positioned to capitalize on copper pricing, should it increase on the back of new global trade policy from Trump. Reports came out today detailing that management is planning to pay down a large portion of overall debt. Kudos to Freeport's management, the leverage reduction is continuing.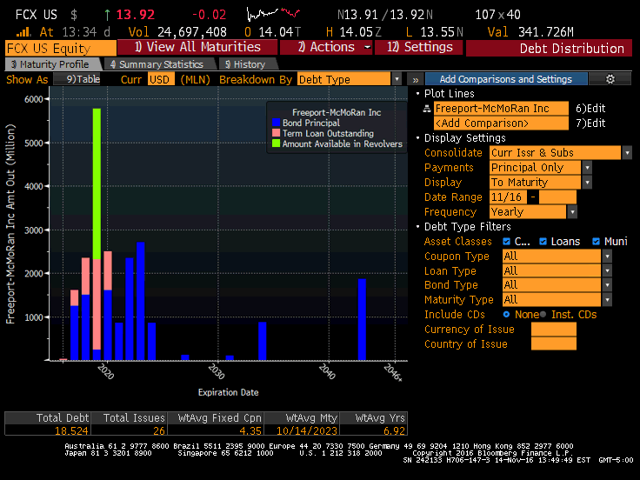 Source: Bloomberg
I think that from here, you look at the positive developments happening within Freeport, coupled with potential domestic strength and you get a really solid medium-term investment here. Sure, Freeport is already up 105% YTD, but that's just a fraction of the medium-term reward as this stock used to trade multiples higher just a few years back.
I can also see how from a slashed corporate tax rate perspective that Freeport drastically improves free cash flow and earnings. Right now, the tax rate attributable to United States operations is 47% (10-Q, p.48), which is ridiculously high. If President Trump steps in and cuts this tax even a few percentage points, then companies like Freeport are going to be much better off. So, all in all, Freeport really stands to benefit from President Trump, provided he follows through on his spending plan.
Investor Takeaway
With all of these factors, I'm continually reminded of the following graph. These factors could very well be ignored if you're a long-term investors (horizon of three to five years), whereby you close your computer, buy the stock and let cyclicality provide immense capital gains. So, largely, it behooves me to be long copper, based upon cyclical history, but I can't justify a short-term oriented long based upon the negative supply/demand fundamentals.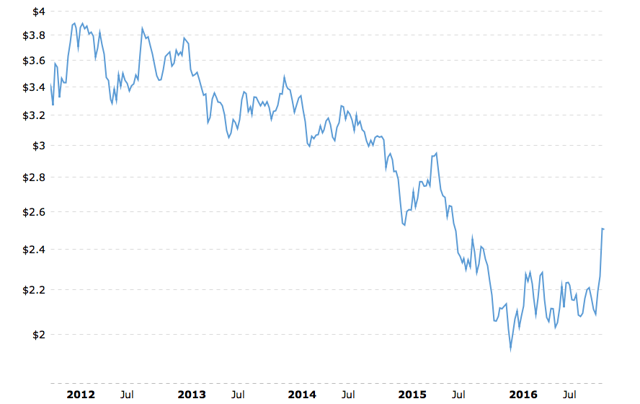 Source: MacroTrends
Disclosure: I/we have no positions in any stocks mentioned, but may initiate a long position in FCX over the next 72 hours.
I wrote this article myself, and it expresses my own opinions. I am not receiving compensation for it (other than from Seeking Alpha). I have no business relationship with any company whose stock is mentioned in this article.