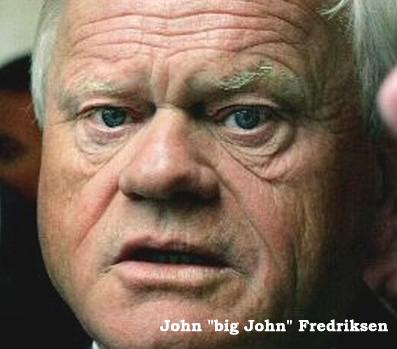 Seadrill Ltd. (NYSE:SDRL)
This article is an update of my preceding article published on October 5, 2016 about "Big John" May Be Willing To Lend Seadrill Between $800 Million To $1.2 Billion.
I think it would be a waste of time to present here M. John Fredriksen again. However, it is important to remind all what is the stake he owns in Seadrill.
M. John Fredriksen owns through Hemen Holding Ltd. 119,097,583 shares or 24.2% of SDRL as of 2/16/2016.
Recent transactions:
On December 5, 2014, Mr Fredriksen bought 2.7 million shares of SDRL at $12.4
On December 9, 2014, he bought another 1.3 million shares bringing the total shares owned to 119.1 million.
Today, Seadrill Ltd., announced the following:
[I]t has reached an agreement with 100% of the lenders under the West Eminence Facility and the requisite majority of lenders under all of its other bank facilities to extend the West Eminence facility maturity date from December 31, 2016 to April 30, 2017.

Good progress has been made on the overall terms and structure of an agreement with our banks that will re-profile all secured credit facilities to mature in the period from 2020 to 2023, reduce our fixed amortization obligations and amend financial covenants. We have initiated engagement with bondholders and potential providers of new capital on the other key elements of our restructuring plan.

We now expect to conclude the restructuring by the end of April 2017. Extending the West Eminence facility will provide us with sufficient time to conclude these negotiations.

The Company has retained Morgan Stanley and Houlihan Lokey as financial advisors and Slaughter & May and Kirkland & Ellis as legal counsel.
Solely on a funny side of the coin, I hope that "Slaughter and Co." Are not taking into consideration SDRL shareholders as some old cattle soon ready to run into their dismal fate?
Now, let's get back to a more serious mode for a minute, and let's look at this difficult financial conundrum in details. First and for most, this extension is another proof that the banks are willing to work with Seadrill, and that the "rumors" about John Fredriksen's cash intervention was probably true. This is the keystone at the apex of this complex financial "masonry". Without "big John" the house of cards would have collapsed a long ago.
Four important chronological events.
1 - On December 18, 2015, Reuters commented on the interview of M. John Fredriksen by the business daily Dagens Naeringsliv in Norway. In this interview, M. John Fredriksen indicated that he has already bought up a significant, but undisclosed amounts, of Seadrill's debt.
In an interview with business daily Dagens Naeringsliv, the man with an estimated fortune of 100 billion crowns ($11 billion), said he was putting some of his money into the venture called Sandbox, but might seek outside investors in due course.
John Fredriksen told the newspaper, about the business plan for a new company called Sandbox.
We are looking at everything to do with distressed rig assets now. It will certainly take some time before the market comes back, but it is in bad times that it is possible to make reasonable investments
In the same interview, M. John Fedriksen indicated that he has already bought up a significant but undisclosed amount of Seadrill's debt.
The billionaire adopted a similar model when the oil tanker market collapsed in 2012. He set up a company called Frontline 2012 which bought assets from his struggling Frontline. The two firms are now merging following a recovery in the tanker market.
2 - On September 14, 2016, Workboat published the following:
An extended period at the bottom looks especially threatening for Seadrill, which has the industry's heaviest debt load, with about $9 billion at the end of the second quarter. The company, controlled by billionaire John Fredriksen, is currently negotiating with its 42 banks before it can be able to include bondholders, Wullf said at the conference. The company aims to have a solution in place by early December, he said.

"It's a big puzzle," Wullf said. "I'm carefully optimistic."
3 - On October 4, 2016, Bloomberg announced the following:
Seadrill Ltd.'s billionaire chairman and largest shareholder, John Fredriksen, is willing to lend the rig company as much as $1.2 billion as part of a potential deal with banks and bondholders to restructure the biggest debt load in the offshore-drilling industry, two people familiar with the matter said. The company's shares surged.

The loan of $800 million to $1.2 billion features in a proposal by a working group of fewer than 10 banks, said the people, who asked not to be identified because the talks were private. The plan would imply a postponement of all bank maturities to at least 2020, helping the lenders avoid outright losses, the people said.
The "rumors" prompted Seadrill to respond with a short statement a day later.
Seadrill Limited ("Seadrill") advises that it is aware of an article published by Bloomberg today regarding the Company`s ongoing refinancing and recapitalization plans. We refer to our previously published communications in this regard. The Company remains in discussions with its stakeholders regarding its refinancing and recapitalization plans and there are no material developments to disclose.
What are we talking about?
The refinancing of Seadrill debt has been covered for many months already and recently, M. Per Wullf, CEO, announced that the company is about to announce "some sort of agreement" with the 42 banks involved with the company. The new development today, is that it will take more time to finalize the deal and now it is expected to be finalized around April 2017.
We know that SDRL has reduced net interest-bearing debt by one-fifth in a year -- See table below -- now at $9.1 billion.
We are still waiting for the 3Q'16 results which will probably be weak. Already, the company indicated that the revenues will be in the low to mid $600 million, or down around 25% quarter over quarter.
| | | | | | | | | |
| --- | --- | --- | --- | --- | --- | --- | --- | --- |
| | Q2'16 | Q1'16 | Q4'15 | Q3'15 | Q2'15 | Q1'15 | Q4'14 | |
| Revenue | 868 | 891 | 959 | 985 | 1,147 | 1,244 | 1,261 | |
| Net Debt/EBITDA | 4,25 | 4,31 | 4,10 | 3,94 | 4,01 | 4,29 | - | |
| Net Debt | 9,114 | 9,645 | 9,937 | 10,178 | 10,563 | 11,435 | 11,995 | |
| Cash | 1,287 | 1,092 | 1,044 | 1,181 | 918 | 903 | 831 | |
| EBITDA | 557 | 528 | 513 | 546 | 651 | 715 | 672 | |
| | 2,144 | 2,238 | 2,425 | 2,584 | 2,637 | 2,666 | - | |
I know from experience that many authors on Seeking Alpha and elsewhere love to "assume" and conclude quickly on what will happen. It looks professional and elegant, even if down inside we know that it is just shooting at the stars and valid a very limited time...
I am more pragmatic than that, and I will say that I really do not know. It is perhaps an incomplete statement, but it is better than a long biased explanation about what will be the result of this restructuring now pushed next year?
The company is actually negotiating with no less than 42 Banks that represents nearly $7 billion in debt. This debt -- ~$7 billion -- involves not only Seadrill, but a few others, such as North Atlantic Drilling (NYSE:NADL), Sevan Drilling and AOD, which are all considered as subsidiaries -- Where SDRL owns more than 50%.
Seadrill has also nearly $2 billion in bonds, and also guaranteed the NADL bonds representing $574 million, and approximately $415 million in payment obligations due to Ship Finance International Ltd. (NYSE:SFL) which is another company that "Big John" controls.
SDRL has a decent balance sheet and shows an estimated backlog of $3.1 billion as of 11/15/2016 which is significant.

The 1,000 lbs gorilla question for every serious investor, is to decide if whether the stock price has already factored in the impact of this restructuring event or not?
The answer is maybe, maybe not? Presently, we do not have more than 10% of what we need to guess sufficiently if the potential stock dilution that will be generated by the restructuring will affect the stock one way or another.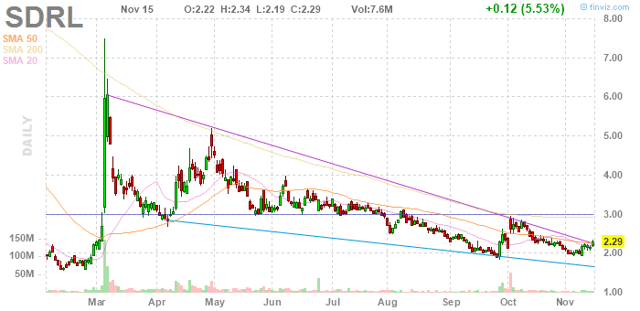 Technically, SDRL has been trading within a range called a descending triangle, since the surge in March, and is about to break out, either on the plus or minus side.
The close yesterday may suggest a positive breakout, but we simply do not know.
On a positive side, the stock may eventually re-test the $3 resistance, and if a good momentum can be sustained, we could go to $4 or even $5? At which point the stock is a sell in my opinion.
On the negative side, we can re-test the $1.75-$1.65 support, but I do not see much appetite for lower value? I would recommend a cautious buy.
You will have to decide on your own now. You are the only one who knows what level of risk you can tolerate and how much money you can invest.
Important note: Do not forget to follow me on SDRL and other offshore drillers. Thank you for your support.
Disclosure: I am/we are long SDRL.
I wrote this article myself, and it expresses my own opinions. I am not receiving compensation for it (other than from Seeking Alpha). I have no business relationship with any company whose stock is mentioned in this article.
Additional disclosure: I own a small long position but i mainly trade the stock now.
Editor's Note: This article covers one or more stocks trading at less than $1 per share and/or with less than a $100 million market cap. Please be aware of the risks associated with these stocks.