Introduction
Here's a unique company operating in the artwork space and producing some healthy returns as it works to build its business.
Established in 2012, Central, Hong Kong-based Takung Art Co., Ltd. (NYSEMKT:TKAT) is an online platform for obtaining shared ownership units in Asian and other artwork. This artwork consists of fine art, jewelry, precious gems, calligraphy, sculptures, crafts, jade, metal ware, ceramics, and antique furniture.
Takung Art's proprietary platform enables collectors and investors to buy and sell units of these assets and take part in the thriving Asian art marketplace. Via the online trading platform, art collectors and investors can take part in the growing Asian art marketplace without fearing forgery and price scheming.
The Company's shared-ownership business model (Affordable Shared Ownership - ASO) considerably increases the number of interactions between buyers and sellers of fine art greatly beyond those generated through auction houses and art galleries alone. The units representing ownership of each piece are controlled totally by traders on the platform buying and selling the units. Takung Art and its Management retains no percentage ownership in the art pieces.
Its three wholly-owned subsidiaries
Takung Art operates its online trading platform via:
Hong Kong Takung Assets and Equity of Artworks Exchange Co. Ltd.
Takung (Shanghai) Co., Ltd.
Takung Cultural Development (Tianjin) Co., Ltd.
Takung Art became publicly-traded in October 2014.
Executive leadership
Mr. Di Xiao is the Chairman and Chief Executive Officer (CEO) of Takung Art. Mr. Xiao has been in the art investment and consulting industry since 2008.
He served as a General Manager at Hangzhou LuxTimes Culture and Art Co., Ltd. in China from March 2009 to January 2013, when he subsequently joined Takung Art as CEO. He has experience with all types of art dealings, trading models and risks in the Chinese marketplace.
Its revenue streams
Takung Art earns revenue via:
Authorized Agent Fees - fees from offering agents.
Listing Fees on each piece of art.
Nominal Management Fees.
Trading Commissions on every trade.
The Company garners revenue mainly from listing fees ranging from 22.5% to 48.5% of an artwork's offering price.
Takung Art had 163 art listings trading on its platform as of October 31, 2016. This is with an aggregate initial listing value of US$39.3 million.
Its trading performance
Takung Art's Total Trading Volume for 2015 was US$2.33 Billion in comparison to US$730.56 Million in 2014. This represents an increase of 219%.
The Company's Average Daily Volume for 2015 was US$9.79 Million in comparison to US$2.97 Million in 2014. This represents a 230% increase.
Takung Art's strategies for future growth
Takung Art is looking for business opportunities beyond China. It's also working on growing its active user base in China. As well, it's working to fast-track new listings. Furthermore, the Company is focusing on increasing its daily unit trading volume and getting a competitive head-start on the shared ownership paradigm.
Takung Art is suited to a particular niche of investors. As noted by Paramount Investment Research: "This trading platform makes expensive artwork investment more accessible to investors with less financial resources." (Seeking Alpha - Jun. 9, 2016)
Expanding its trading platform
For its first major expansion of operations outside of China, Takung Art introduced its platform for trading to residents of Russia, Mongolia, Australia and New Zealand, this past July. Chief Executive Mr. Di Xiao said he believes this expansion could add new registrants and diversify the mix of listings on the Company's trading platform, and, in time, produce higher trading commission and listing fee revenue.
Takung Art has entered into a strategic cooperation agreement with two art-related establishments. This is to add the valuable gemstone southern red agate to Takung's art portfolio. These two organizations include:
Nanhong Culture Professional Committee of the China Culture Information Association: A committee approved by the Ministry of Civil Affairs of China. Its function includes promoting southern red agate culture through conducting seminars, appraisals, assessments and exhibitions across China.
Wenhua Dagong (Hong Kong) Culture Communication Co., Ltd: The authorized agent for owners of southern red agate to undergo listing on Takung Art's online trading platform.
Southern red agate is coveted by collectors and aficionados for its first-rate color and low volume. (The Largest Southern Red Agate Market In China - June 5, 2015)
The online art industry - Takung's competition
The trading, buying, and selling of art online attracts the big online players as well. Alibaba (NYSE:BABA) and Amazon (NASDAQ:AMZN) are direct competitors to Takung Art. Think of it, you can even buy various art, jewelry and such at Etsy (NASDAQ:ETSY). It seems this market is divided among large, medium, small, and very small providers offering a plethora of inventive products, thus a very competitive arena. An investor cannot discount this when investigating Takung Art - as art abounds online for consumers.
In 2015, Amazon attained more than $100 billion in annual sales.
Alibaba, the globe's largest retail commerce company, had revenue in Fiscal Year (FY) 2016 of US$15,686 million. This represents an increase of 33% versus FY 2015. This growth was led by its China commerce retail business - a market that Takung art is tapping into as well.
Etsy, for 2015, had revenue of $273 Million.
Why Takung Art has potential
Takung Art is productively driving revenue and growing its net income - strong underpinnings for sustainable and successful operations going forward. Here's a look at its recent numbers for these:
High Margin Revenue
For Q3 2016, ended September 30, Takung Art's revenue was $5,742,209. This represents a 112% improvement on revenue of $2,706,388 in Q3 of 2015. For the first nine months of 2016 ended September 30, revenue was $14,214,252. This represents a 189% improvement on revenue of $4,917,368 in the same period the year prior.
Takung Art's quarterly revenue growth, year over year is 400.30%.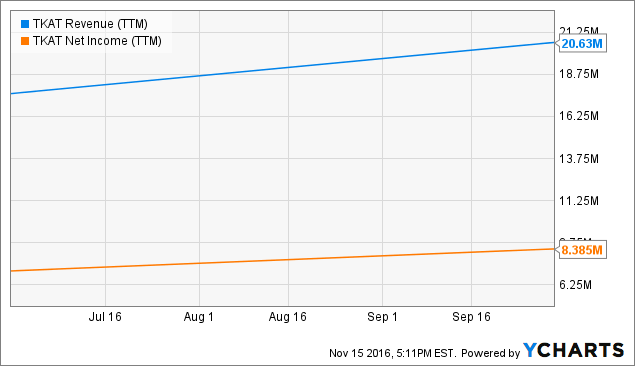 Net Income Growth
The Company's net income for Q3 2016 was $2,451,737, or $.23 per share. This is 114% higher than the net income of $1,144,073, or $.12 per share, reported for Q3 of 2015.
Net income for the first three quarters of 2016 was $4,664,632, or $.44 per share. This is 172% higher than the net income of $1,715,344, or $.18 per share, reported for the first three quarters of last year.
The Company's most recent trading results
Takung Art processed transactions totaling US$1.10 billion in the 14-day trading month of October 2016. This represents a 278% increase on total transactions of US$291.05 million recorded in the 16-day trading month of October 2015.
The purchase and sale of ownership units of Takung's listed artwork produced US$6.01 billion during the first ten months of calendar/fiscal 2016. This is in comparison to US$1.57 billion transacted in the comparable 2015 period.
This transaction growth is a positive for investors to consider when performing due diligence on an alternative investment vehicle as it shows compelling interest in the Company's offerings on its platform (Takung Art - Listed Pieces). Transaction growth is the seed that eventually blooms into profit growth in an efficiently operated company.
Profit Margin
Takung Art's profit growth for Q3 2016 was mainly because of quarterly growth in listing fees and management fee revenue. The Company's profit margin is 40.22%. Its operating margin for the trailing twelve months is 52.54%.
As a profitability ratio, profit margin is important to consider as it quantifies what percentage of sales is made up of net income. A business can cut costs to improve this ratio or grow revenues. Takung Art has grown its revenue. However, the Company had quarter-over-quarter increases of $861,983 in general and administrative expenses and $536,117 in selling expenses, so it must get a handle on these increases to facilitate even greater profits.
Revenue/Employee & Income/Employee
Takung Art is operating relatively efficiently with revenue/employee of $354,248 and income/employee of $169,878.
Amazon's revenue/employee is $463,631. Its income/employee is $2,582. Alibaba's revenue/employee is $436,364. Its income/employee is a healthy $308,302. Etsy's revenue/employee is $333,943, and its income/employee is - (66,011).
Return on Assets (ROA)
Takung Art's ROA for the trailing twelve months is 21.17%. Alibaba's ROA for the trailing twelve months is 5.72%.
Amazon's ROA for the trailing twelve months is 3.97%. Etsy's ROA for the trailing twelve months is 2.72%.
Consider ROA when studying a stock for possible purchase because it's an indicator of how well a business is earning a return on its asset investments. It quantifies the net income generated by total assets.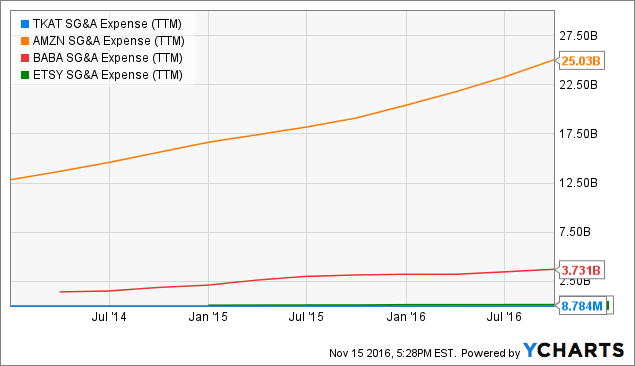 Return on Equity (ROE)
Takung Art's ROE for the trailing twelve months is 81.85%. Alibaba's ROE for the trailing twelve months is 12.48%. Amazon's ROE for the trailing twelve months is 13.93%. Etsy's ROE for the trailing twelve months is - (3.82).
As a profitability measure, it calculates how well a business is doing in producing profits from investments by its shareholders. Is the business efficiently using shareholder funds to produce profits?
Levered free cash flow
Takung Art's levered free cash flow for the trailing twelve months is 7.58 Million. Alibaba's is 6.46 Billion. Amazon's levered free cash flow for the trailing twelve months is 8.46 Billion. Etsy's is - (19.59 Million).
I've mentioned levered free cash flow many times. I always consider this financial metric because it tells me how much money a business has after it has met its financial commitments. Positive levered free cash flow enables a company to reinvest in its business. It also tells me that company management has the funds to institute, continue or increase dividends. As a dividend investor, primarily, I always consider levered free cash flow. So, Takung Art's positive here, albeit a small player versus the Alibaba and Amazon giants.
Two challenges in art investing
Discretionary income
Investors with less financial resources depend on discretionary income when wanting to make purchases of art. The art marketplace is competitive and volatile in economic upswings. In these uncertain economic times, art companies such as Takung Art must make art purchasing as affordable as possible, while working to maintain and grow sales and profit margins. This is easier said than accomplished and demands creative marketing and a good product mix.
Appraisal and valuation
The sector is dependent on first-rate appraising and valuation of artwork. This ensures an entity's credibility with the art buying community. From a profitability standpoint, proper appraisal and valuation ensures a company sets a proper market value on the art it offers for sale. This can make the difference between healthy profits or eroding losses
The black market
The New York Times noted that, "Billions of dollars' worth of art goes missing every year." (What Is the Value of Stolen Art? - NY Times - November 13, 2013) Therefore, this is billions lost for legitimate companies duking it out in bricks and mortar and online venues. It's also something that makes people sometimes wary of buying art, unless they can actually validate an art piece's true worth and authenticity. Much of this art ends up in the hands of unprincipled and dishonest art dealers - a challenge to honest players in the industry.
Conclusion
Takung Art has much going for it as it navigates the online artwork marketplace. It is aggressive in growing market penetration. The Company recently obtained loans for US$5.8 Million to build HKD (Hong Kong Dollar) reserves to support ongoing expansion of trading in China.
The Company has a strong balance sheet. At September 30, 2016, Takung Art's cash and cash equivalents totaled $16,831,035. This represents an increase from $10,769,456 on December 31, 2015. Furthermore, the Company has robust demand for its artwork as evidenced by its growing sales and processed transactions.
As a foray into the art world, it's a unique investment opportunity for investors willing to ride the gyrations of the artsy art sector. For now, though, I'll wait to see if Takung Art institutes a dividend. However, they are a company I'm currently keeping an eye on in the small cap space.
Disclosure: I/we have no positions in any stocks mentioned, and no plans to initiate any positions within the next 72 hours.
I wrote this article myself, and it expresses my own opinions. I am not receiving compensation for it (other than from Seeking Alpha). I have no business relationship with any company whose stock is mentioned in this article.
Editor's Note: This article covers one or more stocks trading at less than $1 per share and/or with less than a $100 million market cap. Please be aware of the risks associated with these stocks.