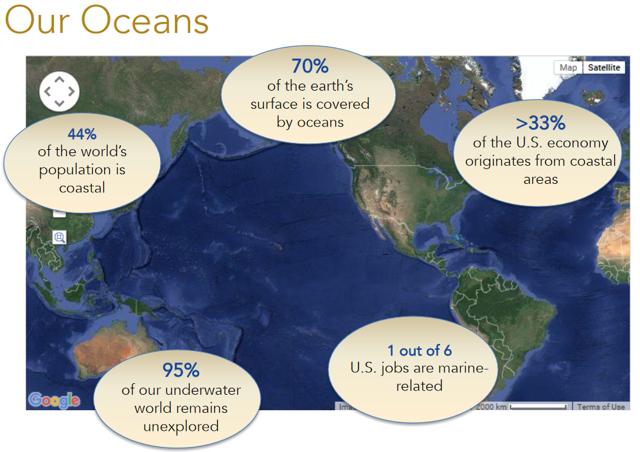 Source: Ocean Power Investor Presentation
Introduction:
Ocean Power Technologies (NASDAQ:OPTT) has products such as the PB3 PowerBuoy that can produce electricity from the ocean's waves. Generating electricity in this manner produces no pollution.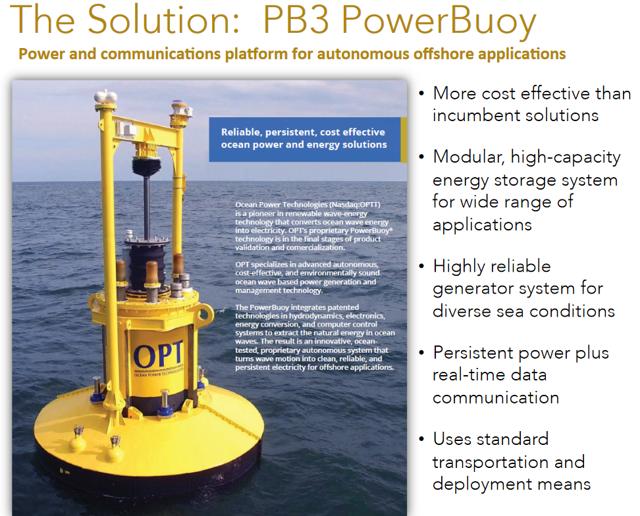 Source: Ocean Power
Timeline
Ocean Power Technologies is not a new company - in fact the company went to the public back in 2007 and raised about $90.1 million (5 million shares x $20/share). During the intervening 10 years the company has exhibited sluggish growth, only expecting its first sales in 2017/2018.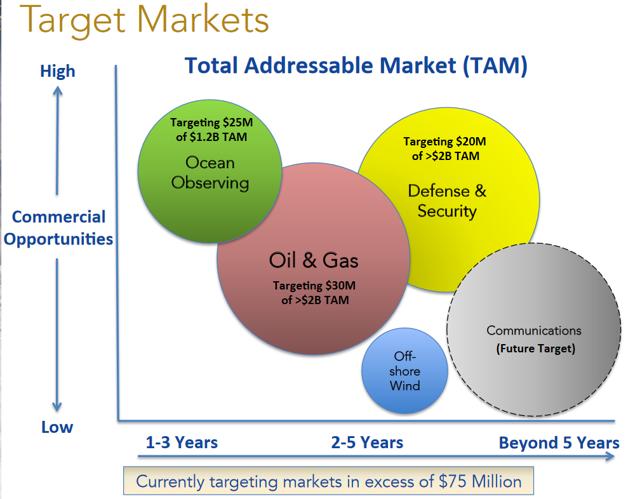 Share Price Performance:
Since its IPO in 2007, the company's stock has been trading in the downtrend direction. The IPO price was $20 a share, which is equal to $200 a share now because it had a reverse stock split in 2015 for 1:10 (10 x $20= $200). Investors who invested in 2007 are now down by 99%. The stock would have to increase by 9900% to break even (please read my other article "how not to lose money in the stock market"). At this pace, reaching $200 a share may be unrealistic unless a "miracle" was to happen (i.e. huge sales or a new invention etc…).
10 Year Chart: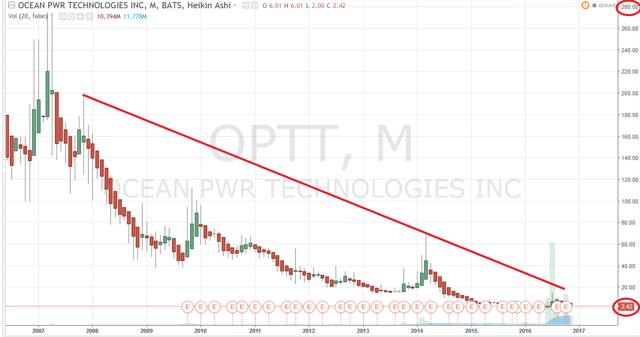 Source: Tradingview (notation was added by author)
Just like the ocean waves that power the company's innovative products, stock prices fluctuate rapidly and often. This is because it is a low float stock, which means that the number of shares available for trading is quite low (i.e. stock has less than 5 million shares outstanding). Even while composing this article, the stock has risen by 100% and fallen again by 50% from its peak, as the below daily chart indicates:
Today's Chart (Nov.15, 2016):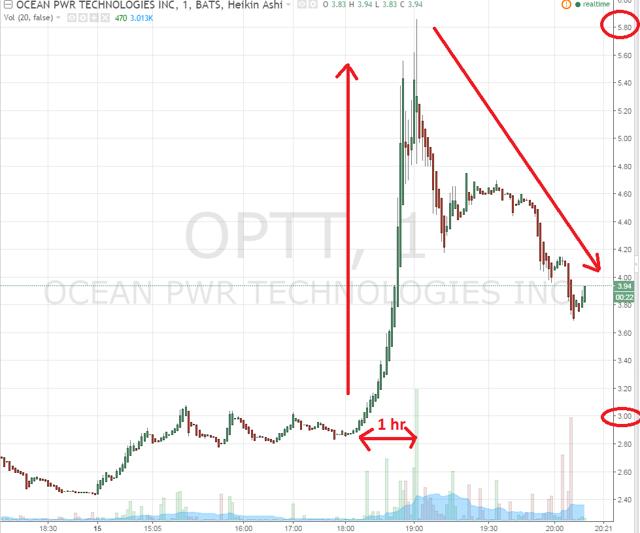 Source: Tradingview (notation was added by author)
5 Year Chart: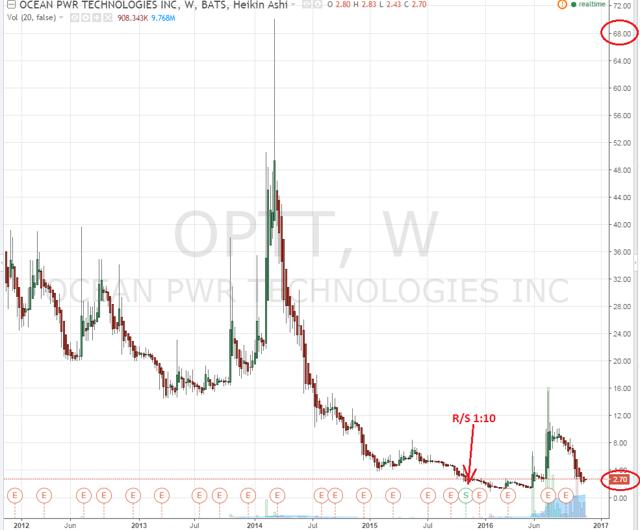 Source: Tradingview (notation was added by author)
At the end of the second quarter the company had 3.1 million shares outstanding. Since then, the company has issued 2.7 million additional shares and raised about $6.9 million from the secondary offering on October 19, 2016 (2.7 million shares at $2.75/share).
Financial and Operational Performance:
Currently, the company doesn't generate enough revenue to support its operations. In its investor presentation the company said they would have their first sales in 2017 / 2018 and expect to double their revenue annually thereafter. As per their SEC filing, government agencies have accounted for a significant portion of their revenues, which largely funded support of their product development efforts. The company has been posting a net loss every year. From 2011 ~ 2016, the company posted a net loss of about $88 million. The average net-loss per year was approximately $14.6 million. The company needs $15 million every year to continue its operations.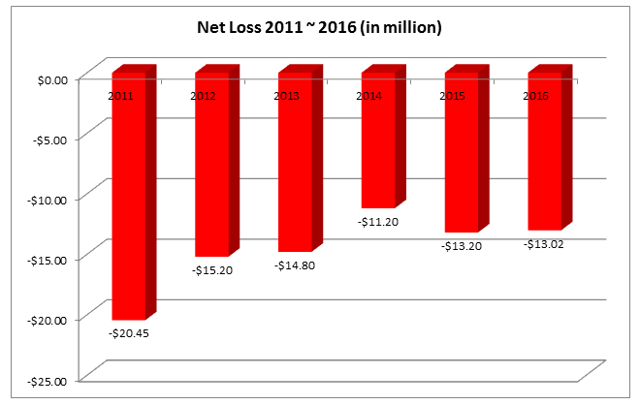 Source: Created by Author (data obtained from SEC filing)
In order to achieve positive cash, the company must commercialize their products and services as soon as possible. At the end of July 31, 2016, the company had about $9 million of cash and cash equivalents on hand. The company has been posting a loss since its inception and those losses now total an accumulated deficit of $181.7 million at July 31, 2016.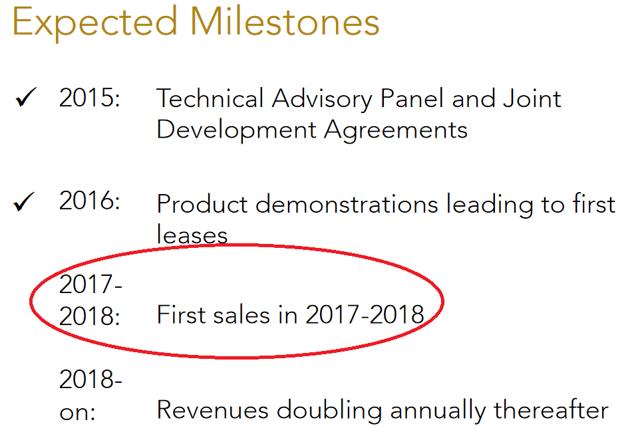 Source: Ocean Power Investor Presentation
Conclusion:
OPTT's products resonate well with those familiar with them - producing electricity without causing pollution is admirable and is in line with other initiatives being put forth worldwide as we enter a new era of renewable energy with less dependence on fossil fuels. Climate change is driving new and innovative technologies - OPTT began developing and testing wave energy technology over 15 years ago. However, to date, they have only manufactured a limited number of PowerBuoys for use in ocean testing and development. The company is relying on sales of equity to fund its operations. The company recently (October 19, 2016) raised about $6.9 million through a secondary offering. They should have about $15 million of cash and cash equivalents now, which is enough to fund its operation for one year. The company needs about $15 million every year to continue its operation. Until they commercialize their products the Company will have to rely on equity sales and/or debt financing.
The company said in its SEC filing as follows:
Management is evaluating different strategies to obtain the required additional funding for future operations. These strategies may include, but are not limited to, additional funding from current or new investors, officers and directors; borrowings of debt; a public offering of the Company's equity or debt securities; partnerships and/or collaborations.
Historically, the Company has raised capital through securities sales in the public capital markets. They have incurred net losses since they began operations in 1994. Overall, the stock has been trading in the downtrend direction. Even in the downtrend direction, the stock has been very volatile.
Based on my analysis, I recommend Ocean Power as a HOLD.
Disclosure: I/we have no positions in any stocks mentioned, and no plans to initiate any positions within the next 72 hours.
I wrote this article myself, and it expresses my own opinions. I am not receiving compensation for it (other than from Seeking Alpha). I have no business relationship with any company whose stock is mentioned in this article.
Editor's Note: This article covers one or more stocks trading at less than $1 per share and/or with less than a $100 million market cap. Please be aware of the risks associated with these stocks.