Cineplex Inc. (OTCPK:CPXGF) is the largest motion picture exhibitor in Canada and one of the top 5 North American Exhibitors. They own or lease 162 theatres with 1,659 screens serving approximately 77 million guests annually. Cineplex reported earnings on November 8 th and by all accounts appear to have met investor expectations thanks to a relatively robust 3rd quarter box office. Despite recording a 1% decrease in attendance year-over-year ("YOY"), North American box office receipts were up 15.5% over last year's Q3 which led to a 14.6% jump in quarterly revenues and a 21.3% increase in net income for the period.
Recently I have been looking to add to my position but the valuations seem quite rich and there has been lots of talk lately about decreasing box office revenues this fall. Should I add to my position today, or wait until the 4th quarter box office numbers become clear?
Current Valuation
As of writing, Cineplex is trading at a P/E of 33.5 considerably above its historical P/E ratio of 25.3 which would indicate that the company is currently overvalued. When looking at the F.A.S.T Graph below, this is not out of the ordinary as they have been trading at a premium to historical valuations since mid-2012. As Canada's top theatre exhibitor, I fully expect them to trade at a premium valuation so long as there is a healthy box office slate.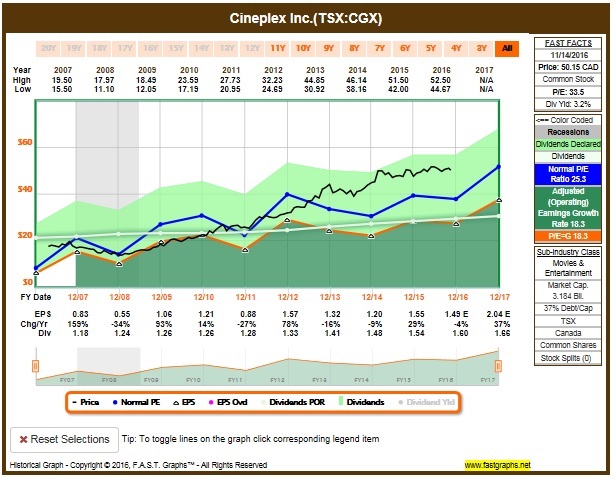 With that being said, I worry that the rich valuations may be at risk especially if the fourth quarter disappoints.
Q4 - Tough Year over Year comps
Despite the solid 3rd quarter, it looks as though the 4th quarter of 2016 will be up against some very tough 2015 comps. As a result, there may be a possibility that Cineplex underperform this coming quarter which could present a better buying opportunity for this stock that has been trading at a premium for some time.
The fall season North American ("NA") Box Office, which is defined " as the day after Labor Day Weekend through the Thursday before the first Friday in November", has performed well below 2015 having dropped 19% YOY. This does not bode well for Q4 Results.
Likewise, putting further pressure on the comps, in 2015 the North American box office also benefited from the power house of Star Wars: The Force Awakens along with successful releases such as the Hunger Games: Mockingjay Part 2, the Martian, Spectre and the Revenant. All the aforementioned brought in close to or more than $200 million at the NA box office.
This year, Doctor Strange appears to be guaranteed to reach $200 million and thus far Fantastic Beasts is tracking for an opening of approximately $70-80 million, the lowest opening of any Harry Potter Franchise. Despite this, they have relatively little competition until the next blockbuster arrives and therefore should also surpass $200 million domestically. Speaking of that blockbuster, Star Wars: Rogue One is next on the list and is a guarantee to hit $200 million, but just how much can the prequel make is the real question. Although not expected to reach Star Wars: The Force Awakens levels, it is widely expected to challenge Captain America: Civil War for the 2016 box office crown. Official tracking has not yet begun, but in my view, how close the 4 th quarter box office receipts will come to 2015 or how far they will fall short will ultimately depend on Rogue One's performance. Regardless what movies come after, like Passengers, Assassins Creed and Sing, Q4 will be all about Rogue One, just like last year was about The Force Awakens.
Buy or Wait?
Given Cineplex's rich valuation, I believe that investors can potentially see better entry points following the release of Q4 results. This will be especially true if Star Wars: Rogue One underperforms in anyway. The risk of course, is that the movie over-performs and tracks close to the Force Awakens. Although this is highly unlikely, you cannot discount the possibility. Despite a record breaking Q3, I believe Cineplex is due for a slight correction due to the difficult Q4 comps. As a result, Cineplex is currently a hold for me and I will keep a close eye on how Q4 is shaping up in comparison to 2015 before deciding to add to my current position.
If you would like to receive updates for any of my upcoming articles, please click the "Follow" text at the top of this page next to my profile.
Disclosure: I am/we are long CPXGF.
I wrote this article myself, and it expresses my own opinions. I am not receiving compensation for it (other than from Seeking Alpha). I have no business relationship with any company whose stock is mentioned in this article.