Footwear retailer Collective Brands (NYSE:PSS) late Tuesday posted a wider fiscal fourth-quarter loss, which was smaller than Wall Street analysts had expected as higher costs cut into profit margins.
For the quarter that ended January 28, net loss was $41.6 million, or 69 cents per share. That's up from a loss of $10.1 million, or 16 cents per share, during the same period a year before. Excluding items, net loss was 61 cents per share.
Revenue during the quarter rose to $815.9 million from $773.8 million.
Analysts had been expecting an adjusted loss of 79 cents per share on $782.3 million in revenue, according to FactSet.
The operator of the Payless ShoeSource chain said the total cost of sales rose 12 percent to $588.6 million. The company's gross margin fell eight percent to $227.3 million, or to 27.9 percent of sales, during the quarter.
Sales at stores open longer than a year rose 1.7 percent during the quarter. Analysts had expected same-store sales to drop by 1.3 percent, according to FactSet.
Collective Brands said it was on pace with its plan to close about 475 under performing and low-volume stores by the end of 2013.
About 400 of those stores are Payless stores in the United States, Canada and Puerto Rico.
In 2011 alone, the company closed 352 stores. At quarter end, Collective Brands operated nearly 4,500 stores worldwide.
The retailer also said its management and board of directors continue a strategic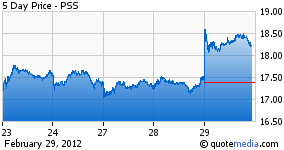 review of alternatives.
For 2011, the company reported a net loss $164.5 million, or $2.73 per share, compared with net income of $112.8 million, or $1.75 per share, the year before. Revenue for the year was $3.46 billion, up from $3.38 billion in 2010.
During 2012, Collective Brands said it expects to spend between $80 and $85 million on capital expenditures. The retail store count at the end of the year is slated to be down by about 50 stores from 2011, the company said.
Disclosure: None