Update: Poll results are in.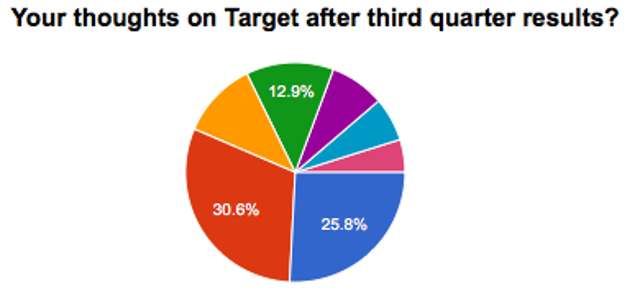 Q3 earnings suggest Target is on the rebound - 25.8%
Retail sector remains challenging, but Target is well positioned - 30.6%
Maybe new initiatives (online, grocery) will help Target - 11.3%
Holidays are almost here, and that will help Target - 12.9%
Target still impacted by tough consumer environment - 8.1%
Online competitors still troubling for Target, retail peers - 6.5%
Target is a sell - retail will continue struggling - 4.8%
Thanks to everyone who participated in today's poll. Tune in tomorrow for more Market Challenge.
*****
Target (NYSE:TGT) beat on both revenue and earnings in its third quarter report. Some investors were happy with the company's other metrics and its guidance. Is this a good sign for the retail giant, especially as it prepares for the holiday season?
Your thoughts on Target after the report? Offer your ideas below!