We've just seen witnessed one of the craziest weeks in the markets ever.
TLT had the largest weekly decline since inception in 2002, as did biotech (NASDAQ:IBB) on the upside. Gold miners (NYSEARCA:GDX) made their largest weekly move since 2008. Financials (NYSEARCA:XLF) and bank stocks (NYSEARCA:KBE) had the largest weekly ranges since the financial crisis in 2009.
Through all of this you'd expect historical comparisons to fall flat on their face, and in many markets they do. Strange then that the S&P500 (SPY) is still following the good old Brexit template.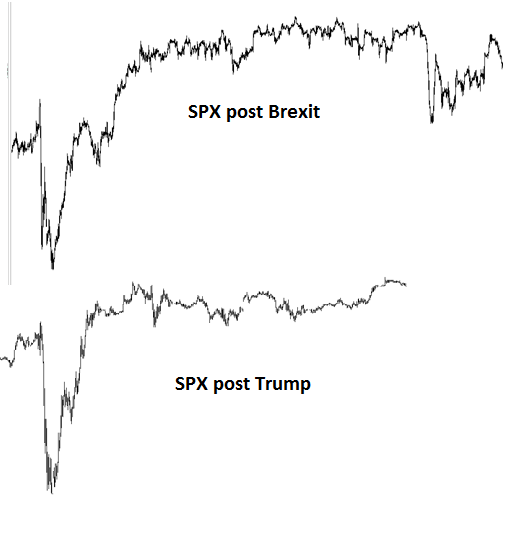 I say 'good old' as it's something I've been tracking for a while. The two articles below will get you up to date.
Trump Can Still Pull Off A Surprise Win. The Market Hates Surprises
Buy The Trump Dip With A Brexit PlayBook
The move up in the S&P500 has paused and traders have had time to re-assess the 'Trump effect' and their positions. We are all eagerly awaiting the next move. Up or down? Well, judging by the Brexit template it appears to be a quick move down.
This makes sense to me. Those who were lucky or quick enough to buy after the election made some very fast money. It is simply good money management to lighten up into the all time high of 2194 as it may act as resistance.
This is just at the time when a lot of bullish articles and views are paraded. First they thought Trump would crash the markets, now they think they'll rally indefinitely. On the next decline they'll change their mind yet again.
The big players won't close everything, but are continually making adjustments. A quick drop will flush out late and weak longs and allow the smart money to re-buy.
There are plenty catalysts for a drop. Rising yields and a Dollar above 100 can be seen as a negative for equities. Maybe some cracks or doubt appear in the Trump plans for fiscal stimulus.
The reasons for smaller moves usually come after the fact and don't concern me much. Tune into your favorite financial news channel and they'll be sure to tell you why the move happened, after it happened.
Conclusions
1) The next move for the S&P500 is likely down. A proportionate move to the template shown above takes the S&P500 back into the 2120s.
2) As always, buy the dip. I don't think the market has topped, and I will keep buying the dip until it doesn't work. The seasonality in November and December is usually very good and there are plenty reasons for markets to go up as well as down. Last year there was a decline in early November, and it was back at the highs by Thanksgiving.
The more things change, the more things stay the same. Well, until they don't. More on that another time.
Disclosure: I/we have no positions in any stocks mentioned, and no plans to initiate any positions within the next 72 hours.
I wrote this article myself, and it expresses my own opinions. I am not receiving compensation for it (other than from Seeking Alpha). I have no business relationship with any company whose stock is mentioned in this article.
Additional disclosure: I closed my SPX futures longs from the last article. I am long various stocks.