Assembly Biosciences (NASDAQ:ASMB) is a small biotechnology company (market cap: $223.93 million) developing curative small molecule therapies for chronic hepatitis B virus (HBV) infection and microbiotic therapies for Clostridium difficile infections. The stock has doubled since the beginning of October, perhaps as the market became aware of the company's two September presentations in Asia. Last week, a first-in-man Phase 1a/1b study was initiated for ABI-H0731 (AB-V101), the lead entry from Assembly's proprietary class of oral direct acting antivirals known as Core Protein Allosteric Modifiers (CpAMs). CpAMs bind to Cp and are believed to work by blocking the encapsidation (enveloped in virus-like particle shells) of viral pregenomic RNA (pgRNA, Figure 1). Investors should keep track of any company that has a potential curative drug in HBV, since it will likely be priced in multiples of the annual cost of antivirals that have to be taken lifelong, such as entecavir, which was a multi-year blockbuster for Bristol-Myers Squibb (NYSE:BMY) as one of several preferred treatment options.
Figure 1. Core Protein (Cp) Allosteric Modifiers Cause Interference throughout Hepatitis B Virus Lifecycle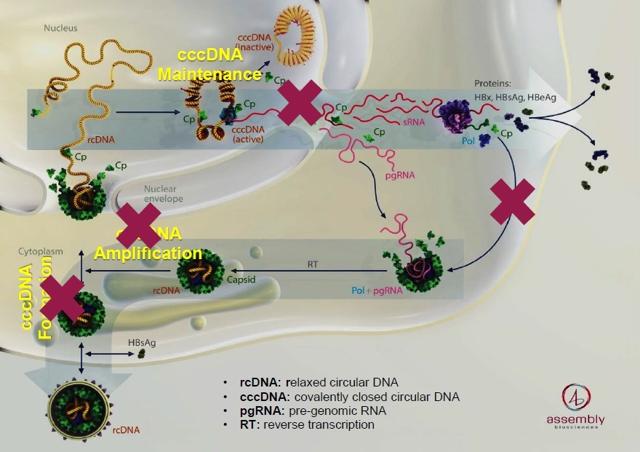 Richard Colonno, who coincidentally was an integral part of the team which discovered and developed entecavir at BMS, is Assembly's Chief Science Officer and gave the China presentation. He retold the possible HBV cure that was initially hoped for with entecavir (approved in 2005), which had cured woodchucks of HBV. But cccDNA hides inside the nuclei of liver cells, out of the reach of the nucleoside (NYSE:NUC) antiviral as well as other current treatments. Years later, it became clear that to achieve clinical HBV cure in humans, therapy must eliminate (or silence) existing covalently closed circular DNA (cccDNA) and prevent new cccDNA formation. One approach is that of Arrowhead Pharmaceuticals' (NASDAQ:ARWR) ARC-520, which silences cccDNA and all HBV gene products, including Cp. Arrowhead is trying to recover after the Food and Drug Administration placed a clinical hold on ARC-520's U.S. trial due to toxicology concerns on the vehicle used to deliver ARC-520 to liver cells.
Dr. Colonno contrasted how entecavir only inhibits reverse transcription activity of the HBV polymerase, which reduces encapsidated HBV DNA, but which actually also increases pgRNA-containing particles and makes them the dominant type of virions circulating in the blood. Serum pgRNA has been confirmed as a useful surrogate marker since it mirrors pgRNA in the liver, which in turn correlates with cccDNA activity persisting in HBV-infected patients. CpAMs reduce pgRNA packaging, which is thought to inhibit rcDNA formation and reduce rcDNA delivery to the nucleus.
The Asian presentations were also the first to show consistent potency of Assembly's candidates over another CpAM. A proof-on-concept trial by Johnson and Johnson (NYSE:JNJ) showed promising results on their Cp inhibitor, NVR 3-778. However, it took a very high dose as monotherapy to get a 1 log 10 reduction in HBV DNA. Assembly has $59 million in cash and has burned an average of $11 million per quarter in 2016. Thus, the funds should last until the trial completes. It will be exciting to see how ABI-H0731 performs solo, and whether the company will pair it with pegylated interferon as JNJ did, or go straight for a NUC combo. As the good doctor says, "We want what we achieved in woodchucks!" We also want a good return on investment, and because ABI-H0731 doesn't need a vehicle, it is likely that the study in healthy individuals will be successful.
Disclosure: I am/we are long ARWR.
I wrote this article myself, and it expresses my own opinions. I am not receiving compensation for it (other than from Seeking Alpha). I have no business relationship with any company whose stock is mentioned in this article.