The last time I wrote about GoPro (NASDAQ:GPRO), it was hovering at $10 dollars after sliding down a slope - investor confidence was at all-time lows, Brexit happened, and business prospects were looking increasingly diminished. At that time, I posited that the company's intrinsic value was around $15, assuming GoPro was a standalone camera business in the consumer electronics industry. After the three-month recent bull run-up, investors face the $10 floor and the same dilemma; should we buy at the dip? Or is this company a falling knife? Without a doubt, GoPro is fighting an uphill battle with a string of pessimistic announcements, starting with the Q3 ER, to supply chain constrictions for the HERO5 and the shocking Karma recall. The general consensus amongst investors tells a narrative of a stunning product and an inspirational brand, handled by truly incompetent management. I am writing to argue that GoPro's stock price has fallen to overly depressed levels given the overarching bear sentiment surrounding the stock, and an imminent bounce by 2018 is likely.
Back when I valued GoPro at $15, I had used what I presumed to be relatively conservative assumptions. Now that I reflect back on my previous valuation and frame of mind, I realized that the current market embodies much uncertainty, which warrants an analysis based on more conservative premises i.e. a higher discount rate. Given the recent revelation of events, starting with GoPro's minor fiasco with Amazon (NASDAQ:AMZN), Trump's unexpected victory in the presidential elections, and the Karma recall, there is no doubt that investor confidence is almost nil, with bearish sentiment trumping the bulls by a landslide.
In this article I'd like to present the contrarian case for investing in GoPro. Much of the recent volatility has been charged by emotional impulse, with the stock bouncing up to $18 on excitement for new product launches and an imminent short squeeze, to dropping back to $9 with the release of disappointing Q3 results. Interestingly, investors were excessively optimistic about Q3 expectations despite the consensus that GoPro was going to have a terrible 2016 Q1, Q2, and Q3. This demonstrates how irrationally exuberant investors of GoPro were during the product launches when the price shot up to $18 over two months, before collapsing to an inevitable correction. Was this an overcorrection yet again?
Valuation:
In amendment of my previous DCF valuation, the main changes I'd like to make can be outlined by:
1) A relatively conservative discount rate, as investors demand higher equity risk premiums given the economic uncertainties of Trump's administration, as well as the high propensity of a rate hike in 2017. Given these rising uncertainties, the cost of capital employed within my DCF will be 9.25%, steadily rising to culminate at 12%.
2) The addition of Karma to our projected revenue cash flows, under the presumptions that the company will face a host of production issues at the start of the learning curve.
As inspired from Professor Damodaran's model of GoPro, the DCF valuation can be viewed in the illustration below: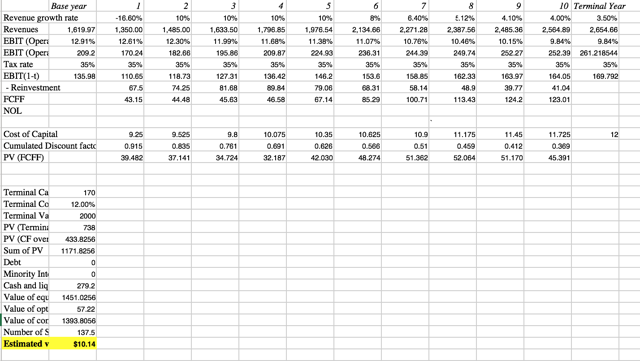 My assumptions are elaborated below:
WACC/Cost of equity (since the company has near 0 debt) of 9.25%, increasing to culminate at 12% by year 10, based on the CAPM model.
Risk free rate: 2.15% (modeled after the current 10-year treasury yield)
Equity risk premium: 6.12%
Unlevered beta: 1.16.
Tax rate: 35%
Reinvestment: I have assumed that $1 of reinvestment will be required to grow every $2 of revenue. The basis for this assumption is taken from the industry's (consumer electronics) average sales-capital ratio which is 2.24. Given GoPro's premiere position within its niche market, I have assigned a slightly lower value of $2 in sale for every dollar in capital for this DCF analysis.
Operating margin: 12.91% declining to 9.84% over years 1-10. Whilst the operating margin assumption does appear to start high, and resembles that of a smartphone company (typically earning 12-15% margins), GoPro is the premier action camera maker and demands premium pricing for its products. As time progresses, however, the operating margin drops to 9.84%, closer to the industry standard (consumer electronics) of 9%.
Value of options: Using the Black-Scholes option pricing model, Professor Damodaran calculates the total value of all options outstanding to be $57.22.
Revenue: Very moderate, in fact, conservative assumptions have been employed in my DCF model, where a revenue decrease of 16% has been accounted for in 2016 from the misplacing fiasco and over-inventory, with a revenue growth rate of 10% assumed for the next five years, that declines and terminates to 3.2% in years 6-10. Whilst 3.5% may be slightly ambitious for an electronics company, GoPro may well have diversified more of its business to VR/Software/Media by 2020, to which 3.5% should be considered low. The rationale behind a very conservative 10% growth rate estimate is derived from researchers that postulate a 22% CAGR for the action camera industry, as well Professor Damodaran who himself assumes a 15% growth rate in his revenue estimations.
Karma Drone
When Karma was released on September 23rd, hype surrounding the product was sparked and GoPro had finally generated some momentum and media buzz. A week later, the release of Mavic Pro engendered a wave of appraisals that completely annihilated the Karma on a majority of product attributes; ranging from portability, battery, distance, to extra features. The only differentiating value proposition that Karma offers is its versatility as a 'story-telling' solution. Needless to say, the Karma hype was smacked down by a fire blanket.
What's more, besides the underwhelming product launch, GoPro announced last week that it is recalling 2,500 drone units because of power issues (meant to last 20 minutes, but many reviews said fly-time would burn through battery in 10 minutes) - implying a host of supply chain issues to be expected. At least GoPro still cherishes top-notch customer experience to demand a recall. Most importantly, the recall has hinted that GoPro has sold approximately 2,500 units since the pre-order period during early October. If we take this assumption and extrapolate it under a conservative premise, we can speculate the value Karma adds to GoPro's business. 2,500 units in the first 2-4 weeks of sales is quite disappointing, and hardly enough to justify any capitalisation. But Karma is still in its infancy, and I believe GoPro will able to overcome its technological and supply chain difficulties like any company at the start of a new product line would (before bankruptcy). I speculate that a contribution of $100M in revenue (125K units at an ASP of $800) from Karma by 2017 may not be beyond reach.
Given the fact that the global drone market is rapidly growing, and that DJI (DJI) is the alpha of the drone game with a $10 billion market capitalisation, the Karma isn't as terrible as people make it out to be. As long as GoPro can take a bite of the drone market with a mediocre drone, then its drone business could become a potential cash cow in the medium term. Using the same basic assumptions from my first DCF, the value per share I calculated for the Karma is $3.2 as illustrated below:

In total, my DCF projects that GoPro's intrinsic value stands to be at $13.3. It is a pessimistic prediction assuming a relatively high discount rate, but also an optimistic one that gambles on its survivability over the long term in the cut-throat consumer hardware market. This valuation certainly does no justice to the potential developments into VR, media and live streaming that GoPro has planned, but given the lack of information on these ventures, it'd be too soon and hopeful to project their cash flows.
There are few events that have caught us with as much surprise as the historic events of Brexit and Trump's electoral success. Many pundits view these events as signals for the seeds of an imminent market meltdown, whilst others argue that much of this overreaction is unprecedented, and are rather buying opportunities. Without a doubt, the narrative leading up to both these events were highly inconsistent with actual results - reflecting back, mainstream media depictions suffered the fallacy of confirmation bias, unable to represent the popular yet unpopular views of isolationism and tribalism engrained deeply in America, Britain, and surely many other states. This bias in the media has really convinced that there is no point listening to so-called 'expert' advice, or what I would describe as 'fear-mongering' most of the time.
Back to the basic principles of stock analysis, my thesis incorporates a much more demanding premium for the price of risk, and still predicts 30% upside for the stock. It appears that much of this sentiment has in fact, already been transmitted into the stock market, with huge volatility evidenced during election period despite a rebound to previous highs. Small-cap companies like GoPro have been bashed particularly hard, as uncertainty creeps in and investor move their funds out of high-beta assets first. By the same token, if overall market sentiment corrects regarding GoPro, funds will be pouring in and shorts will be covering. I still believe that the GoPro narrative is compelling, and that the story of passion beats numbers. After all, the company is in a transitional, rocky period trying to reinvent itself.
Disclosure: I/we have no positions in any stocks mentioned, but may initiate a long position in GPRO over the next 72 hours.
I wrote this article myself, and it expresses my own opinions. I am not receiving compensation for it (other than from Seeking Alpha). I have no business relationship with any company whose stock is mentioned in this article.