One of the buzz words this election season from both parties has been "infrastructure spending" to jump-start the domestic economy. The "infrastructure" usually associated with the phrase are roads, bridges, high-speed (and otherwise) rail, port facilities, airports, mass transit, and water resources. The graph below outlines the fund's spend on transportation and water resources for both capital (new projects) and maintenance / repair going back to 1956. As shown, capital spending peaked in the US in 2003 and declined 23% through 2014.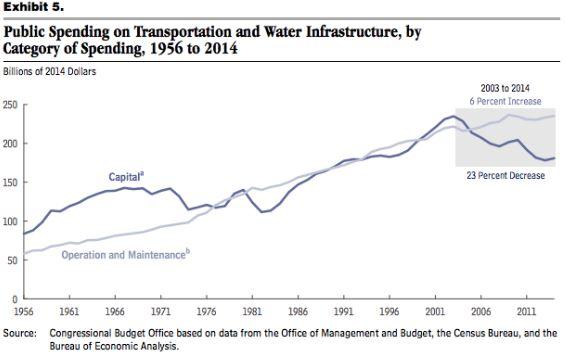 Source: usa.streetblog.org
These projects attract bidders from many different companies and it is these opportunities most "infrastructure" investors are trying to capture. There are several ETFs that specialize in "infrastructure" and financial authors often write articles about the advantages of these generic ETFs. However, it is important to understand the meaning of "infrastructure" in the context of a specific ETF's portfolio.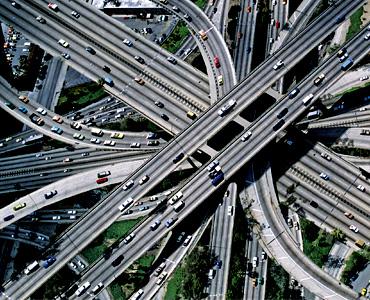 If investors are looking to gain exposure to the construction aspect of domestic "infrastructure spending," it is best not to look for ETFs with "infrastructure" in its name. Investors could be better off with PowerShares Dynamic Building & Construction Portfolio ETF (NYSEARCA:PKB), but it also contains large box store building materials retailers and flooring manufacturers, or VanEck Vectors Steel ETF (NYSEARCA:SLX) which holds various global steel firms, but US steel firms only comprise 3 of the top 10 holdings.
The clear majority of "infrastructure" ETFs focus on infrastructure operators and not necessarily the infrastructure builders. Operators usually include utilities, seaport managers, airport managers, pipeline operators, shippers, and toll road operators. Below are the nine ETFs most associated with infrastructure investing, per firstbridgedata.com:
Of interest should be the international nature of these infrastructure ETFs. Per Morningstar, the following is the percentage of portfolio assets identified as North American (US and Canada) exposure: GII - 39%, IGF - 48%, PXR - 4%, EMIF - 0%, GRID - 49%, NFRA - 41%, TOLZ - 63%, GHII - 53%, and DBIF - 49%. Investors seeking a higher than 40% to 60% exposure to North American opportunities should look elsewhere. It is important to note the exposure to foreign investing with these ETFs usually adds currency risk to the equation and should be factored into your due diligence results. The exception is the USD hedged nature of DBIF.
Of the list above, I prefer the smart-beta and income approach of the Guggenheim S&P High Income Infrastructure ETF , and have written a few articles on GHII concerning its portfolio changes last Feb found here (GHII Says Goodbye to China Toll Roads; Hello US Gas Pipelines) and pairing GHII with the iShares Emerging Markets Infrastructure to gain both developed and emerging market infrastructure exposure found here.
The investment strategy of GHII is to invest in the 50 highest-yielding global equity securities of companies that engage in various infrastructure-related industries. Securities are selected from global companies, trading on exchanges in developed countries. Using the S&P Global Broad Market Index as the base, GHII selects the highest-yielding stocks from this group which are focused on infrastructure. From a sector vantage point, currently, the GHII portfolio consists of 46% Utility investments, 27% Energy, and 26% Industrials.
According to their website, the following are considerations for the sectors and industries included in the portfolio:
Infrastructure Company Exposure. Eligible securities must be equity securities of companies classified in one of the Infrastructure Clusters. The Infrastructure Clusters are formed based on the GICS sub-industry classifications as follows:

Energy Cluster: Oil & Gas Storage & Transportation Sub-Industry

Transportation Cluster: Airport Services Sub-Industry, Highway & Railtracks Sub-Industry, Marine Ports & Services Sub-Industry

Utilities Cluster: Electric Utilities Sub-Industry, Gas Utilities Sub-Industry, Multi Utilities Sub-Industry, Water Utilities Sub-Industry
The portfolio is readjusted semi-annually and can change dramatically over time. Below are the changes in the top 10 positions after various rebalancing, per various annual, semi-annual and NQ forms found here, here and here:
Top 10 Nov 2016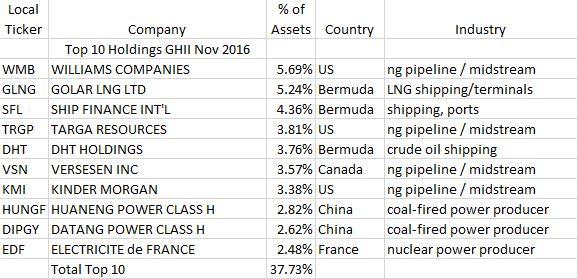 Source:Guggenheiminvestments.com
Top 10 Feb 2016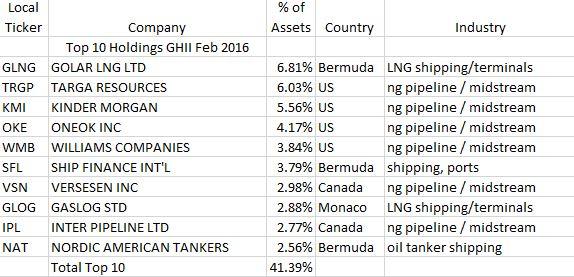 Source: Guggenheiminvestments.com
Top 10 June 2015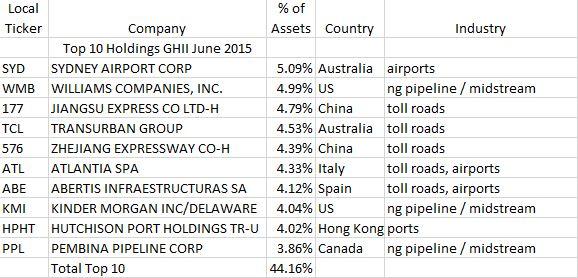 Source: Guggenheiminvestments.com
As shown, during the previous rebalancing, toll roads and airports were replaced with power generation and pipelines/midstream processing.
Distributions are a bit lumpy as many foreign companies pay dividend on an annual or semi-annual basis. The ETF was formed in Feb 2015 and the distribution payment history is below:
Date NAV Distribution
Sep 26,2016 26.00 0.2954
Jun 24,2016 24.62 0.4977
Mar 24,2016 22.43 0.1774
Dec 24,2015 21.45 0.2848
Sep 24,2015 21.83 0.3117
Jun 24,2015 25.07 0.3447
Mar 25,2015 25.02 0.0915
Based on trailing 4 quarter payouts, the current yield is 4.92%. Currency fluctuations will not only impact share prices, but with a large portion of income from overseas, currency fluctuations will impact payouts as well.
According to their annual report, GHII has been an interesting performer since starting in Feb 2015. As shown in the graph below, as of the end of Aug, GHII had outperformed the underlying index after initially underperforming in mid-2015 (note: the date 5/31/15 on the bottom axis should read 5/31/16)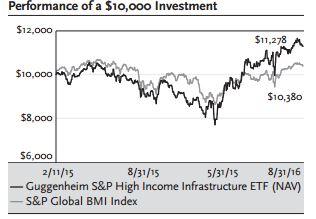 Source: Guggenheiminvestments.com
Per their website, as of the end of Sept 2016, GHII's average annual total return since inception on Feb 11, 2015 is 9.15% vs 2.79% for the S&P Global BMI Index. The expense ratio for the Guggenheim S&P High Income Infrastructure ETF is 0.45%, which is among the lowest for an infrastructure ETF.
One negative aspect of GHII is its small asset base. As a relatively new fund, GHII has garnered only $6.7 million in assets and averages $93,000 a day in trades. Many analysts believe that an ETF needs to manage a minimum of $25 million in assets to break-even for the ETF manager, with some raising that target to $100 million. Mr. Ron Rowland, author of All Star Investor and founder of ETF advisory service Invest with an Edge, published a list of ETFs he believes may be subject to closure by the fund manager.
Known as the Death Watch List, these ETFs have less than $25 million in assets and trade less than $100,000 per day. While the manager has some heavy lifting to raise assets to the range outlined by Rowland, I don't believe the fund is in eminent risk of closing.
Investors looking for income coupled with international exposure would be well served to review GHII. I still stand by the strategy of pairing GHII with its developed market exposure and EMIF's focus on emerging markets for a wide-based international infrastructure exposure with an added benefit of high income. More information on GHII can be found on the fund's website here.
Author's Note: Please review disclosure in Author's profile.
Disclosure: I am/we are long GHII, EMIF.
I wrote this article myself, and it expresses my own opinions. I am not receiving compensation for it (other than from Seeking Alpha). I have no business relationship with any company whose stock is mentioned in this article.