Not so long ago, I've made the decision to sell Wal-Mart (NYSE:WMT) in my portfolio. As my focus is toward dividend growth investing, it was a difficult decision to abandon such an iconic dividend payer like Wal-Mart. When you look at their past 10 years, management has been kind to shareholders without jeopardizing the health of the company: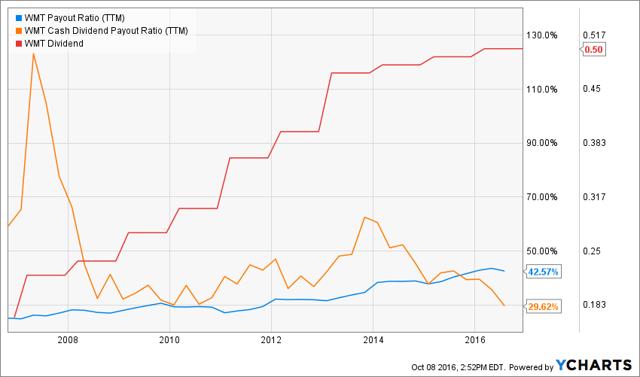 While the dividend payment has been increasing for 41 consecutive years and both cash payout and payout ratios are very low, there is something wrong with this dividend aristocrat.
When I purchase shares of a company, I based my analysis on the 7 dividend investing principles. These principles have been elaborated based on academic studies and provide a strong guideline as not only to which company to buy, but at what price and when it is the right time to sell them. I systematically follow each of my holdings and make sure they continue to meet the 7 investing principles.
Most importantly, I review my investment thesis year after year to make sure management is following the path to growth. Because if there isn't growth, sooner or later, the dividend payment will pale. Speaking of which, the lack of growth factors for Wal-Mart is probably its biggest weakness at the moment. While looking at the whole industry and digging deeper into Wal-Mart's weakness, I realize that Target (NYSE:TGT) is in the same boat.
Sell Both Wal-Mart & Target
Don't get me wrong, I'm not telling you that either WMT or TGT is about to go bankrupt. In fact, both companies show proven business models that have been successful for decades. While both companies evolve in the consumer staple market, it's important to notice that Target is not focusing on food but rather a better in-store customer experience than Wal-Mart. Their strategies are slightly different, but my point is that both of them focus on getting customers to their store. Unfortunately, while this worked for several years, revenues of both companies grew by only 3.10% and 2.49% total over the past 5 years: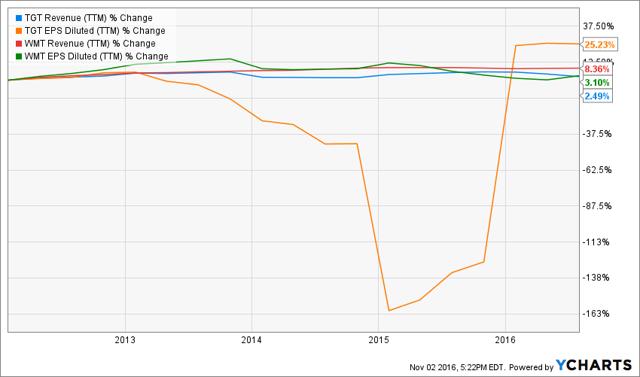 The main problem with both companies is that they are already pretty much around the globe. Target lamentably failed to implement their business model in Canada not too long ago (hence the drop off in earnings in 2015) and Wal-Mart can't seem to be able to keep up with GDP growth.
Both companies took a while to realize that growth was coming from another business model, e-commerce. As they both entered late in the game, WMT and TGT must invest massively to create an infrastructure that will barely meet customer's expectations. On the other hand, other rivals have been rising for decades…
Amazon (NASDAQ:AMZN) - The Common Enemy
As you can imagine, no analysis of Wal-Mart or Target would be complete without looking at how they have and will continue to compete with Amazon. Why? Because the market share of e-commerce has been steadily growing.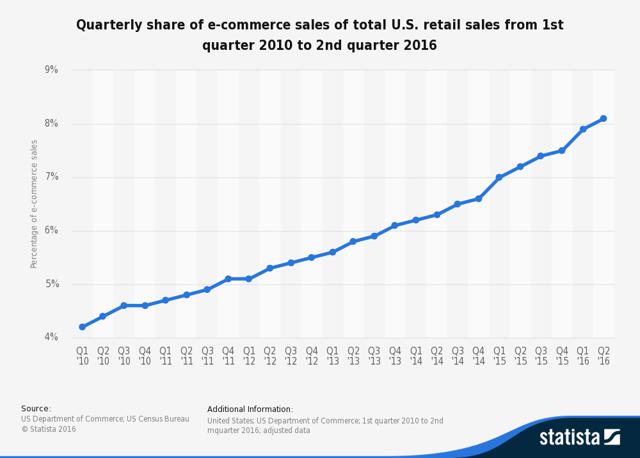 When comparing Amazon to Wal-Mart and Target, I get a feeling that WMT and TGT cannot continue with their current business model: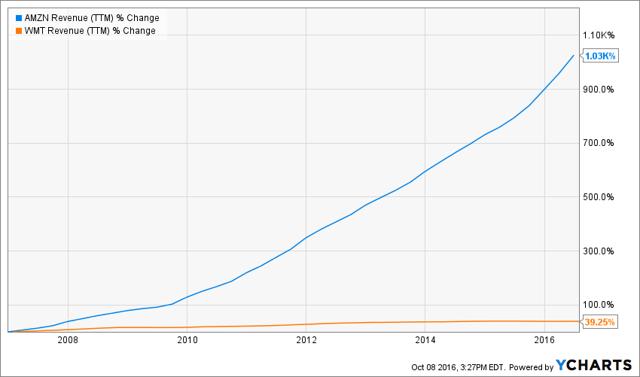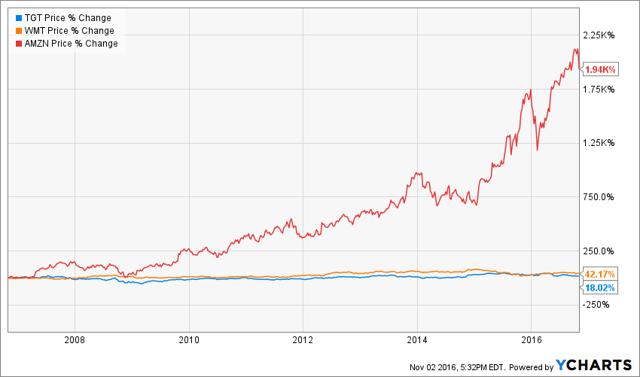 As retail shopping moves online, these major players will continue to be disrupted for a few key reasons:
1. Company structure: While Wal-Mart & Target have hundreds of big stores with wide aisles and expensive leases, Amazon was built from the start for this new world with a few big, automated warehouses in key cities and an increasingly complex logistics system to optimize the shopping experience, shipping costs, fulfillment, etc. Amazon has invested in robots to optimize work in these warehouses and built them strategically to meet the increasing demand: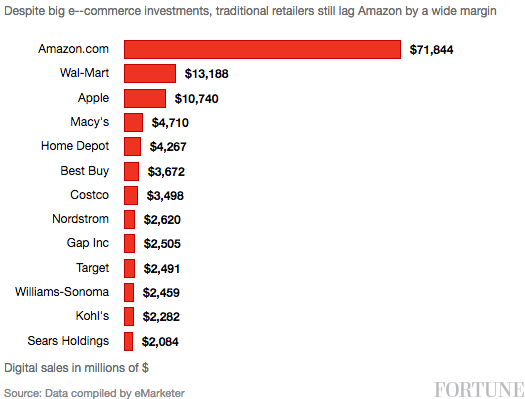 2. Technology: Amazon has also built a strong relationship with its customers. The company can offer personalized offerings and recommendations based on users' browsing and shopping history. Amazon's "Prime" program where members pay a fixed annual payment ($99 in the US) to get faster shipping, digital content and more has taken Costco's (COST) membership program to a whole new level. Amazon is also likely to be one of the leaders in areas such as drone delivery once that starts to take off, which will certainly end up having a tremendous impact on online retailers.
3. Expanding Its Offering: While it's true that many retailers do end up creating their own "brand" line of products, I'd argue that because Amazon has a much stronger and deeper relationship with its customers and also has an incredible amount of data, it will end up having doing much better with its products. It is also able to adapt its pricing, website visibility, etc., in order to make that happen.
4. Long-Term Focus: While it's always a challenge for a public company to avoid the usual obsession with hitting quarterly earnings numbers, I think Amazon has clearly displayed its ability to remain focused on the very long term. Just take a look at its growth in revenues and earnings: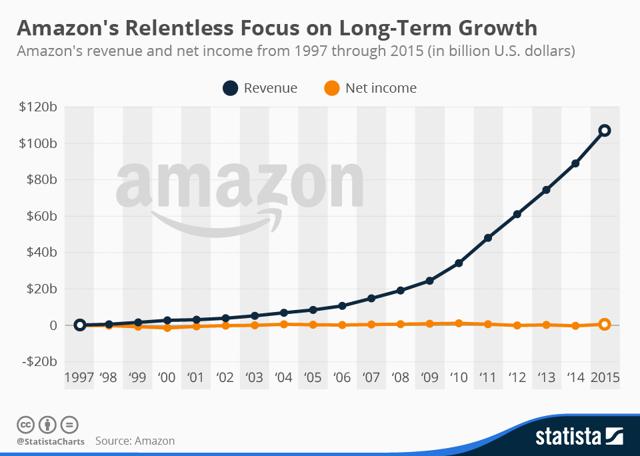 I would argue that such a behavior is exactly what will ensure Amazon's future dominance. Why? Because e-commerce is just getting started and Amazon has its focus on expanding its lead in its product offering, its technology, shipping (Amazon has moved from 2-3 day shipping to same-day shipping in dozens of large cities, even moving to 1 hour shipping in a few). That not only makes its customer base more loyal but also puts tremendous pressure on upcoming players such as Jet.com that have tried (and failed) to slow down Amazon's growth.
What Can Wal-Mart and Target Do?
I do think it would be unwise to let Amazon run away with e-commerce and even though it will likely prove extremely expensive to compete with Amazon, there is no alternative if they do want to remain relevant players. Most recently, WMT paid $3 billion to buy Jet.com. Then, the company must spend additional cash flow to integrate Jet's platform with Wal-Mart's and try to make a whole with this. While Jet's platform seems promising and focuses on Amazon's main strength ("your margin is my opportunity" as Amazon CEO Jeff Bezos likes to remind his competitors). Still, Jet remains a very small player that just cost $3 billion to Wal-Mart simply to keep up with Amazon.
There will always be some consumers that will prefer going in-store for all of their shopping needs but the most valuable consumers are increasingly going online to shop. Both Wal-Mart and Target will need to use their offline capabilities to differentiate themselves from Amazon. Being able to offer store pickups, return items easily, etc., are benefits that Amazon can't (for now) match and something that WMT and TGT would be smart to take advantage of.
That does mean transforming their stores and how they approach consumers but it is something that can be done. Having an offline presence is important as even Amazon has started to admit by announcing it would expand its presence with 100 popup stores and more book stores. All of that being said, I remain skeptical in their ability to match what Amazon has been able to build or even keep up with it.
Brick & Mortar stores will not disappear anytime soon, but this business model will not bring additional growth in the future. I can't add AMZN to my Dividend Stocks Rock portfolio as it doesn't pay dividends, but I can surely walk away from Wal-Mart and Target before they become like Sears (SHLD) and RadioShack (RSH).
I do not hold WMT, TGT or AMZN at this point.
Disclaimer: The opinions and the strategies of the author are not intended to ever be a recommendation to buy or sell a security. The strategy the author uses has worked for him and it is for you to decide if it could benefit your financial future. Please remember to do your own research and know your risk tolerance.