A few articles ago, one of my readers had noticed that it would be a good idea to summarize the results delivered by precious metals companies. I agree. In this article I want to focus on one of the hottest precious metals sectors, the silver one. The time is right because two days ago the last big silver miner, Pan American Silver, released its 3Q 2016 report.
Introduction
Firstly, let me list the miners qualifying into my research: First Majestic (NYSE:AG), Hecla (NYSE:HL), Coeur (NYSE:CDE), Endeavour Silver (NYSE:EXK), Fortuna (NYSE:FSM), Great Panther (NYSEMKT:GPL), Silvercorp (OTCPK:SVMLF), Silver Standard (NASDAQ:SSRI) and Pan American (NASDAQ:PAAS) - nine big companies producing silver as one of their main metals. Unfortunately, two big silver miners, Fresnillo (the world's biggest primary silver producer) and Hochschild, do not publish 3Q financial reports, so they are not included into my survey.
Additional note: three miners - Coeur, Hecla and Silver Standard - are becoming mainly gold-producing companies. However, for the time being they are included into my survey.
Methodology
My methodology is simple. I have gathered all data presented in financial statements of the above-listed miners and created the joint statement of operations for the entire sector. Due to the fact that Great Panther presents its results in Canadian dollars, I have recalculated all figures to US dollars.
The last thing - I have excluded small miners from my survey. Simply put, they are too small to have a material impact on final conclusions.
Silver Sector - Joint Statement of Operations
The table below shows the silver sector joint statement of operations: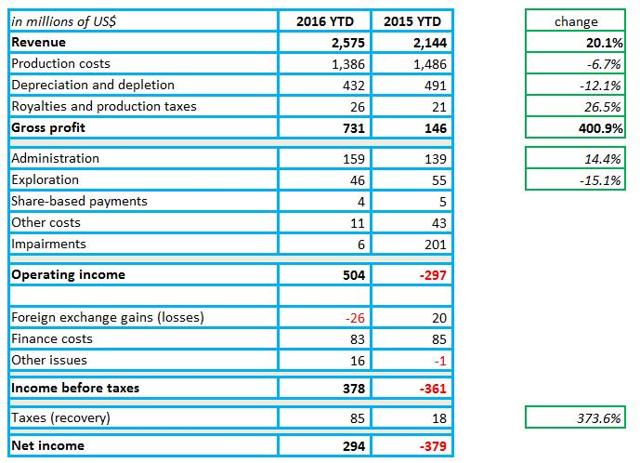 Source: Simple Digressions
Comment:
Due to higher silver prices reported in 2016 YTD ($17.08 per ounce of silver in 2016 vs. $16.01 in 2015), revenue increased by 20.1%.
However, the main point is that silver miners were able to cut their costs of production (a 6.7% drop). Simply put, they learned the lesson of the last bear market in precious metals.
What is more, this year silver miners sold much more metals than in 2015. To measure these sales, I am using the so-called silver equivalent (gold and other metals sold are recalculated into silver ounces).
Now, during three quarters of 2016, silver miners sold 155.2M ounces of silver equivalent (138.4M in 2015YTD). Dividing production costs ($1,386M) by the amount of silver equivalent sold, I am arriving at $8.9 per ounce of silver equivalent. It is a classic direct cost of production. To compare, in 2015 this cost was standing at $10.7 per ounce of silver equivalent. Can you spot this progress? If not, here it is:
This year silver miners are producing their metals at much lower cost. The most important ingredient of the cost of production, the direct cost of production, is 16.8% lower than last year.
Next, I would not put too much emphasis on lower depreciation. Simply, at the end of 2015 most of the mining companies recorded impairment charges resulting in lower book values of mining properties, equipment and so on. Lower book values of tangible assets are attributable to lower depreciation, so do not be fooled by this artificial accounting entry. Miners are still capital-intensive businesses (which is another story to be discussed in the incoming articles).
Higher revenue and lower costs have a huge, positive impact on gross profits. As the table shows, gross profit went up from $146M in 2015 to $731M this year (an increase of 401%). Well, this is what a healthy mining is all about. Look at it in the following way: a slight increase in metal prices lifted gross profits significantly. More on this issue below (section "Mining economics").
Administration expenses increased by 14.4% uite much but, similarly to depreciation, I would not bother too much about it. This year a few miners made strategic acquisitions, for example, Silver Standard acquired Claude Resources. Other miners put new mines into operations; for example, Hecla started mining at its San Sebastian unit in Mexico. Such events result in elevated administrative expenses but in the long - term the positive effects of business growth should cover them.
Taxes. When miners report profits the taxman is smiling. This year the miners reported $85M in taxes. Part of these taxes was paid and part was deferred. All in all, if metal prices continue their march up the governments of such countries as Mexico or Canada will see more cash to spend.
Summarizing, due to higher revenue and lower costs (mainly costs of production and depreciation) the silver sector reversed the last year losses. For example, an operating loss of $297M was converted into a profit of $504M and a net loss of $379M was converted into a net profit of $294M. Very quickly silver miners became profitable entities.
Mining economics
In this section I would like to present a few figures showing what the precious metals mining is all about. As I noted above, this year silver prices went up by 6.7%. However, silver miners, apart from silver, sell also gold, zinc, lead, copper etc. Taking into consideration all metals sold by silver miners, this year the entire sector was selling its metals at prices 7.1% higher than during the three quarters of 2015.
Another factor, which has a huge impact on the economics of mining, is sales volume. This year the silver sector sold 155.2M ounces of silver equivalent. Comparing this figure to last year's sales volume of 138.4M ounces of silver equivalent, I arrive at a growth rate of 12.1%.
The last issue, production costs. Calculating these costs per ounce of silver equivalent sold, I have arrived at $8.9. This value is 16.8% lower than last year's costs of production.
Now, let me summarize all these figures in the table below:

Source: Simple Digressions
Here it is. The table shows that slight changes in prices, volumes and costs bring tremendous changes in gross margins (defined as revenue less production costs) delivered by the silver sector. If somebody is looking for a proof that precious metals miners are leveraged to metal prices, here it is:
A slight increase in metals prices (7.1%) plus a slight increase in sales (12.1%) plus a slight decrease in production costs (16.8%) = an enormous increase in gross margins (61.2%)
I like it.
Debt issue
I am sure that some readers remember that during a bear market in gold/silver, a few big miners were encountering debt problems (for example, Barrick Gold or Newmont). However, the silver sector is different. At the end of the third quarter of 2015, silver miners had debts of $909M. Taking into account that their cash holdings were standing at $1,203M, they were net debt-free companies (surplus cash of $294M).
This year they are still the net debt-free entities (surplus cash of $241M). Summarizing, there is no debt issue in the silver sector.
Cash flow
It is nothing strange to note that this year the silver sector generated much higher cash flows from operations. For example, after excluding working capital issues from the cash flow calculations, I have arrived at the following figures:
During three quarters of 2016, the silver sector delivered $792M in cash flow from operations
It means an increase of $426M, compared to 2015 (up 117%)
Another interesting measure, free cash flow (defined as cash flow from operations less cash spent on investment activities), also went up from a deficit of $86M in 2015 YTD to a surplus of $260M in 2016 YTD.
Finally, somebody could ask which miners were the best, taking cash flow from operations (excluding working capital issues) as the main criterion. Here is the appropriate chart: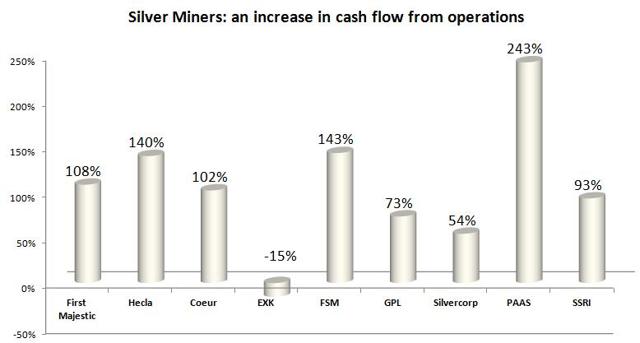 Source: Simple Digressions
As the chart shows, Pan American Silver is the leader (a growth of 243%) and the next in the race are Fortuna (143%) and Hecla (140%).
Summary
The silver sector performs very well. Compared with last year, all financial measures are better, or much better. In my opinion, the best message is that the sector learned the lesson of the last bear market in silver and cut costs of production significantly. As a result, now the miners are less vulnerable to lower silver prices, which is a big plus in the long-term.
On the other hand, if the precious metals market continues its march up, the substantial leverage to metal prices, offered by silver miners, should have a positive impact on their results - and share prices.
Disclosure: I am/we are long GDXJ.
I wrote this article myself, and it expresses my own opinions. I am not receiving compensation for it (other than from Seeking Alpha). I have no business relationship with any company whose stock is mentioned in this article.
Editor's Note: This article discusses one or more securities that do not trade on a major U.S. exchange. Please be aware of the risks associated with these stocks.